This post may contains affiliate links for your convenience. If you make a purchase after clicking a link we may earn a small commission but it won't cost you a penny more! Read our full disclosure policy here.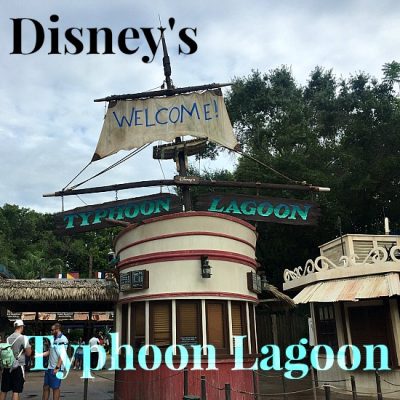 Have you ever thought about visiting one of Disney's water parks?  If so, read on to learn everything you need to know about Disney's Typhoon Lagoon!  If not, read on to learn why you should consider visiting!
Attractions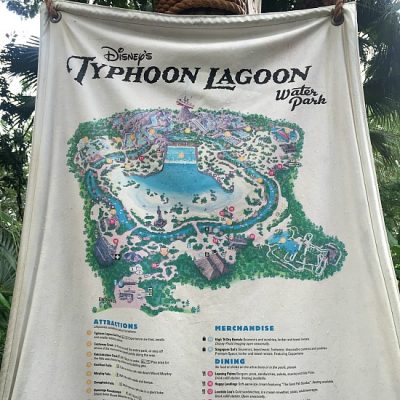 Disney's Typhoon Lagoon has attractions that will appeal to every member of your family.  For the thrill seekers in your group, you will want to check out Humunga Kowabunga, the Storm Slides and Crush 'n' Gusher!  The first two are quick, downhill slides and the last is a set of three water coasters – I was a bit too chicken to do Humunga Kowabunga, but the rest were a LOT of fun!
For fun for the whole family, you will want to visit Typhoon Lagoon's Surf Pool, Castaway Creek and the "falls" attractions (Gangplank Falls, Mayday Falls and Keelhaul Falls).  All of these are suitable for family members of any height (Storm Slides also has no height limit – keep in mind that children must ride alone on some of these attractions, so parents will have to decide if their child can handle those).
Typhoon Lagoon's Surf Pool
Finally, if your party has little ones, you'll want to check out Ketchakiddee Creek and the Bay Slides adjacent to the Surf Pool!  My son loved Ketchakiddee Creek that he played there all morning and we had to drag him away when it was time to eat – and that's saying something for a 1 year old!  The area had several different splash areas, small slides for little ones and several climbing areas where the kids could climb around in the water and shoot water at each other.
Restaurants
Although there are no table service restaurants at Disney's Typhoon Lagoon, you'll still find plenty of good choices in the park!  Most of these restaurants participate in the Disney Dining Plan as well, so you'll be able to use your credits in the water park as well.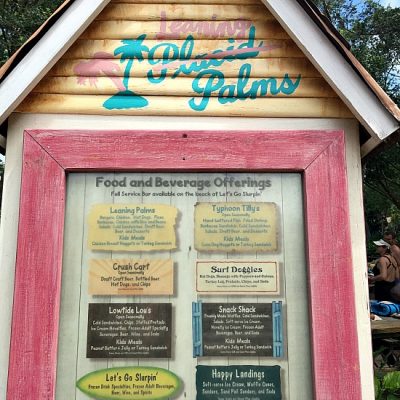 Food offerings board at Disney's Typhoon Lagoon
For full meal options, you'll want to visit Leaning Palms, Lowtide Lou's or Typhoon Tilly's.  The options at these locations vary from lighter options, like a chicken wrap or turkey pesto sandwich to standard theme park fare, like shrimp baskets and hot dogs.
You'll also have plenty of options for snacks if you're not looking for a full meal – and you can even get the famous turkey leg at the Surf Doggies snack stand!
Value
At the time of this post, tickets to Disney's water parks range from $55-$60 for adults ($49-$54 for children ages 3-9) depending on the time of year.  As compared to a day in one of the traditional four theme parks, this is a much cheaper proposition.  In addition, when you purchase a ticket to a water park, you get admission to both water parks for that day – meaning you can go back and forth between the two as you please (assuming both parks are open that day).
Amenities
One of the tough things about fitting a water park into your Disney vacation is organizing (and packing) everything you'll need for a comfortable day in the water. My quick list would be: bathing suits, dry clothes to change into, sunscreen, towels, sunglasses, water shoes, water wings for kids, etc. That's a pretty daunting list when you consider that you're already packing for an entire Disney vacation!  But, of course, Disney has thought of that and they're here to help!
Towels – Towels take up SO MUCH SPACE in your luggage and in your day bag.  In order to combat that, you can just rent towels at the park!  The cost is very reasonable and it saves you from having to carry your own around all day – and then worry about having wet towels to deal with afterwards!
Life Jackets – Life jackets are available (for free!) throughout the park, so you can leave your kids' water wings at home!  The jackets range in size from jackets for kids as small as 30 lbs and range all the way up to young adult sizes.  My son was only about 24 lbs at the time, but the 30 lb vest fit him well enough when we tried it on, but he didn't end up needing it as there was so much to keep him busy in the children's section that we never went anywhere else!
And, finally, for everything else you'll need to bring along (like dry clothes and sunscreen) you'll want to have a place to put it all while you're out enjoying yourself. Disney's Typhoon Lagoon rents lockers in two different sizes (for 3 adults and a diaper bag we rented one of the large lockers) for the day. You can rent these through a self-service kiosk as soon as you get into the park – it's quick and easy so you can continue on with your day!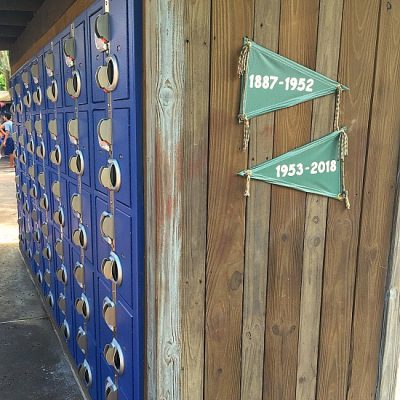 Lockers for rent at Disney's Typhoon Lagoon
Crowds
We most recently visited Typhoon Lagoon over the (very busy) Fourth of July weekend.  We arrived at the park about 30 minutes prior to park opening.  Our party was comprised of three adults (myself, my husband and my mom) and my one-year-old.  So we had to break our touring into smaller groups so someone was always with my son in the children's area while the other two of us were enjoying the attractions that were a little too intense (or had height limits) for the one-year-old.
Even though our touring was broken into parts (meaning we did several attractions multiple times), we were able to do ALL of the attractions in the park (except Shark Reef) before 11:30 in the morning.  Our wait times were never longer than 20 minutes even though it was a very busy weekend.  We left the park for my son's naptime around noon and the park was getting a bit more crowded at that point, but if you arrive early you shouldn't have any problem navigating the crowds even on the busiest weekends!
Other Things You May Need to Know
Disney's Water Parks do not have FastPass+ at all.  So there are no advance reservations to make or paper FastPasses to gather.  The lines do have signs with wait times similar to the main four theme parks, but there is no way to bypass those lines.
Since there are no FastPass lines, there is also no Child Swap at Disney's Water Parks.  But there are several "family" rides that have no height limits at all!
For attractions with no height limits, parents may want to observe before putting antsy kids in line. There were several slides that did not have height limits, but we thought most of them looked a little too rough for our one and a half year old.  So while he technically could have ridden, we opted not to take him on those rides.
Disney's Water Parks sell refillable mugs (these are completely separate from the resort mugs you get with the Disney Dining Plan) for a very reasonable price (approximately $14.95 during our visit).  These mugs can be refilled at either water park, so if you're doing a two-park day like we did and are planning to eat in the parks a couple of times and if you may buy a few more drinks, it might be a good value for your family!
There are PhotoPass photographers in the Disney's Water Parks as well – so if your party has Memory Maker, be sure to get those pictures in!  There are often photographers at the bottom of slides to capture your descent, but there are also some roaming around (we specifically saw them in the kids' areas) for additional pictures!
Have you visited Typhoon Lagoon? What tips do you have for experiencing the Disney Water Parks? Share in the comments section.
Incoming search terms:
https://www themouseforless com/blog_world/everything-need-know-disneys-typhoon-lagoon/