This post may contains affiliate links for your convenience. If you make a purchase after clicking a link we may earn a small commission but it won't cost you a penny more! Read our full disclosure policy here.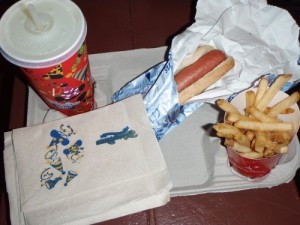 As pretty much everyone knows, everything at Disney is subject to change at any time.  There is nothing that this is truer of than the discounts that Disney offers on their vacation packages.  In the last few years, Disney has had somewhat of a pattern when it comes to offering their August-October discount.  This has typically been a Free Dining Offer, and it would open up to be booked in early April.  Sometimes you could book it while on a trip the previous year.
This year Disney decided to break the mold.  You can now book a package with Free Dining for trips with select dates between today and 9/29/11.  There are a series of blocked out dates though, but this is both the widest availability and most advanced notice that they have ever offered.
Under this offer, reservations at Value resorts will get the Quick Service Dining Plan for Free.  You can then pay to upgrade to the Plus Dining Plan or the Deluxe Dining Plan.  Guests staying in the Moderate, Deluxe and Deluxe Villa resorts will get the Plus Dining Plan for Free, and can upgrade to the Deluxe Dining by paying the difference.
The important thing to note is that this offer must be booked by 12/20/10.  To book the reservation, you would need to put down a $200 deposit, which is fully refundable up to 45 days before your trip
So – what does all of these mean for the average guest?  Well, Disney is telling us that this is the only time that they will be offering Free Dining for 2011.  They are saying that there will not be the usual April offer, so we are encouraging anyone who is considering a trip to secure it, as there may not be another chance to get it booked if we wait on it.
We do not know at this point if Disney will extend Free Dining to include the rest of the year, as they did this year.  If they do, and later trip dates would work for you, then we can always adjust your trip dates at that time.
Another plus to booking this early means that you'll get your first choice of resorts and room types, and you will be very prepared when the 180 day mark opens up for your dining reservations.  And, of course, your Travel Agent will be there to keep track of it all for you.
Sound good? Of course it does! Who doesn't like free food?!?!  ; )
Have questions? Leave a comment, send an email or fill out a quote request form and we'll do our best to help!