This post may contains affiliate links for your convenience. If you make a purchase after clicking a link we may earn a small commission but it won't cost you a penny more! Read our full disclosure policy here.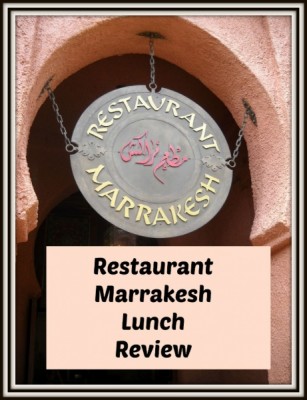 We gave Restaurant Marrakesh in Epcot's Morocco a try for the first time, and were delighted with this hidden gem!   It was a hot day in which a break was needed, so we decided on the spur of the moment to use the My Disney Experience app in Epcot to see if we could get a table.  Fortunately for us, we were able to secure an Advanced Dining Reservation for the restaurant's opening time!
For those not familiar with Moroccan cuisine, there is a book outside the restaurant with a menu and photos of the entrees.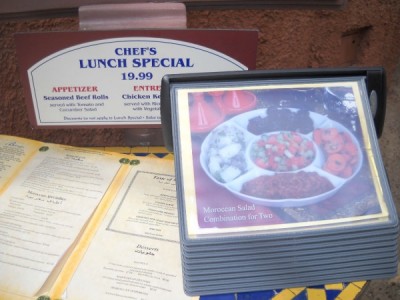 Throughout the Morocco Pavilion, the use of mosaic tile is impressive.  The mosaic tile gave the restaurant a beautiful setting in which to enjoy a meal.  Restaurant Marrakesh has a dance area for a belly dancer at select times, but we did not see the show.  We were there at an off-time, and in fact the restaurant was more than half empty the whole time we dined.  If you would like to make a same day dining reservation in Epcot like we did, getting a table at Restaurant Marrakesh might be a good bet!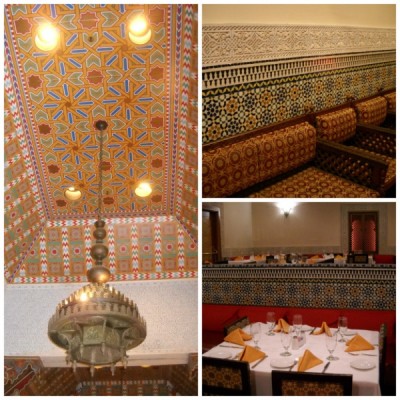 There was a fixed price menu for lunch, and I decided to go with that so I could sample a few menu items.  My daughter asked if she could order a kid's meal, and they were pleased to accommodate her.
Beverages and Appetizers
I ordered the Moroccan Mint Iced Tea, and my daughter ordered the Moroccan Mint Hot Tea.  We both enjoyed our teas that had just the right amount of mint flavor.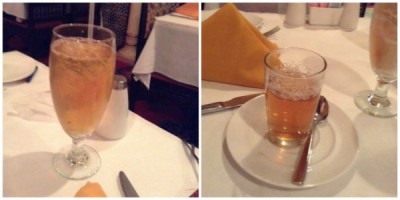 The meal started with bread and butter, a nice touch though the bread was ordinary rather than flavored in any way.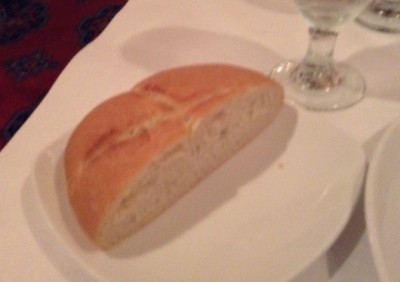 My appetizer included a seasoned brewat beef roll with a salad.  The brewat beef roll was divine, and a couple more of these would have been a good entrée for me.   It consisted of a thin pastry filled with minced beef and egg. It was fried and had a touch of cinnamon and brown sugar, and the combination of those flavors made for a tasty appetizer!  The salad had a refreshing dressing that tasted yogurt based, and the portion size was just right.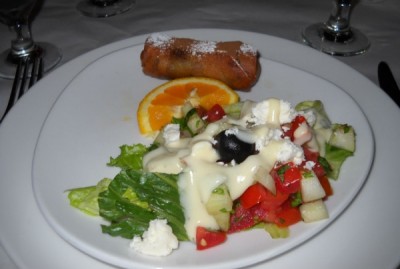 My daughter's kid's meal came with carrots and applesauce.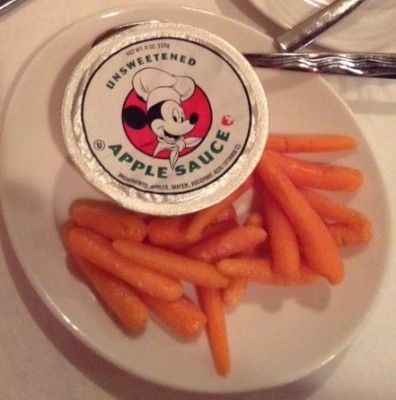 Entrees
My entrée was a chicken kabob with rice and olives.  It was flavorful without being spicy, and I liked it because it was something a little off the beaten path from typical meat and potato meals.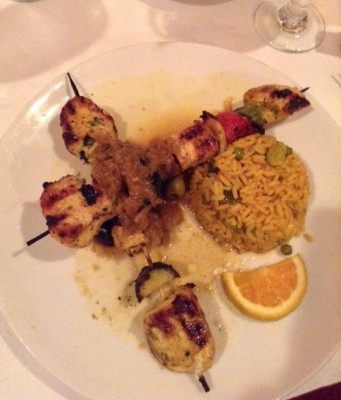 My daughter had Moroccan pasta and meatballs.  The pasta was a little thicker than average spaghetti, but it wasn't too saucy and that pleased her.  She liked the meatballs, too.
Dessert
My daughter passed on dessert in favor of getting a treat in the World Showcase later, but my fixed price meal included a slice of baklava.  It came with a fruit dip, which I felt that the dessert did not need as it stood well on its own with a fine flaky crust.  The baklava was a good ending to a good meal.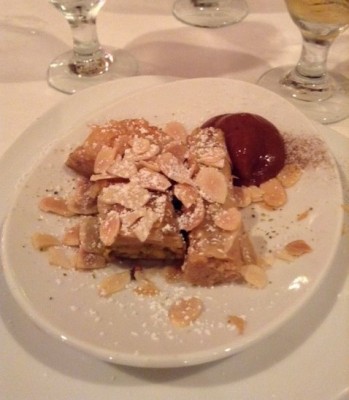 We were glad that we finally gave Restaurant Marrakesh a try, and were sorry that it took us so long to do so!  We'll be visiting this hidden gem again.
Have you dined at Restaurant Marrakesh?  Tell us about your experience in a comment below.