This post may contains affiliate links for your convenience. If you make a purchase after clicking a link we may earn a small commission but it won't cost you a penny more! Read our full disclosure policy here.
By Rikki Niblett and Chris Johnson
The Epcot Food and Wine Festival is here yet again. It is honestly my favorite time of year at Walt Disney World. I couldn't get enough of it from the first time I stepped foot in World Showcase a few years ago. – Rikki
Yes…what she said! If you have never experienced F&W at Epcot I cannot recommend it highly enough. There is nothing more fun to my wife and I then going to the park on an empty stomach and sampling such amazing things from all over the world. There truly is something for everyone.
The Food and Wine Festival runs for a record 46 days this year, until November 12. Each day offers great food, amazing drinks, culinary demonstrations, concerts from some great retro artists and much, much more.
Here are a few tips that will help to make your trip this year a little bit better.
First, make sure to stop at the Festival Center. It can be found in the former Wonders of Life Pavilion in between Universe of Energy and Mission: Space. Here you will be able to catch culinary demonstrations (if you haven't signed up yet for any make sure to call 407-WDW-FEST.)  You will also be able to sample wines for purchase and visit the Ghirardelli booth for chocolate samples. (Also…try the drinking chocolate found here. So rich but SO delicious!) This area will allow you to also shop for Festival merchandise and pick up a guide, so you can see what items you will want to eat ahead of time. You should also pick up a Passport to have the booths stamp as you make your way across the promenade.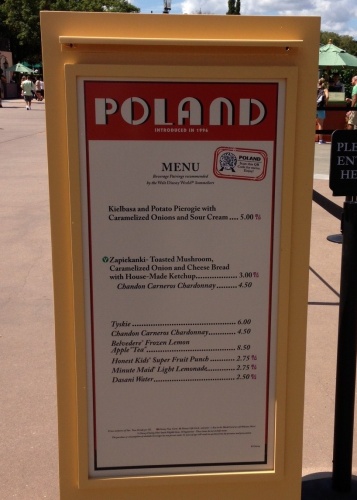 Get to World Showcase early. Start as soon as 11:00 am. This is when the booths open and you will be ahead of the crowd as you make your way through. It gets quite crowded as the day wears on.
As you head to World Showcase consider starting in the back, not in Canada or Mexico. These booths see less traffic in the beginning because most people start and continue down the line. The middle booths take longer for most to get to because of that.
When dining on at the marketplace booths, we would strongly suggest using either your room charge or get a Disney gift card (they sell special wrist bands for the Festival). That way it is quick and easy. If you are on the Disney Dining Plan, we strongly encourage using your snack credits for the dishes you want to try. They are accepted for most items and you can get a lot of really great deals that way.
Finally, go during the week if you can. It is WAY less crowded than the weekend because the locals are all at work.
Now…what are my top 5 picks for the dishes you need to try?
Rikki's Picks
1. Apple Strudel – Germany
2. Pork Slider – Hawaii
3. Chocolate Lava Cake – Ireland
4. Mushroom Filet – Canada
5. Fisherman's Pie –Ireland
Chris's Picks
1. Kielbasa and Potato Pierogie – Poland
2. Kielbasa and Potato Pierogie – Poland
3. Kielbasa and Potato Pierogie – Poland
4. Kielbasa and Potato Pierogie – Poland
5. Kielbasa and Potato Pierogie -Poland
Chris's REAL Picks
1. Apple Strudel – Germany
2. Pork Slider – Hawaii
3. Chocolate Lava Cake – Ireland
4. Kielbasa and Potato Pierogie – Poland
5. Fisherman's Pie – Ireland
If you are going this year, have a magical time. It is, after all, the most food-tacular time of year. If you aren't, we strongly encourage you to make a trip next year. It is totally worth it!  The only problem…not enough stomach space. : )