This post may contains affiliate links for your convenience. If you make a purchase after clicking a link we may earn a small commission but it won't cost you a penny more! Read our full disclosure policy here.
From Our Magically Speaking Newsletter Archive – subscribe today!
By Carol Garcia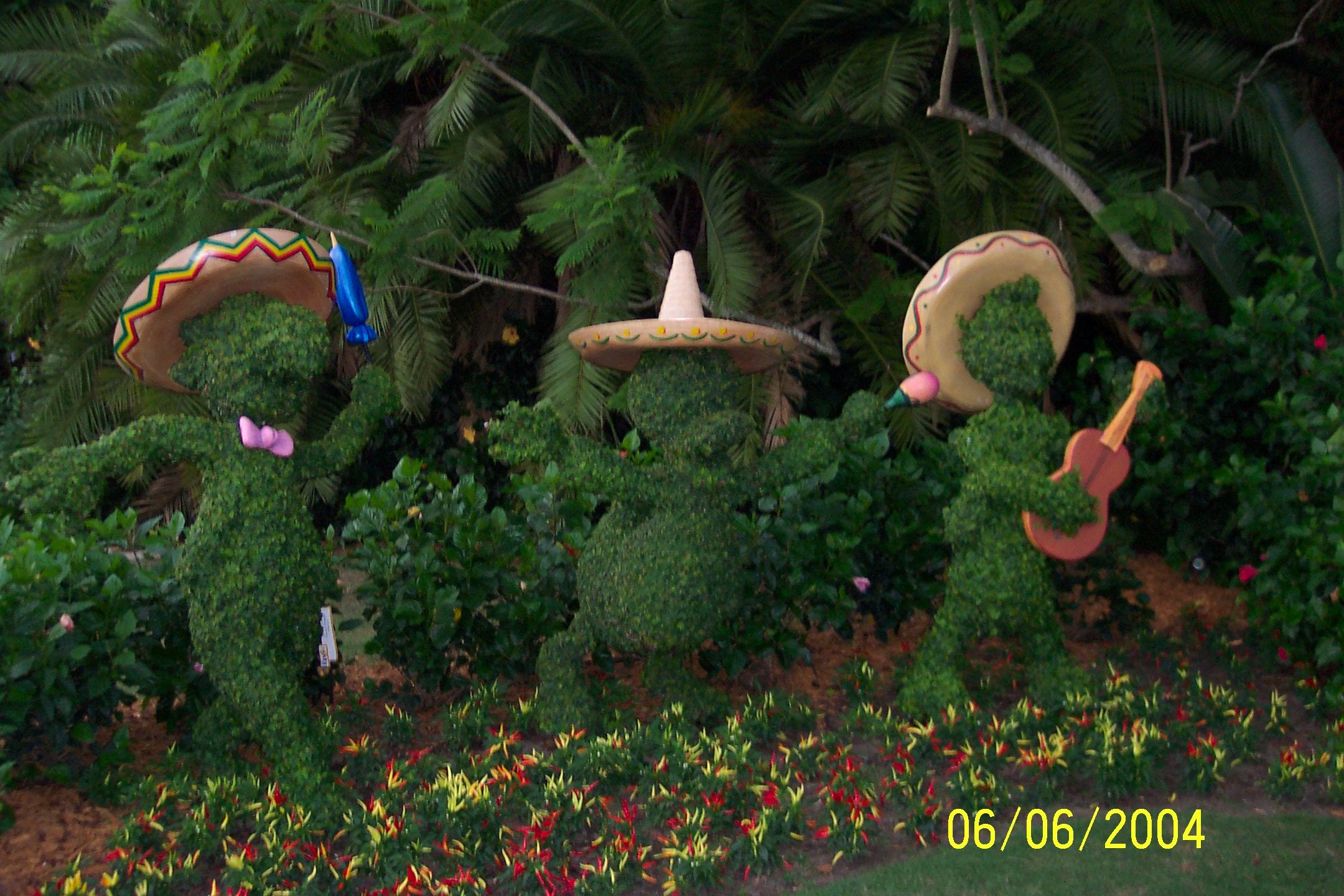 Will you be one of the lucky Epcot guests anytime from April 15 though June 5th?  Do you love to garden or just look at vibrant blooms?  Are you looking for ideas to make your yard amazing?  Then you are in for a treat.  The 12th Annual International Flower and Garden Festival at Epcot is scheduled to blossom April 15th and will run through June 5, 2005.  When visiting the International Flower and Garden Festival at Epcot, you will find many beloved Disney Characters chiseled into topiaries with remarkable detail.  In front of Spaceship Earth, Mickey and his friends, made of larger-than-life topiaries, welcome you to the popular springtime event.  Not only are vibrant blooms and imaginative topiaries flawlessly placed throughout the park, but there are themed weekends, Flower Power Concerts and even a Mother's Day Brunch.
Many guests who visit Epcot may not realize that this event is scheduled during their visit.  Or perhaps they will just look at the flowers while they are rushing to experience Test Track or Mission Space.  Maybe you think you can try to experience the festival in one afternoon.  Can you?  Maybe.  But, you will be missing so much that the festival has to offer.  There are a great number of things to do and see at the Flower and Garden Festival that are included in the price of admission to Epcot.  This year the theme is "The Happiest Celebration on Earth."   Not coincidentally, that is also the name of the celebration of Disneyland's 50th birthday beginning on May 5th.
A good place to start your experience is the Festival Center, located in Innoventions West (the one on the right side as you enter the park).  The Festival Center will host an all new Gardener's Café along with treats such as planting pointers, Ask an Expert and Disney Gardening at Home.  Also there is the Festival Store, which provides unique Festival merchandise and in the past has even allowed visitors to order small topiaries to grow at home.
As you walk toward the World Showcase Plaza to see the Tinker Bell, Beauty and the Beast and The Lion King displays, take note of the floating flower gardens in the water.  As you continue to explore the World Showcase, you will find displays and demonstrations daily.  Be sure to check the Festival brochure, found throughout the parks, for times, locations and instructions for registration.  You may even find orchid, bonsai or a class on Moroccan herbs and spices on your journey.
There are many hidden gems in this festival.  Take time to stop and smell the roses, literally, at the fragrance garden in France.   Or maybe just learn the history of roses in the Imagination Walkway (that little known shortcut from the Imagination building to World Showcase).  While you are back there, wander through the all new Farmer Mickey's Maze, which is sure to delight the younger crowd.
Speaking of the younger crowd, there are several displays designed with the little Mouseketeer in mind.  Minnie's Magnificent Butterfly Garden invites guests to walk through hundreds of free-flying butterflies.  Children 5 and up can play on the new SpaceNet.  The Ultimate Backyard Garden will not only highlight new ideas for backyards, but also features a Kids Play Area.  A Hidden Mickey hunt has been designed especially for the festival.  Try to find all 50 of them.
Each weekend during the seven week festival there is a different theme.  This year's themes are scheduled to be:
| | |
| --- | --- |
| Premiere | April 15-17 |
| I Dig Bugs | April 22-24 |
| Art in the Garden | April 29, 30 & May 1 |
| Mother's Day | May 6-8 |
| Photography | May 13-15 |
| Characters in Bloom | May 20-22 |
| Memorial Day | May 28-30 |
| Festival Farewell | June 3-5 |
For evening entertainment, take in a Flower Power Concert, featuring big names in music from the 60's and 70's.  These performances are held in the American Gardens Theater nightly at 5:45pm, 7:00pm and 8:15pm.  Scheduled to perform are:
| | |
| --- | --- |
| Davy Jones | April 15-18 |
| Gary U.S. Bonds | April 19-21 |
| Paul Revere & The Raiders | April 22-25 |
| The Buckinghams | April 26-28 |
| Grass Roots starring Rob Grill | April 29-May1 |
| The Turtles featuring Flo & Eddie | May 2-5 |
| The Gregg Rolie Band | May 6-8 |
| The Lovin' Spoonful | May 9-11 |
| The Nelsons | May 12-14 |
| Gary Puckett | May 15-17 |
| Orleans | May 19-20 |
| Rare Earth | May 21-23 |
| BJ Thomas | May 24-26 |
| Eric Burdon and the Animals | May 27-29 |
| Felix Cavaliere's Rascals | May 30-June1 |
| Arlo Guthrie | June 2-5 |
There are many more hightlights of the festival.  Here is a list of more things to entice you to tour this popular event.
v     Behind the Seeds Greenhouse Tour – Take the family on a tour of The Land greenhouses and fish farm.  There are fish to feed, an herb-and spice challenge and taste test and even alligators.
v     Italian Container Garden – View the classic containers overflowing with blooms.
v     Ladybug Releases – Join Dr. L Bug in the WaterFULL World Garden
v     Sculpture Garden – A garden backdrop highlights a collection of Florida art.
v     Turf Tips – Turn your green drams into reality!  Stop by the Tip Top Turf garden and let turf specialists help solve your lawn-care mysteries.
v     Tricks of the Trade – Get a "behind the scenes" look at how Disney's Horticulture team makes some of its most popular elements, from topiary to hanging baskets.
v     Phyto-forms – Don't miss this fascinating showcase where art meets horticulture in the unique works of sculptor and land artist Julia Barton.
v     Dooryard Gardens – Expand your plant palette!  Take home super ideas that will let you enjoy a beautiful view from your front door.
v     Water Garden Wonders – Gather cool concepts for water gardens that add a "splash" of creativity to your landscape.
v     Shishi-odoshi (Clacker Garden) – Hear how water and bamboo transfer into a musical experience in this kinetic garden.
v     WaterFULL World – Explore this unique garden to find out how water conservation helps us in our everyday lives – and watch as ladybugs are released daily.
v     Great American Gardeners – 11am & 2pm Friday – Sunday  Learn from the pros!  Nationally recognized green thumbs offer exciting and interactive demonstrations
| | |
| --- | --- |
| Paul James | April 15-17 |
| Robert Bowden | April 22-24 |
| Linda Blondheim | April 29-May1 |
| Raymond Western | May 6-8 |
| Gary Allen | May 13-15 |
| Tom Turpin | May 20-22 |
| Georgia Tasker | May 27-29 |
| Tom McCubbin | June 3-5 |
The festival is so extensive that it can be a destination itself.  Make sure to plan for ample time to visit those demonstrations and displays that will most interest your group.  Whether you are an avid gardener or just appreciate looking at the wide array of blooming arrangements and incredible topiaries, there is something at the 12th Annual International Flower & Garden Festival for everyone.  And one last tip, don't forget the camera!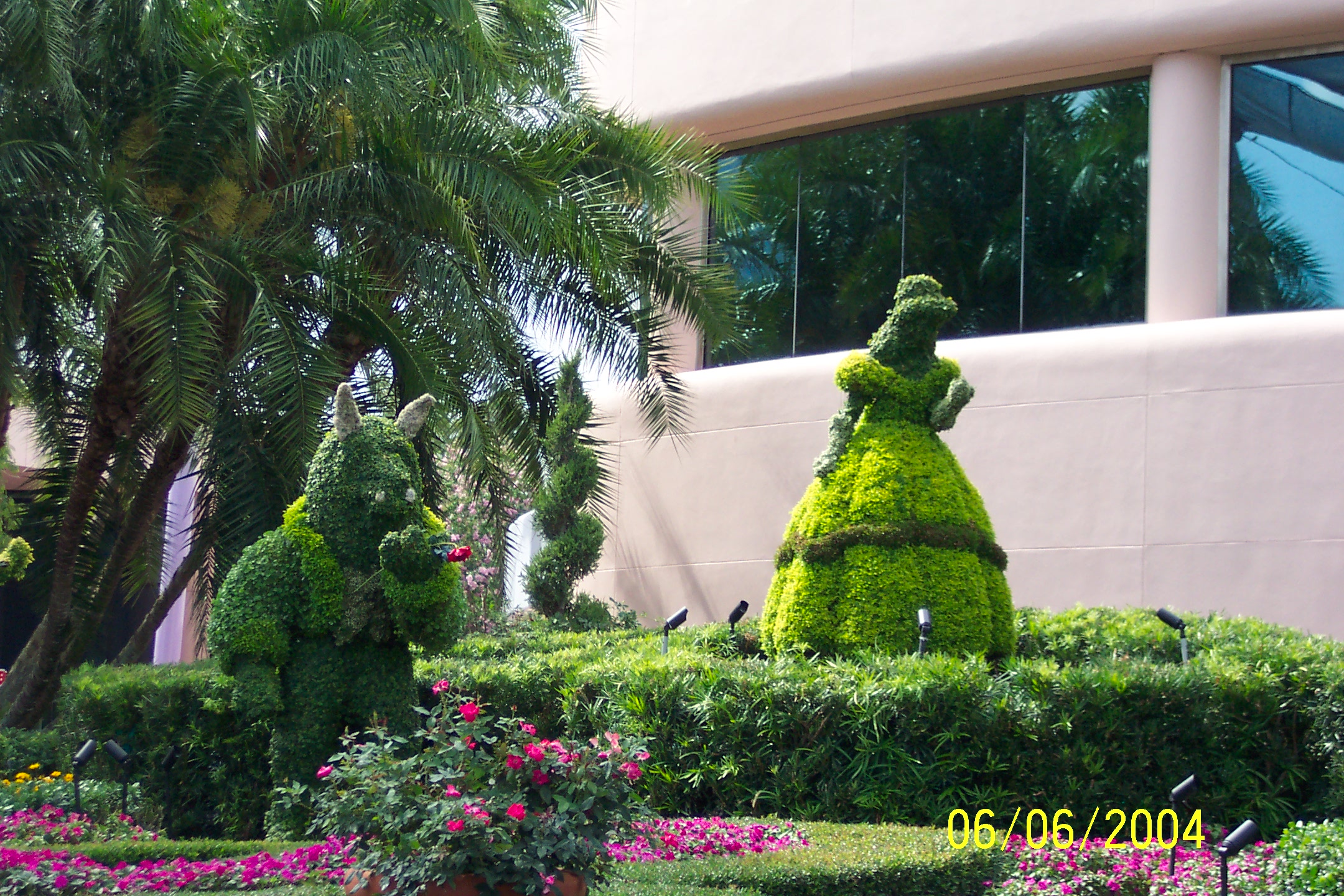 Magically Speaking Featured Article
Library of Congress ISSN:1556-3863