This post may contains affiliate links for your convenience. If you make a purchase after clicking a link we may earn a small commission but it won't cost you a penny more! Read our full disclosure policy here.
From Our Magically Speaking Newsletter Archive – subscribe today!
By Carol Garcia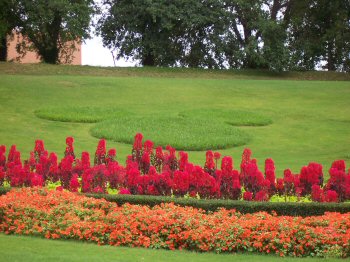 The 13th Annual International Flower and Garden Festival at Epcot is scheduled to blossom this year from April 21 through June 11.  The theme of this year's festival is "Romance in Bloom." And what a festival it will be! More than 70 topiaries will be chiseled from shrubs throughout the park. Keeping with the romance theme, there will be a new sweetheart topiary grouping of Mickey Mouse and Minnie Mouse, Cinderella and Prince Charming, Lady and Tramp, and Belle and Beast. The four pairs will also be found on new U.S. Postage stamps to be introduced during the festival. Not only are vibrant blooms and imaginative topiaries flawlessly placed throughout the park, but there are themed weekends, Flower Power Concerts and even a Mother's Day Brunch.
With all there is to see and do at Epcot, guests may just plan on snapping photos of a few exhibits while rushing off to the next attraction. While the Flower and Garden Festival can be experienced in just one afternoon, it may not be enough to really take in all that the festival has to offer. Over 30 million blooms will adorn Epcot (just imagine how long it would take to count them all to see if I'm right!) There are a number of special exhibits to see, guest speakers to enjoy, seminars and demonstrations to attend, and interactive experiences to sample at the Flower and Garden Festival that are included in the price of admission to Epcot.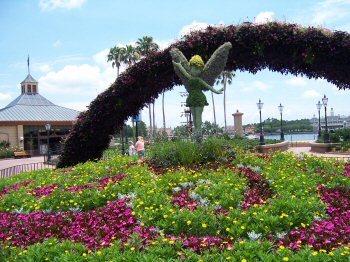 The Festival begins right as guests enter the park. They are greeted by a Donald and Daisy Duck "tunnel of love" topiary. Make sure to pick up a program guide from the Festival Center, located in Innoventions West (the one on the right side as you enter the park).  The Festival Center will host demonstrations and guest speakers. Among those scheduled are:
Great American Gardeners – Learn from the pros! Nationally recognized green thumbs offer exciting, interactive demonstrations.
Ask an Expert – Get your gardening questions answered! "Master Gardeners" from the Florida Institute of Food and Agricultural Sciences will be available to answer your questions.
Disney Gardening at Home – Get the "inside scoop" from Disney experts. Learn tips and secrets that you can use in your own garden.
Planting Pointers – Join the gardening experts from the University of Florida Institute of Food and Agricultural Sciences as they present great gardening ideas for everyone.
Art in the Garden Gallery – View the gardens of Epcot in a different way! Art in the Garden artists showcase their work in this collection of one-of-a-kind masterpieces.
Festival Blooms – Find your favorite Festival flower! Check out the blooms featured in displays throughout Epcot.
Also there is the Festival Store, which provides unique Festival merchandise from garden merchants throughout the country and in the past has even allowed visitors to order small topiaries to grow at home.
After leaving Festival Center toward the World Showcase Plaza to see the "Lover's Lane" displays, take note of the floating flower gardens in the water.  There are 80 floating mini-gardens in the water, all measuring three feet in diameter. As you continue to explore the World Showcase, you will find displays and demonstrations daily.  Be sure to check the Festival brochure, found throughout the park, for times, locations and instructions for registration.
There are many hidden gems in this festival.  Take time to stop and smell the roses, literally, at the fragrance garden in France.  See both Chinese and Japanese bonsai. Hear the kinetic garden in Japan where bamboo and water combine into a unique garden experience. See container gardening beyond what your local garden center might offer at the amazing displays in the Italian pavilion.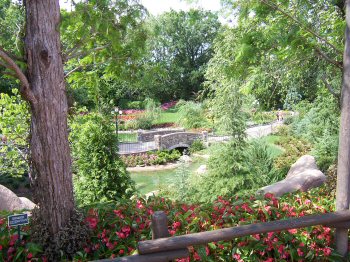 And if you are traveling with a younger crowd, there are several displays designed with the little Mouseketeer in mind.  New this year is a "Growing Future Gardeners" exhibit, aimed at inspiring families to plant their own garden at home. Minnie's Magnificent Butterfly Garden invites guests to walk through a screened enclosure containing more than 500 butterflies, and see how caterpillars form a chrysalis and turn into butterflies. A daily ladybug release is not only fun, but informs children about these beneficial bugs. Tinkerbell's Fairy garden is designed especially for those 2-5 to frolic with the fairies. Backyard Garden Party, presented by The Home Depot, will help families plan the perfect yard for outdoor entertaining. The Home Depot shows Guests how to create the ultimate kid's birthday, luau and wedding parties. There is even a space for children to climb and play.
Each weekend during the seven-week festival there is a different theme.  This year's Themed Weekends are scheduled to include:
April 21-23 Premiere Weekend
April 28-30 Party in the Garden Weekend
May 5-7 Art in the Garden Weekend
May 12-14 Mother's Day Weekend
May 19-21 Characters in Bloom Weekend
May 27-29 Memorial Day Weekend
June 2-4 I Dig Bugs Weekend
June 9-11 Festival Farewell Weekend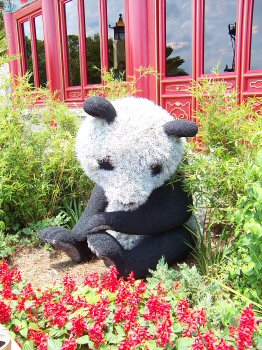 The fun doesn't stop when the sun goes down. For evening entertainment, take in a Flower Power Concert featuring big names in music from the 60's and 70's.  These performances are held in the American Gardens Theater nightly at 5:45pm, 7:00pm and 8:15pm.  Scheduled to perform are:
April 21-24 — Nelson
April 25-27 — The Buckinghams
April 28-May 1 — Gary Puckett
May 2-4 — Grass Roots featuring Rob Grill
May 5-8 — Paul Revere and the Raiders
May 9-11 — The Association
May 12-15 — Davy Jones
May 16-18 — The Tokens
May 19-22 — B.J. Thomas
May 23-25 — Felix Cavaliere's Rascals
May 26-29 — The Guess Who
May 30-June 1 — Tony Orlando in Concert
June 2-5 — Arlo Guthrie
June 6-7 — The Turtles featuring Flo and Eddie
June 8-11 — Herman's Hermits starring Peter Noone
There are many more highlights of the festival.  Here is a list of more things to entice you to tour this popular event.
Behind the Seeds Greenhouse Tour – T a backstage tour of The Land greenhouses and fish farm. There are gigantic fruits, good bugs, fish and alligators to see. Do the herb-and-spice challenge, taste-test a greenhouse-grown vegetable, and sprout a seed in your pocket. Bring your camera and take home ideas for growing your own food at home! Please call (407) WDW-TOUR for reservations or visit the Tour Desk inside The Land Pavilion for same-day sign-ups. Guests 3 – 9 $10.00; 10 and up $12.00.
As part of this year's romance theme, 50 hearts— some floral, some not — are hidden throughout the festival landscaping. Guests can get tips for finding the hearts when they stop by the Festival Center.
WaterFULL World – Explore this unique garden and discover how water conservation helps us in our everyday lives. New this year – a fun kid's playground!
Tricks of the Trade – From topiary to hanging baskets, learn the tricks of the trade from Disney's own horticulture crew.
Sculpture Garden – Enjoy beautiful works of art on loan from some of Florida's most prestigious collections in our gracious garden setting.
Water Garden Wonders – Gather cool concepts for water gardens that add a "splash" of creativity to your landscape.
Mother's Day Brunch – Bring Mom to Epcot and experience a brunch just for her. Reservations go fast, so call 407-WDW-DINE early to reserve your spot. Brunch is offered on May 14th from 9 am – 3 pm.
The festival is so extensive that it can be and is a destination unto itself for many guests.  Make sure to plan for ample time to visit those demonstrations and displays that will most interest your group.  Whether you are an avid gardener or just appreciate looking at the wide array of blooming arrangements and incredible topiaries, there is something at the 13th Annual International Flower & Garden Festival for everyone.  And one last tip, don't forget the camera!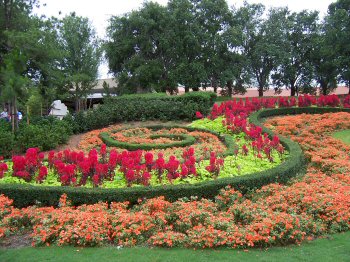 Magically Speaking Featured Article
Library of Congress ISSN:1556-3863