This post may contains affiliate links for your convenience. If you make a purchase after clicking a link we may earn a small commission but it won't cost you a penny more! Read our full disclosure policy here.
In the final part of or Epcot series, we have a few that you'd expect and then a few I think might be new to you. Starting with Turtle Talk, we'll look at Crush and eventually we'll loop our way over to Test Track where we'll zip around a bit.
Turtle Talk with Crush
This attraction makes me want to be 6 again.  I really wish I could talk to Crush (although as a kid I would have been too shy).  I just am amazed by this process.
If you want to know an animated character talks to real humans in real time you can go to the Wikipedia page for Turtle Talk to find out.  I won't ruin it for you here.  I can tell you that knowing doesn't make it any less magical!
I think my husband's favorite part about the show is that even though he has no kids to annoy him with it, he does have a loving wife more than willing to call him Dude for the rest of the day!
Universe of Energy
Universe of Energy.  When I was younger all I remembered were the dinosaurs.  Now a lot of what I remember is Ellen DeGeneres.
As the new narrator she stands out in my head and I'd have to say she's a good addition as her humor livens things up.  I like the beginning which is a video with Ellen.  The only thing here is that it can get a little long to stand for.
The rest of the ride you are seated.  You move through three films and a diorama section where you still get to see those dinosaurs.  Watch for some hidden cameos during Ellen's dream sequence!
Victoria Gardens Canada Pavilion
These gardens are so beautiful.  Yet I wonder how many overlook them.  I had never really taken notice until our last trip when we ate at Le Cellier for the first time.  As we slowly walked down to the restaurant (we were early for our reservation) I saw the beauty of the gardens around me.  Everything was perfect.  Everything was beautiful.  The waterfall, stream and even mountains.  If you haven't taken the time before, check out this hidden treasure.
World Showcase Lagoon and Friendship
The eleven countries in World Showcase circle World Showcase Lagoon which has a perimeter of 1.2 miles.  It is a man-made lake and can be crossed on boats called the Friendship.  There are four landings on the lagoon.  A Mexico boat lets off passengers at Germany while the Canada boat lands at Morocco.  Travel on the boats can be relaxing, but it is not always faster.  At night, World Showcase Lagoon becomes the stage for the Illuminations: Reflections of Earth show.
X-ing from Future World into World Showcase
I love the walk from Future World into World Showcase.  The separation is very distinct, and you can clearly tell they are separate parts.  Yet at the same time this walkway joins them and reminds us that the future is connected to the unity of the many different lands.  Next time you're there take the time to appreciate its significance.
Yong Feng Shangdian Department Store
Yong Feng Shangdian is currently being refurbished and I look forward to seeing the changes.  If you visit Orlando in June and July, you've likely been caught in a torrential downpour at least once.  We had the luck of being in the China Pavilion when that happened.  Yong Feng Shangdian has so many things to look at it kept us interested for a long time.  We didn't mind being trapped by the rain. (This was before we developed the "Who care if we're wet" mindset)  Beautiful silks, rugs, chopsticks, jades and toys.  Everything is so lovely that I usually find it hard to resist.
Zipping by on Test Track
I always think race car drivers must be a little bit crazy to do what they do.  But even when given the chance to get in a car on Test Track you feel like a real race car even though your top speed is only 65 miles per hour.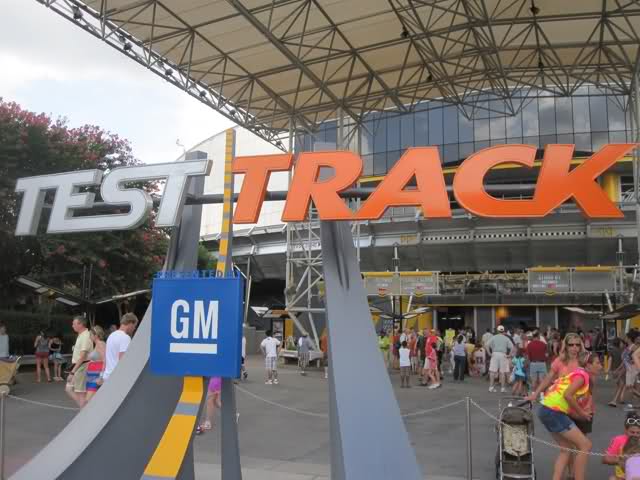 This isn't all a fast race around the track.  The vehicle also needs to be tested at extreme temperatures and you want your brakes to work well also.  Being put through the paces of a crash test dummy makes for a pretty good time.
That's my Epcot A-Z. Remember, you may not agree with all of my choices. I hope they inspire you to try something new or maybe even try making a list of your own.
I'll be back with Hollywood Studios From A-Z soon. You can look forward to everything from the American Idol Experience to zero fear on Tower of Terror.