This post may contains affiliate links for your convenience. If you make a purchase after clicking a link we may earn a small commission but it won't cost you a penny more! Read our full disclosure policy here.
Epcot Food and Wine Festival: The Basics
The 20th Epcot International Food & Wine Festival was in full swing when I visited early this month. If eating your way through World Showcase and sampling mouthwatering delicacies prepared by celebrity chefs is your kind of fun, the festival is the place to be. The annual festival is immensely popular with tourists and locals alike. Admission to the festival is included in your park ticket, however food at the marketplace booths ranges between $4 to $8 and many booths accept your snack portion of the Disney Dining Plan for payment.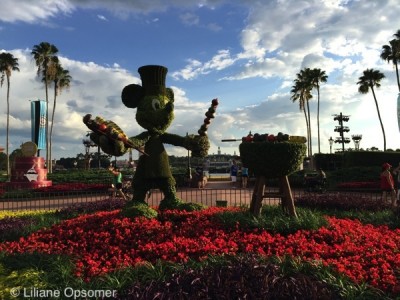 Epcot: The Feast
I've visited Epcot's International Food and Wine Festival for quite a few years now and I have reported about the traditional, the new, the TRY IT program suitable for kids, and the Food and Wine experience after running a half marathon.
This year I decided to focus on the offerings of Chew Lab and Sustainable Chew, which were new additions to this year's festival and located in Epcot's Future World, a first for the event. Think of it as a combination of food meets science, meets culinary trend, meets sustainable food.
I started the meal, like you would in any good restaurant, with a drink: Sustainable Chew's Frozen Chew-tini made with Crop Organic Meyer Lemon Vodka. I loved it, simply loved it, and wished it came with a refill.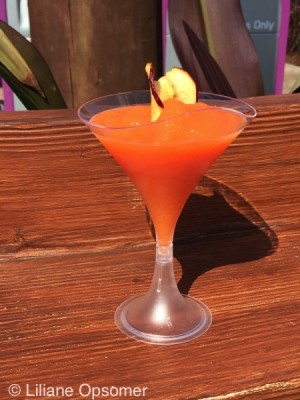 Sustainable Chew also provided my starter: Ricotta & Zucchini Ravioli with Tomato Sauce. I'm usually not a ravioli fan, but these were really good. With the dish, I had the Beso Del Sol White Sangria. Probably not the best choice I made when it comes to pairing but the sangria itself was delicious on a very hot day.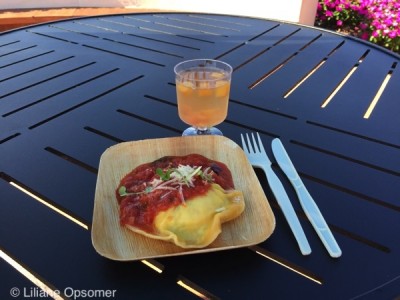 Next, from Chew Lab, I had Olive Oil-Poached Salmon with Fresh Corn, Bacon, and Pepper Jam paired with a Festival Chardonnay from the Napa Valley. The salmon was a little overcooked, and adding bacon to the dish really did not do it for me. It just proved to me that not everything tastes better with bacon. The biggest letdown however was the Napa Valley Festival Chardonnay. California has plenty of good wines, this was just not one of them.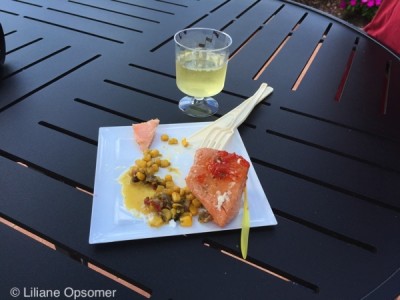 My first main course, still at Chew Lab, was New York Strip with Parsnip Silk, Balsamic Glaze and Arugula Foam. This dish was excellent, the parsnip silk a perfect match, and the arugula foam an interesting add-on. I had the Paso Robles Festival Cabernet Sauvignon with my meal, and just like it's white counterpart, the festival wine was nothing to write home about.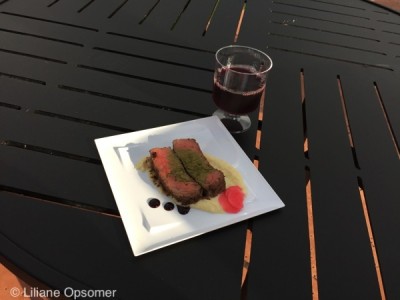 Back at Sustainable Chew I tried the Pork Spareribs with Red Wine and Fennel and Cheesy Mascarpone Grits. It was absolutely perfect. I paired the dish with the Founders Spectra Trifecta beer. A wonderful beer and a perfect match.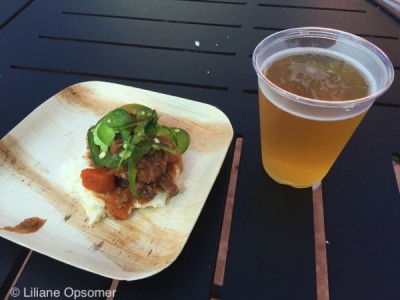 As my feast was coming to an end, the problem was to make a decision about desert. Would it be the Liquid Nitro Chocolate Almond Truffle with Warm Whiskey Caramel from Chew Lab or the Vanilla Panna Cotta with Fresh Figs and Pistachio Brittle at Sustainable Chew? When in doubt have both! I loved the Liquid Nitro Chocolate Almond Truffle but could have done with way less caramel.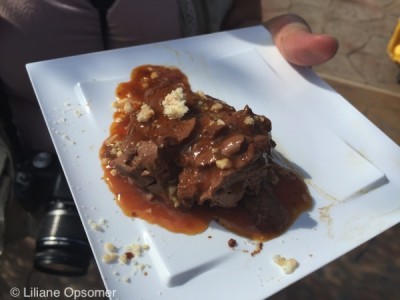 The Vanilla Panna Cotta however was a winner. Adding fresh figs and pistachio to the delicate vanilla taste of the Panna Cotta made me wish for more.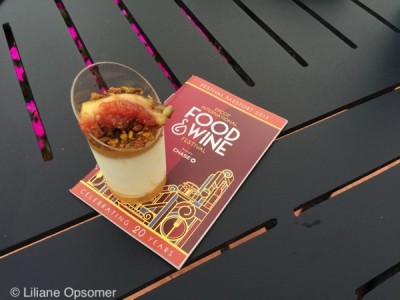 All good things have to come to an end, and I decided to close this culinary journey with a drink. I returned to Chew Lab for The Smoking Hibiscus featuring Montelobos Mezcal Joven. There was a lot of smoke, and quite a lot of hibiscus, but very little drink. It was a great show, but a big let down after an otherwise lovely experience.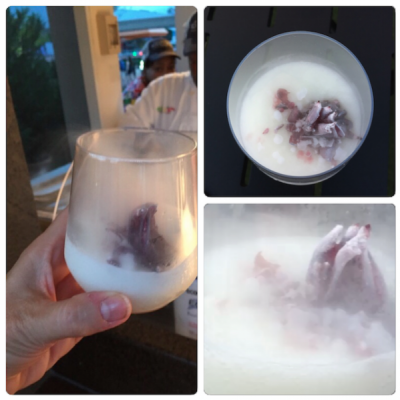 As the festival has now come to an end, I hope you too were able to experience the many delights offered.
Share your experiences in the comments. I would love to hear from you. What did you enjoy?