This post may contains affiliate links for your convenience. If you make a purchase after clicking a link we may earn a small commission but it won't cost you a penny more! Read our full disclosure policy here.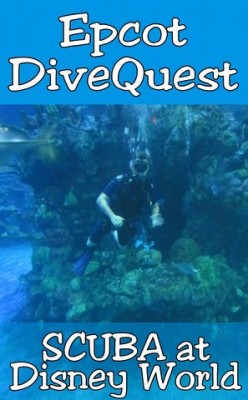 One of the most fun — and most exclusive tours — at Walt Disney World is the Epcot DiveQuest tour. On this tour, you'll become part of the attraction as you SCUBA inside the enormous Living Seas aquarium tank.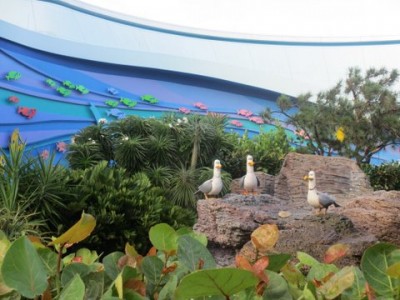 Before the dive, the DiveQuest tour takes you behind the scenes of Future World West and the Seas pavilion. You'll see the massive pumps that filter the aquarium water, take a peek in the kitchen where food for the inhabitants is carefully prepared, and stop by the dolphin and manatee tanks to say hello. In keeping with Disney policy, no pictures are allowed backstage.
Then you'll get ready for the main event — descending into the main 5.7-million gallon aquarium. The DiveQuest staff will outfit you with all of the equipment you need, from a shorty wetsuit to your regulator, tank and weights. To keep contamination down, they ask you to bring only your swimsuit and personal mask into the tank — everything else is supplied. I was even asked to swap out the hair tie holding my ponytail for their fish-safe version, just in case it came loose. As with any dive, you'll want to remove all of your jewelry too.
Once you are oriented and geared up on a shallow shelf at the top of the tank, your divemaster will lead everyone down a safety line for a very relaxing dive. There is no current, and the animals swim lazy loops all around you. For the first part of the tour, a videographer will follow your group and take video of a pre-arranged set of swim-throughs — smile and wave for the camera! After that, you'll have the rest of your roughly 40 minutes underwater to explore at your leisure. Be sure to find the not-so-hidden Mickey on the bottom!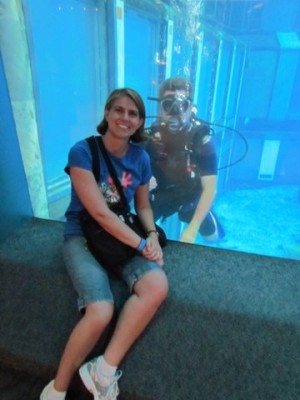 I've been part of this tour twice now — once as a participant and once as a spectator. I can attest that being part of the exhibit is a rush for both the divers and the tourists watching them. I really enjoyed finning around in the tank — my first time SCUBA diving with turtles and sharks up close. The tour guides happily forewarn you that you will become part of the show, a temporary cast member. Sure enough, my favorite memory was interacting with the guests — waving to diners in the Coral Reef, doing high-fives with the kids, and turning flips. When my husband dove while I watched and took pictures, I could see how much the viewers appreciated seeing divers in the tank and followed them from behind the 8-inch-thick glass. My least favorite comment: "I hope a shark takes a bite of one of the divers!"
 While you're warned not to touch them, the animals don't get the same instruction. One of the giant eagle rays likes to buzz the divers, just for fun.
The shallow 30-foot depth and ease of the dive give you a long bottom time. But all too soon, you'll have to wave goodbye to the observers and surface. The staff will help you out of your gear, while back in the locker rooms they provide towels, soap, and shampoo/conditioner. Be sure to pack a comb for your hair. After you change, the divemaster will give your dive log a special stamp.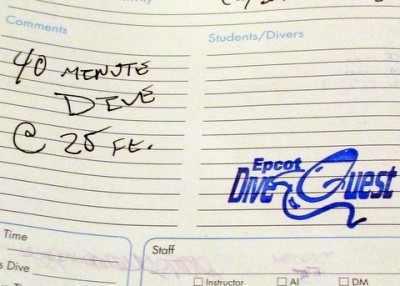 You'll watch the DVD they shot of your dive and have the chance to purchase it for $35. Included free with the experience is a promotional item with the DiveQuest logo, usually a drawstring backpack or T-shirt. Once the debriefing is over, the tour releases you into Epcot for the remainder of the evening, and you'll have an amazing experience to tell everyone when you return home.
Important details to know:
Epcot's DiveQuest tours run at 4:30 p.m. and 5:30 p.m., Tuesday through Saturday. Tour lasts 2.5-3 hours.
Cost: $179 plus tax. 15% discount for annual passes, Disney Vacation Club, Disney VISA members.
12 people maximum per tour. It can be booked up to 6 months in advance.
Check-in is 15 minutes before the tour's start time, outside Epcot's front gates. Epcot admission isn't required.
You must be a certified SCUBA diver and bring your card. Guests 10 to 12 years old must be accompanied by a paying adult.
See Disney's DiveQuest tour page for more information.
Epcot's DiveQuest is a unique, limited-opportunity dive — aquarium dives are only available in a handful of places around the United States, and most cost significantly more. My husband has logged more than 200 dives and still ranks this as one of his favorite dives. He assures me he will be doing this again the next time we visit Epcot.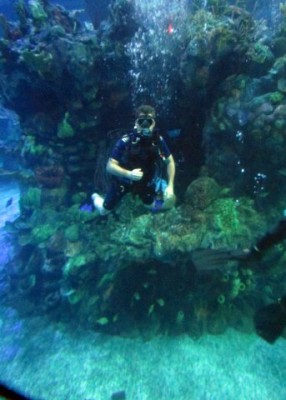 Have you seen divers in the tank at Epcot? Would you like to be one of them?
Incoming search terms:
https://www themouseforless com/blog_world/epcot-divequest-tour/