This post may contains affiliate links for your convenience. If you make a purchase after clicking a link we may earn a small commission but it won't cost you a penny more! Read our full disclosure policy here.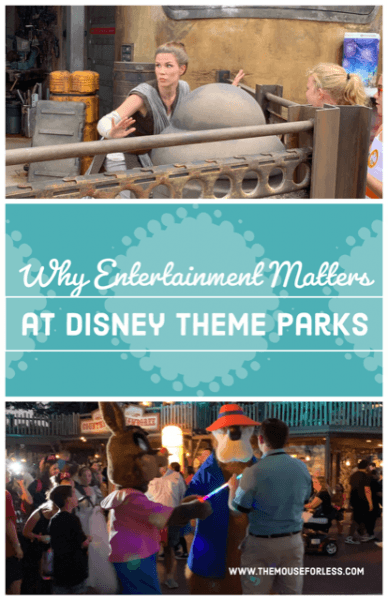 Today is Friday….which is why I should be writing about food. But instead, something else has been plaguing me, so I figured, if it's bothering me….it's bothering others.
Lately, we've seen story after story coming out of Walt Disney World (but also Disneyland) about cuts to entertainment offerings. Most of these cuts were to dance parties, which I can guarantee will eventually be coming back because Disney can't resist a good dance party, but some of these cuts are to entertainment offerings that are a bit more substantial. Namely the cutting of The Muppets Present Great Moments in History and the Royal Majesty Makers at the Magic Kingdom, as well as Buridika at Disney's Animal Kingdom.
These kinds of  cuts are a normal occurrence and happen every year at this time of year, thanks to the brand new fiscal year starting on October 1. So, the introduction of these types of entertainment cuts aren't anything new. I mean who else can remember the outcry when Off Kilter was removed from Epcot a few years back? But as I got to thinking about the removal of these kinds of entertainment offerings, the more problematic I find these cuts to be.
These budget cuts are even more pronounced thanks to what has happened in Star Wars: Galaxy's Edge. The fact of the matter is that many of the entertainment offerings were removed from this new land, before the land even opened. It was promised originally that there would be characters who would constantly interact with you based on how you did in the attraction, droids that would roam the streets, and more. However, as we got closer and closer to the opening of the land and budgets started to soar, these things had to go. What we got, was a beautiful section of the park and a master in theme park design, but overall, it can sometimes feel soulless.  A recent article shared why there are some issues with the land and one of those issues is that fact that the land doesn't feature much in the way of interaction.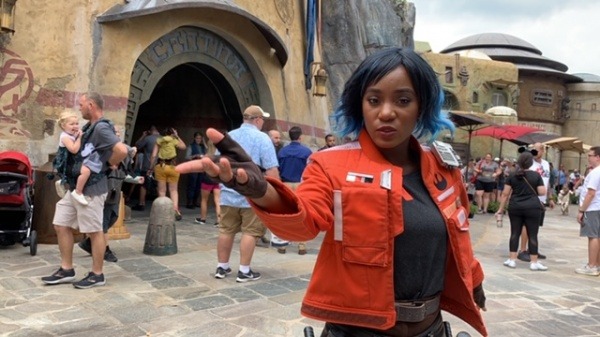 When visiting the land myself, some of the stand out experiences I had were watching Rey and Chewy attempting to fix one of the crashed ships, watching Rey interact with little girls who she was having help hide her from the Stormtroopers who were looking for her, and my personal experience interacting with Vi Moradi. Can you imagine what the land would be like if the budget cuts hadn't have occurred and we were able to experience a land bustling with unique Star Wars characters?! Did I enjoy riding in the Millennium Falcon? Sure! But the things that helped to make the experience more well rounded were the interactions I had with the characters who "lived" in the land.
Another recent experience that stands out to me? A few weeks ago, I went to Mickey's Not-So-Scary Halloween Party. I only did two attractions the whole entire evening. The rest of the time was spent soaking up the experiences of the party. One of which was where Br'er Rabbit and Br'er Bear were just walking around, stopping by the Rivers of America to look for fish. They then moved to the center of Frontierland where Br'er Bear proceeded to get tape stuck to his foot and then the pair attempted to put the tape back down in hilarious fashion. This event, which is not on a map or in a guide book, where these characters got to be free and just have fun, is one of the things that I remember most from the whole evening. This experience made my event more enjoyable.
So, I got to thinking…as I look at videos about visiting the Disney Parks online…sure….the videos where people share a full ride through of an attraction or a parade or fireworks show are helpful in the planning process. But you know what videos have gone viral that are about visiting the Disney parks? I can tell you with certainty, they aren't the full 4K videos of Happily Ever After. They are the videos of people who are interacting with characters or creating their own vacation memories. Those are the things that are getting people talking.
What do I mean? Well remember the story of the interactions that Guests had with Gaston? That little girl who put him in his place was priceless. Or what about the Evil Queen who absolutely slayed it? Or the dad who sang Ava Maria thanks to the urging of his daughter in the Grand Floridian lobby? Or we have the service dog who cuddled with Donald. Or there's the little boy who fell in love with Snow White? We can't forget the mom who went viral because she was celebrating her kid's first day of school at Walt Disney World. And finally we have our most recent viral sensation. The little girl who was dressed as Princess Tiana who danced her heart out to the band who played "When I'm Human".
What do all of those things have in common? Not one of those viral stories had anything to do with experiencing the attractions. Each and every one involves some sort of interaction with the Cast Members who make the parks what they are. These are entertainment Cast Members who are providing a level of exceeding expectations that are unparalleled. Without these entertainment Cast Members, not one of these experiences would have happened. That's why these cuts to entertainment are a huge deal.
As the Walt Disney Company looks to make budgets look better for shareholders, they are definitely missing the bigger picture. Yes….people originally think about the attractions as their focus for their Disney vacation….but that's definitely not all they are thinking about. They are remembering seeing these viral stories that they've seen of people who are visiting the parks and are looking to have their own similar experiences. These are the things that are selling the parks almost as much as a ride on Space Mountain is. To not understand that and focusing solely on making profits look good for the shareholders by cancelling entertainment offerings because it helps the bottom line look better is clearly not comprehending what makes you different than the rest of the other theme parks out there. You are an entertainment company and entertainment comes from a wide array of activities….be it rides, shows, character encounters, or any combination. It all equals a successful vacation experience.
You are Disney. Be better. Because you being better and showing the Guests the heart that you have to offer is what made us fall in love with you in the first place. And it's what makes us keep returning, time and time again.
What do you think? Am I off base on my thoughts or do you agree? Share your thoughts in the comments or on Facebook or Twitter!
Did you like this article? Make sure to share it with your friends! Check below for easy ways to share!
Want to visit the Walt Disney World Resort? Contact The Magic for Less Travel for more information and a free, no-obligation quote.