This post may contains affiliate links for your convenience. If you make a purchase after clicking a link we may earn a small commission but it won't cost you a penny more! Read our full disclosure policy here.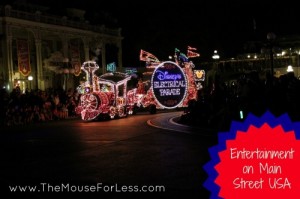 The topic for today is entertainment on Main Street USA in Magic Kingdom.  When you go to the Magic Kingdom, do you take time to experience Main Street, or do you hurry through to the other lands?  Personally, I like to take time experiencing Main Street.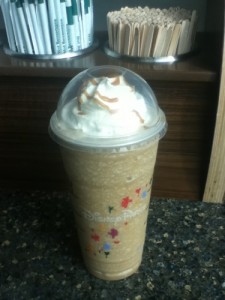 And now, I can stop at the bakery to get a Starbucks frappuccino to enjoy as I meander down Main Street, taking in the sights and sounds.  I know that some people weren't happy with this addition to the parks, but I really like having a good coffee drink, and that was something that was really lacking in the parks.  I don't have a Starbucks close to where I live, so to me, it is a special treat.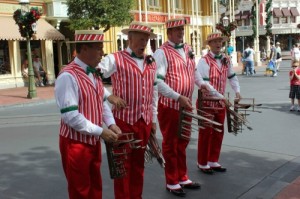 The Dapper Dans is a barbershop quartet that sings in 4-part harmony.  Their harmony is beautiful, and I love to take time out to watch at least one performance of the Dapper Dans each trip.  Those instruments you see them carrying in the picture are called Deagan Organ Chimes.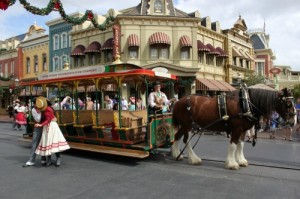 The Main Street Trolley Show take us back to the turn-of-the-century (20th century, that is) when trolleys were seen carrying people around town.  Watch as the performers get off the trolley to dance and sing.  My kids loved this show.
Let's talk about parades.  Currently, "Celebrate A Dream Come True" winds its way down Main Street during the day.  What time?  Well, I always think about the Goofy t-shirt asking when the 3 o'clock parade will be.  Like anything, times can change, but that t-shirt does always come to mind and makes me smile.
Did you see the picture at the top of this post?  Yes, the Main Street Electrical Parade.  The first time I saw that parade was at Disneyland, but I was glad to have the chance to take my kids to see it at Walt Disney World last year.  It was their first time to watch it.
You know what else I like to do on Main Street?  I like to shop.  No, that doesn't always mean that I'm spending money.  I like to walk in the stores and look at all the items to see what's new.  To make my wish list.  Then, maybe, I might buy some of it right before I leave for home.  Or sometimes, I'm just looking to look.  My favorite place to look in the Magic Kingdom is the Emporium.  There is just so much packed into this store!  Of course, I try to avoid it at closing time because it is packed with much more than just souvenirs.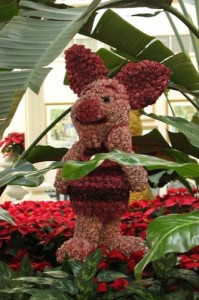 So, let's talk about food on Main Street USA.  I already mentioned the bakery.  If you like ice cream, you can try the Plaza Ice Cream Parlor.  If you want something a little more substantial, try out the Crystal Palace.  It's an all-you-care-to-eat buffet with characters from Winnie the Pooh.  We found the food to be good, and there was enough "kiddie food" to satisfy our picky eaters.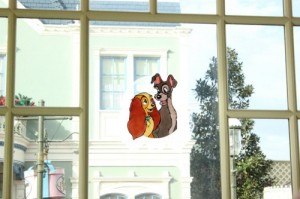 Another option for a filling meal is Tony's Town Square Restaurant.  The last time I went, I had Eggplant Parmesan.  The portion was very large, and it was delicious, too.  And there are a couple of other choices, too.  Do you want a lighter meal?  Try Casey's Corner or The Plaza Restaurant.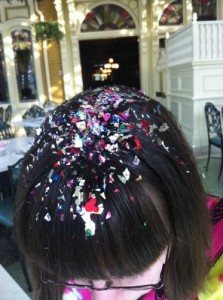 Do you hear people talking about taking their children to Bibbidi Bobbidi Boutique?  I've taken my daughter in the past, but I now have a new favorite place I like to take her and her brother.  Harmony Barber Shop.  On our last trip, I took both kids, and they both had haircuts.  It was such a huge deal for them to get their haircut in the Magic Kingdom.  But…  There is more than just getting a haircut.  My daughter opted to get "pixie dust" in her hair.  I think the prices are reasonable, considering it is in the Magic Kingdom.  Reservations are needed.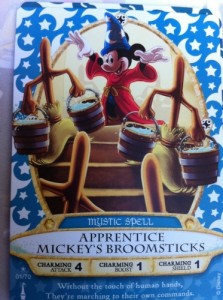 Have you heard about the Sorcerers of the Magic Kingdom game?  If you haven't, you should click over on the link and read more about it.  You can get started with this game at the Firehouse on Main Street.  We played it a little bit during our last trip, but we tried to keep our play to a short time.  I think it would be very easy to let playing this game take over the entire day, and we didn't want to miss out on other attractions at the Magic Kingdom.
Main Street USA is much more than just the means to enter the Magic Kingdom and make your way to Tomorrowland.  Main Street USA has a lot of entertainment, shopping, and eating options.  And don't forget a chance to meet Mickey Mouse at the Town Square Theater!  What is your favorite?
If you would like to learn about other opportunities for fun and entertainment on Main Street USA, check out this attractions page.