This post may contains affiliate links for your convenience. If you make a purchase after clicking a link we may earn a small commission but it won't cost you a penny more! Read our full disclosure policy here.
From Our Magically Speaking Newsletter Archive – subscribe today!
By Tim Rogers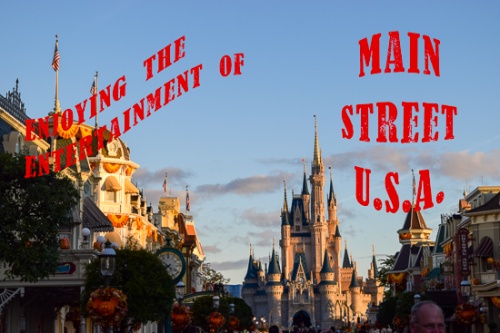 Main Street U.S.A. Just saying the name brings up countless memories and emotions for Disney fans. From the Train Station to the Emporium, to that view of the castle, Main Street is where the idea of Walt Disney World comes for many visitors.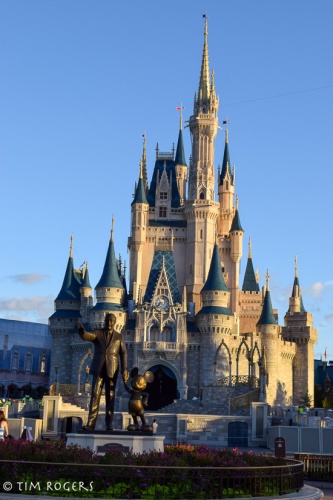 However, many of us also just treat Main Street as a means to an end and don't spend much time on Main Street. We're just trying to quickly get from one place to the next, or watching a major production that nearly shuts the whole area down.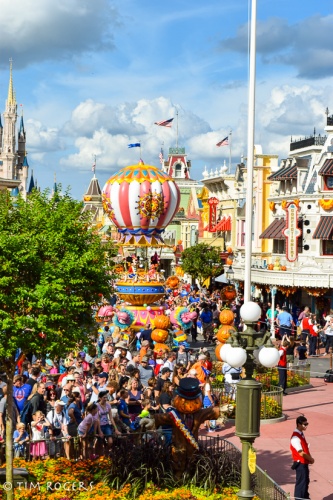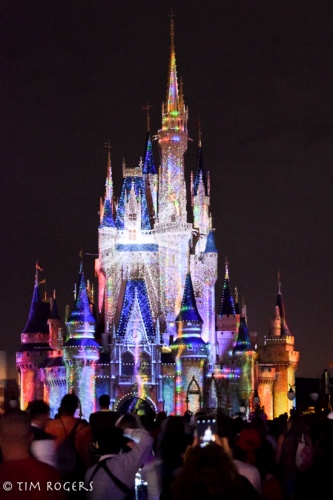 But simply experiencing Main Street U.S.A as either a conduit to the other lands or a fireworks viewing location is missing out on a lot of the magic of this part of the Magic Kingdom. So my advice to you is to slow down and enjoy the street for what it is, and here are just a few examples.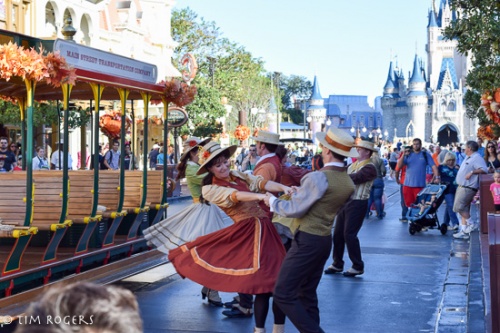 First, the trolley show – every morning some of the citizens of Main Street travel up and down the street singing and dancing and overall having a good time. Even if you have seen this show before, they switch it up for the seasons, so you might see a whole new show! As with any of these performances, check out your Times Guide for specific show times.
As an aside, the citizens of Main Street as a whole come out and mingle several times during the day, so keep an eye out to get your picture with the Mayor!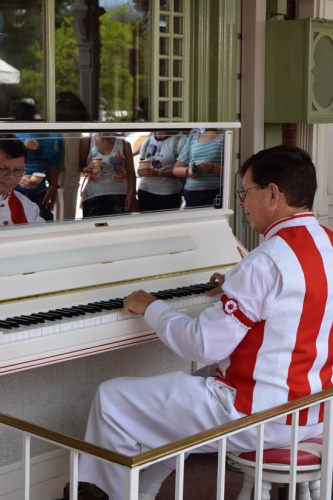 Next up, the Pianist at Casey's Corner. Casey's is a beloved stop for many a guest wanting a hot dog or some Cracker Jacks, but those eating outside or just stopping by can get another treat (and one lower in calories at that) with the pianist.
The pianists play occasionally throughout the day, but will cycle through arrangements of Disney favorites, old standards, and more. As you might notice, they also have a mirror and are quick to pick out celebration buttons. (On two separate trips me and/or my wife got special songs for our anniversary and her birthday).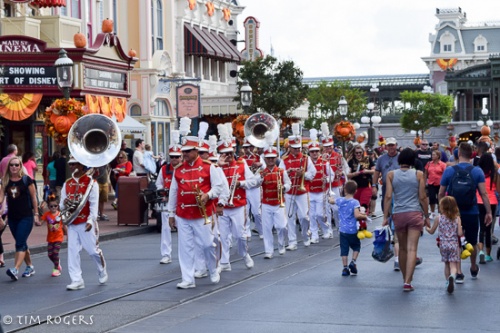 As you may have gathered, I am a sucker for live music, and Disney World is happy to oblige. Having grown up in marching band (and still missing the Future World Brass) I love the Main Street Philharmonic. In fact, on two recent trips we ended up having our first Magic Kingdom day on one of their days off, so I had to get back on another day just so I wouldn't miss them.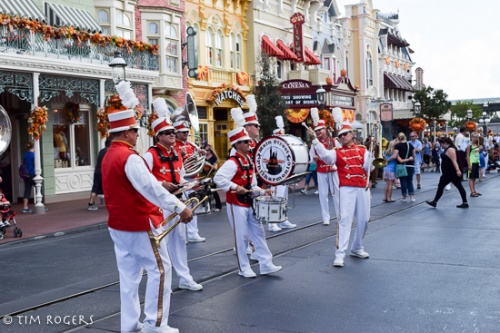 Being full of great musicians (which they are) is one thing, but in watching them you get the overwhelming feeling that they are having a great time being there, and that makes the show even better. Depending on the season, they generally play a mix of old marches, big band hits, and Disney classics. They also usually exit to, of course, the Mickey Mouse Club March.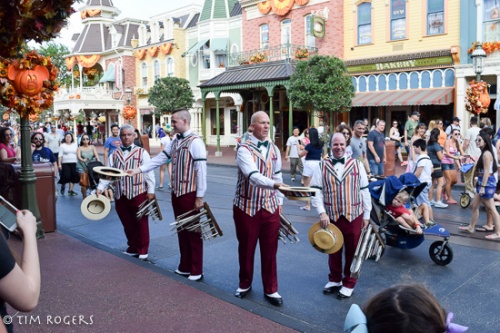 When people think about entertainment on Main Street, probably the most common group they think of is the Dapper Dans. The Dans are a barbershop quartet that has been serenaded guests on Main Street of the Magic Kingdom since 1971. They combine horrible puns with wonderful harmonies to the delight of all. They also use a set of organ chimes on several pieces, and often end with a Disney medley that includes a reenactment of "It's a Small World."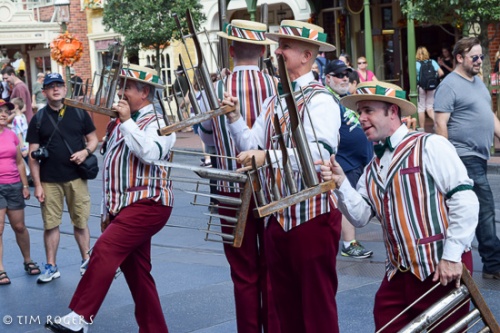 Before I close, a little bit of advice if you want to get the most out of the Main Street musicians. In the afternoon, watch the Festival of Fantasy parade from somewhere on Main Street (if you are skeptical about afternoon parades at Disney World, please give this one a chance). The parade will be over usually around 3:30. On normal days, the last Dapper Dan show is around 3:35 and the last Main Street Philharmonic performance is at 3:55. With that, you could see the parade and both of those groups without having to move much or have much downtime.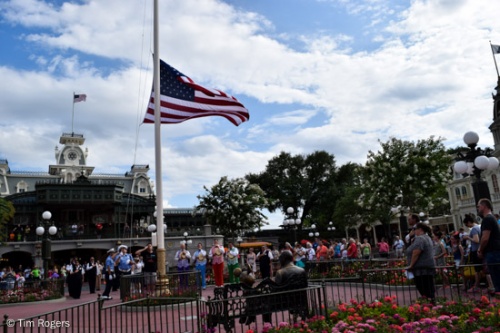 The last specific thing I want to mention is the daily Flag Retreat ceremony. Each day at 5pm the Main Street operations team, the Dapper Dans, and the Main Street Philharmonic gather for a ceremony both lowering the American Flag and recognizing a veteran. It is a great ceremony and is definitely worth the effort to make it.
Even with all of that, I know there are plenty of parts of Main Street I haven't touched on, from getting your hair cut, to meeting characters, to stage shows at the castle and more. However, I hope you agree (if you didn't already!) that slowing down and really taking part in the atmosphere of Main Street is a great way to spend your day at the Magic Kingdom.
So in closing, as the Dapper Dans would say, "If it wasn't for Venetian Blinds, it would be curtains for the rest of us!"
Magically Speaking Featured Article
Library of Congress ISSN:1556-3863