This post may contains affiliate links for your convenience. If you make a purchase after clicking a link we may earn a small commission but it won't cost you a penny more! Read our full disclosure policy here.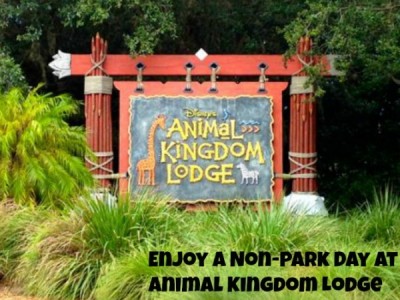 The Mouse For Less Blog would like to welcome the new members of our team!  Our first new blogger (or should I say bloggers) are Scott and Elizabeth! 
Are you looking to spend a day of your Walt Disney World vacation relaxing away from the hustle and bustle of the parks? Most sources will suggest spending your day at Downtown Disney, but personally I get a bit tired of the outdoor mall atmosphere, and all those enticing shops and eateries can get expensive! As an alternative, my recommendation is to spend your non-park day experiencing all that Disney's Animal Kingdom Lodge (DAKL) has to offer.
If you're not staying at DAKL and don't have your own vehicle, you can get there easily by taking Disney's transportation from your on-property resort to any theme park (or Downtown Disney), and then catching the bus to Animal Kingdom Lodge. Once you arrive, stop by the front desk and ask for an Activities Guide; DAKL has numerous complimentary daily activities, and you can spend your entire day soaking in the cultural immersion, culinary exploration, and animal programs they offer without spending a dime!
In my opinion, Animal Kingdom Lodge is one of Disney's most unique and inspiring resorts. From the moment you step foot into the stunning lobby, with its 6-story ceiling, authentic African artwork, and grand floor to ceiling windows looking out onto the sweeping Savannah, you'll feel as if you've been transported to Africa. Even without participating in any of the scheduled activities, you could easily spend hours wandering the resort and taking in the artwork, architecture, and of course – the animals!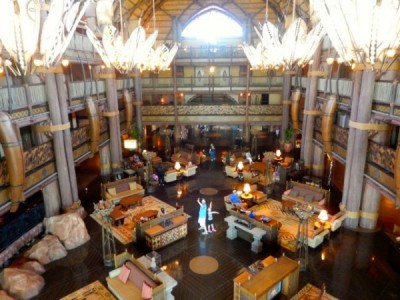 The Lobby of Jambo House at Disney's Animal Kingdom Lodge.
Cultural Immersion
One of the most unique aspects of Disney's Animal Kingdom is its Cast Members. The lodge employs a staff of "Cultural Ambassadors" from Africa, who host the daily resort activities and provide an immersive cultural experience. A few examples of the complimentary cultural activities available daily at DAKL include:
African Wonders – an "interactive matching game" that allows guests to discover some of Africa's natural wonders
African Face Painting
African Inspired, Disney Designed – a tour of Kidani Village, where guests learn the story behind the design of Animal Kingdom Lodg
Music of the Savannah and Drum Café – learn to play African drums and other percussion instruments
African Folktales – relax by the fire and listen to a Cultural Representative share folktales from their home
Culinary Exploration
The resort hotel is home to three unique table-service restaurants – Boma, Sanaa, and Jiko– and while I'd definitely recommend making an advance dining reservation (ADR) at any of these delicious eateries, that wouldn't really fit in with this being a cost saving tip. Instead of making an ADR, plan to attend one (or more) of the complimentary culinary activities offered, including:
Cookie Decorating at Boma – my family found this to be both fun and delicious! Each guest is provided an animal shaped sugar cookie and the frosting, candies, and sprinkles to decorate it. As fun as decorating your own cookie is – the best part might just be eating it!
Culinary Tour of Boma and Jiko – this interesting tour provides a detailed guide to the intricate theming of each restaurant and a menu overview, and even includes a few tasty samples! My daughter loved sampling the "Zebra Domes" (Boma's signature dessert), and my husband especially enjoyed trying the "Taste of Africa" bread service (including African-inspired dips) at Jiko.
Cultural Tour of Sanaa – this tour gives guests the opportunity to discover the inspiration behind Sanaa, the African and Indian-inspired table service restaurant at DAKL's Kidani Village.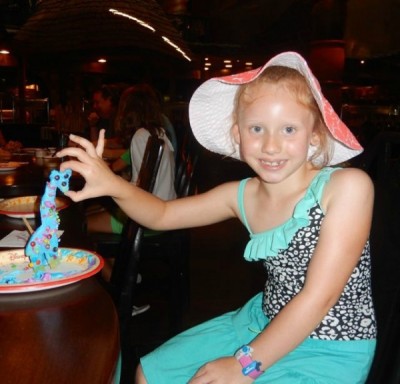 Our daughter with her giraffe cookie masterpiece.
Animal Programs and Wildlife Discoveries
One of the most singular features of Animal Kingdom Lodge is its sweeping Savannah that is home to numerous species of exotic animals, including giraffes and zebras, which roam freely over 22 hours a day. Even if you aren't staying in one of the resort's many "Savannah View" guest rooms, you can still take in the sights of the Savannah on the many public overlooks throughout the lodge. There are also various animal programs held throughout the day that provide fun, yet educational, experiences for "kids" of all ages. A few examples of the complimentary animal programs offered at DAKL include:
Flamingo Activity – learn about the feeding strategies of Flamingos and Pelicans through a fun hands-on activity.
Animal Tracking – use real tracking equipment to play a game of "hide and seek" of sorts, and learn about tracking wildlife.
Wildlife Games – test your animal knowledge while playing "BONGO" (a BINGO-type game).
Have You Heard? – match the animals to their vocalizations, which is trickier than it sounds!
Night Vision Animal Viewing – use real night-vision goggles to spot the residents of the Savannah after sunset.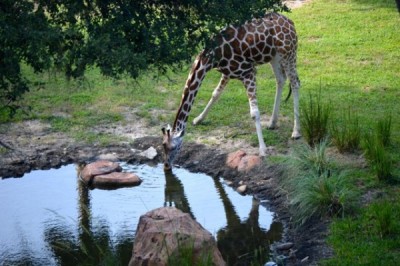 A resident of the Savannah taking a drink.
When you pick up your Activities Guide, you'll notice that several of the activities (including many that I mentioned above) are designated as "Bead Activities." Upon completing each of the "Bead Activities," you will receive a colorful, African-inspired bead to build a "String of Memories" – a unique keepsake to help you remember the exciting day you spent at Animal Kingdom Lodge (and away from the theme parks)!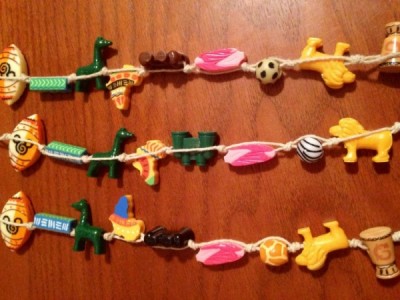 Our completed strings of memories.
These are just a few of the activities that take place at Disney's Animal Kingdom Lodge, but please note that the activities described throughout are not always absolute and could be subject to change.
Have you ever spent the day at Disney's Animal Kingdom Lodge, taking part in these fun activities? 
Incoming search terms:
why do they play music on the savannah at fisney animal kingdom lodge