This post may contains affiliate links for your convenience. If you make a purchase after clicking a link we may earn a small commission but it won't cost you a penny more! Read our full disclosure policy here.
Enchanted Garden is a stylish restaurant and my favorite restaurant on board the Disney Dream. It is elegant but not over the top. The decorations of the restaurant are inspired by the Versailles gardens of France. Accentuated with lush greeneries, and a cascading fountain adorned by a seven-foot Mickey Mouse, it is a very peaceful setting for a meal.
The glass light fixtures change colors while the ceiling transitions from daytime to sunset and onward to a star-filled night sky. I find the casual elegance of the restaurant very soothing.
The setting gives me the feeling that I am sitting in a European greenhouse surrounded by lots of light and beautiful architecture. The seating has certain airiness and I especially love the semi-circular booths that line the center aisle, my favorite one being the booth right next to the fountain.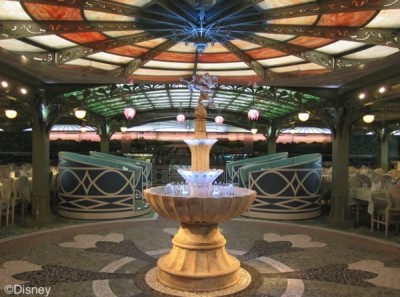 But what would be all the décor without the food? I have read several reviews that remarked that the food was disappointing but most reviews based that comment on the fact that the dishes were rather small portions and not necessarily catering to a general taste bud. Indeed, both the lunch and dinner menu were not pub fare but there was always a great roasted chicken or a traditional beef dish such as Prime Rib among the offerings.
Back in November I had a memorable meal and perfect service too. Dining with a friend made it easy to order different dishes from starter to desert. It was a very satisfying meal.
We started the meal by sharing North Atlantic Lobster Ravioli. I am usually no fan of pasta and that includes ravioli but this dish, served with roasted garlic and sweet basil in a light tomato broth was absolutely delicious.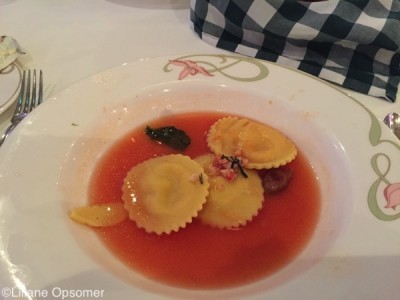 Next we ordered our starters. I had the Ahi Tuna and Avocado Tower, which comes with crisp noodles and wasabi dressing. It was perfect! This is the one time when I really had to restrain myself and not ask our waiter to just bring the same dish once more. What is so great on a Disney cruise is that you actually can do just that! You even can ask for a dish that is on menu of any of the restaurants that night. I am not recommending this but rather want to stress my point that if you are worried about 'what's for dinner' there will always be a solution.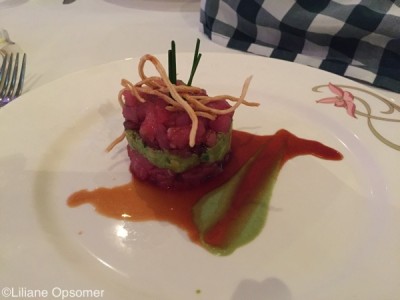 My travel companion had the Baby Spinach Salad tossed with fresh sliced seasonal pears, toasted pine nuts and crumbled Gorgonzola. Unlike me she did not want to order a second serving but that was not because she did not enjoy her dish—she is just more reasonable than I am!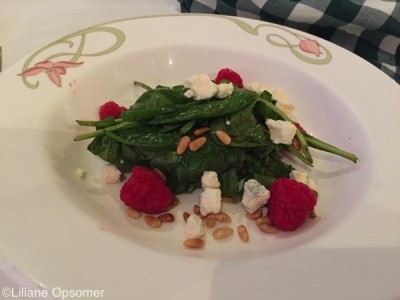 Next up was Caramelized Sea Scallops for me. The main course was served with roasted asparagus, sun-dried tomatoes, and pearl pasta, garnished with caramelized leeks and a veal jus reduction. The scallops were cooked to perfection and I admit that is no easy task, especially not, if cooking for so many people. I was not crazy about the pearl pasta and asparagus. I just think the asparagus did not add anything to the dish and I would have preferred a larger serving of the leeks as they perfectly compliment pretty much any fish.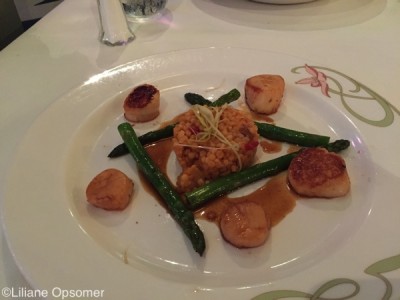 I tasted my friends Glazed Portobello mushrooms dish. It was one out of the five vegetarian options available that night and it was very tasty. The mushrooms were served with brown lentils and parsley sauce and a sun-dried tomato cream. The combination was perfect and to me, and the mushrooms actually tasted like meat.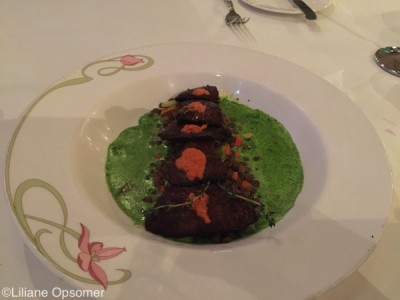 No dinner would be complete without desert but that night desert sort of multiplied—and no, we did not do it! We did of course order a desert. Sweet Temptations swayed me: Who could resist a Trio of Esterhazy Cake, Strawberry Cheesecake, and Sacher Torte? I have been to Vienna and Budapest and neither the Esterhazy Cake nor the Sacher Torte were anything close to what I remembered. The Strawberry Cheesecake however was wonderful. Check out the recipe at the end of this article.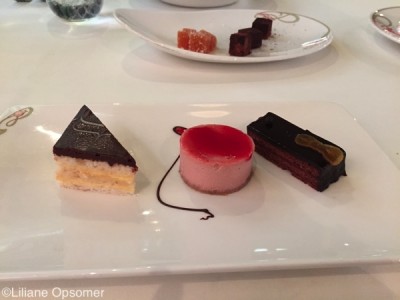 The Warm Sticky Date Pudding with butterscotch sauce and vanilla ice cream my travel companion had chosen got her thumbs up! As for me I stayed away from the butterscotch but really liked the date pudding.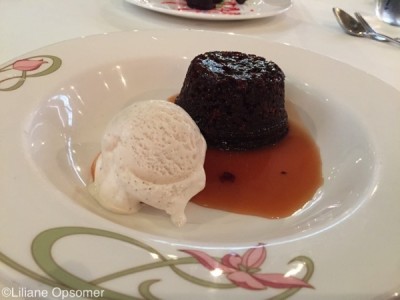 We ordered coffee and low and behold it was served with Chocolate Fudge & Mango Turkish Delights. I loved the Turkish Delights, what a treat!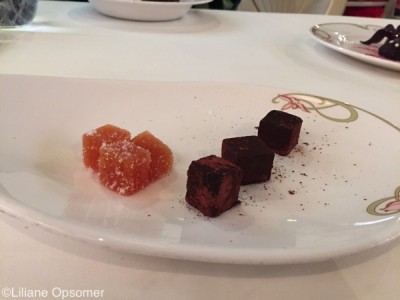 When we were about ready to leave, our waiters treated us with one more delight: a Chocolate Spider Cake. No evaluation of this last minute treat would possibly do it justice and so I decided to leave it at that!  It was Halloween and all tables that night received the spider as an additional surprise. Suffice to say that it was chocolaty and that we were totally stuffed by the time the not so incey wincey spider joined our table.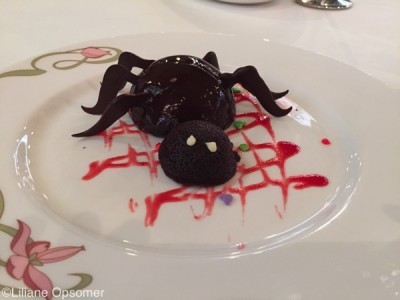 Did I mention that on top of an excellent meal we were also dining in our Halloween costumes?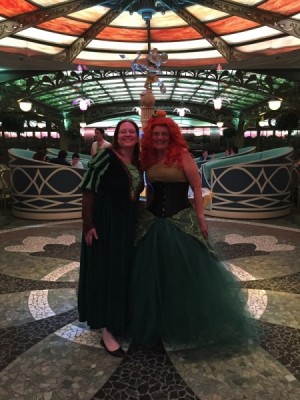 As promised, here is—courtesy of Disney Cruise Line, the recipe for the Strawberry Cheesecake.
Enchanted Garden – Disney Dream Strawberry Cheesecake
Makes 1 (10-inch) cheesecake
Ingredients:
2 cups graham cracker crumbs
1 stick unsalted butter, melted
1/2 cup sugar
1 pinch cinnamon
Strawberry Cheesecake Filling
1 (1-pound) bag frozen strawberries, thawed
5 (8-ounce) blocks cream cheese, at room temperature
1 1/4 cups sugar
1 tablespoon lemon juice
1/2 teaspoon vanilla extract
1/4 cup all-purpose flour
3 large eggs
1 drop red food coloring
1/4 cup heavy cream
For the graham cracker crust:
Preheat oven to 325°F.
Combine graham cracker crumbs, butter, sugar and cinnamon in a medium bowl. Stir until mixture is uniform and clumps together like wet sand.
Press mixture into the bottom and 1 inch up the sides of a 10-inch springform pan. Bake for 10 minutes, and then cool completely before using.
For the strawberry cheesecake filling:
Preheat oven to 325°F.
Puree strawberries in a food processor. Set aside.
Combine cream cheese, sugar, lemon juice and vanilla extract in a large bowl.
Beat with an electric mixer at low speed until combined, and then increase mixer speed to medium. Beat until batter is very smooth, about 5 minutes, scraping the sides of the bowl occasionally.
Sift the flour into the cream cheese mixture and beat until fully combined.
Add eggs, one at a time, beating until mixture is smooth. Slowly add reserved strawberry puree, red food coloring and heavy cream, and beat until mixture is completely combined.
Scrape the sides of the bowl to ensure the batter is mixed well. Pour batter into the prepared crust, smoothing the top.
Bake until cheesecake is set, but still wobbles slightly, about 55 minutes to 1 hour. Cool in pan on a wire rack for 2 hours, and then refrigerate overnight.
Dip a long, thin knife in hot water, and run it along the sides of the cheesecake to loosen it from the pan. Carefully remove the ring.
Chef's Note: To create the miniature cheesecakes served at Enchanted Garden, prepare cheesecake according to the recipe, but instead of baking in a springform pan, make the cheesecakes in small cake rings, sold in specialty-foods stores. Reduce baking time by 15 minutes.
What are your thoughts of Enchanted Garden on the Disney Dream? Did you enjoy your meal too? Let us know in the comments!