This post may contains affiliate links for your convenience. If you make a purchase after clicking a link we may earn a small commission but it won't cost you a penny more! Read our full disclosure policy here.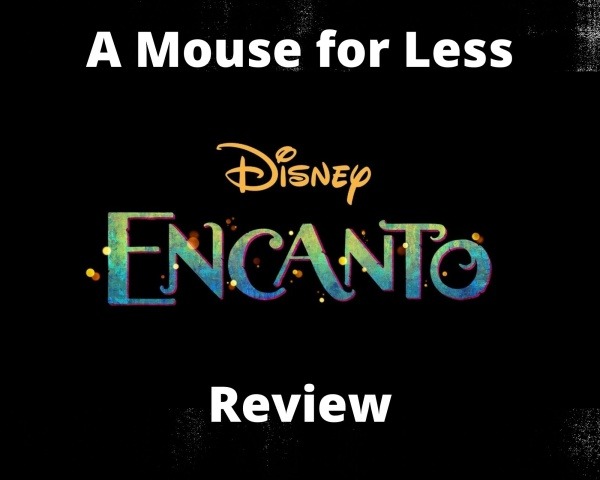 Encanto: Now streaming on Disney +
It has been a hectic and busy holiday season at my house, so I almost missed out on seeing Disney's newest animated feature: Encanto. I caught it on Disney + on Christmas Day, and I'm so glad I didn't let this one pass me by!

Encanto is now streaming on Disney+ and is also in select theaters. Because of the gorgeous animation and brilliant use of color, I recommend you see in on the big screen if it's in your budget. If it's not, rest assured that my family and I highly enjoyed seeing it on the small screen!

Encanto follows the Madrgial family, who live in Colombia in an enchanted area known as the Encanto. A miracle had saved the family from tragedy decades ago, causing this beautiful and magical realm to exist so that they could live in peace. As children were born into this family, each was awarded a gift from the Encanto: a magical power. However, the main character, Mirabel, was not awarded a gift. She suspects that this is a sign that her home is in danger, and she goes on an epic quest to discover why and to prevent its destruction.

The animation style in this film is breathtaking. The enchanted house often comes to life in the most unexpected ways. The sound design also adds to the enchantment. When the tiles of the floor ripple in order to bring someone where they need to be, not only the visuals, but the sound that the tiles make as they move help to propel the story along and flesh out the concept that the Encanto is extraordinary.

There is no way I could talk about this film without discussing the music. Broadway superstar Lin-Manuel Miranda wrote eight songs for the film, and his style perfectly matches the inner dialogues of the main characters. In particular, a very fast patter when Mirabel is trying to dodge questions about her magical gift (or lack thereof) shines a bright line on her inner conflict.

Speaking of Mirabel, Stephanie Beatriz shines as the voice of this endearing, complex character. Both her speaking voice and singing voice lend themselves well to this young woman trying to find her place in a gifted family.

The entire voice cast is very good, but the other standout is John Leguizamo as Bruno, Mirabel's uncle whose gift of foresight has brought him both responsibility and misery. Leguizamo is very good at expressing both the comedic and serious sides of this character.

Encanto is a wonderful film, beautiful to look at and magnificent to listen to. Long after the film has ended, viewers like me will find themselves reminding themselves that we are all much more than our gifts.
Have you seen Encanto? Share your thoughts in the comments or on Facebook or Twitter!
Did you like this article? Make sure to share it with your friends! Check below for easy ways to share!  
Want to visit a Disney Destination? Contact The Magic for Less Travel for more information and a free, no-obligation quote.