This post may contains affiliate links for your convenience. If you make a purchase after clicking a link we may earn a small commission but it won't cost you a penny more! Read our full disclosure policy here.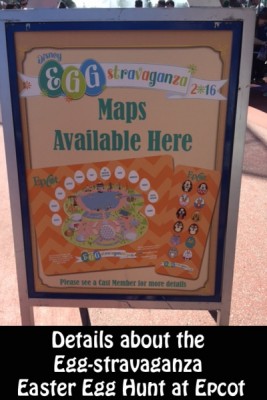 Ok…so this week's Foodie Friday is more of a go with me than anything else, but today, we're going to talk Easter eggs. (What? Easter eggs are food….ok….so…you maybe don't want to eat these eggs.) You see, for the past few years, Epcot has held its annual Egg-stravaganza Easter Egg Hunt to celebrate the Easter season. This hunt allows you to explore World Showcase searching for large eggs themed after Disney characters. There are 12 eggs to find in all; one in each country.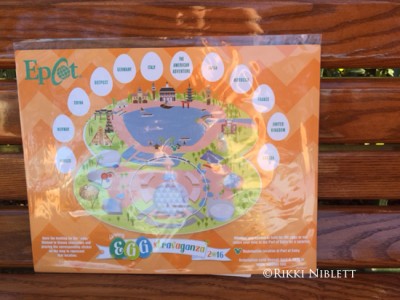 Guests are able to purchase a map in one of four locations in the park. They are: Pin Central, Port of Entry (Showcase Plaza), Heritage Manor (The American Adventure) and World Traveler (International Gateway) The maps cost $5.95 each, but you get a prize after completing the hunt. (Ok, you get the prize no matter what…more on that in a minute.)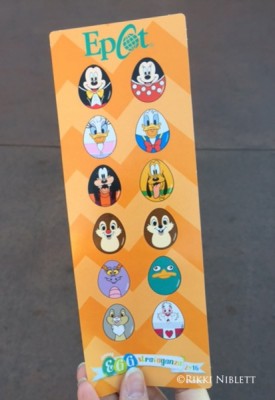 The map comes with 12 egg shaped stickers that correspond to the characters that you will find throughout World Showcase during the hunt. This year, Guests are expected to find eggs designed like Mickey, Minnie, Daisy, Donald, Goofy, Pluto, Chip, Dale, Figment, Agent P, Thumper, and the White Rabbit.
This year, Guests can choose from one of six eggs to take home with them as a prize. The options are Mickey, Minnie, Cheshire Cat, Stitch, Woody or Jessie. They also had a few eggs remaining from last year that were designed after Mr. Toad. That's the egg I chose!
You do not officially have to complete the hunt to get your egg. All you have to do is take the map to Port of Entry. Since we bought our map at Port of Entry, we just collected our egg at that time. In addition, Guests do not have complete the hunt all in one day, if they so choose, as they have until April 2 to redeem their prize. Keep in mind that supplies are limited, so if you have a specific prize egg that you are wanting, make sure to claim your egg early.
This event really is fun for the whole family, no matter what age. I think that it can be a little challenging, even for us adults. We actually had to ask for a few clues on where some of the eggs were. One egg was especially difficult to find. Just as we were about to give up and ask for the Cast Member to show us when we found it.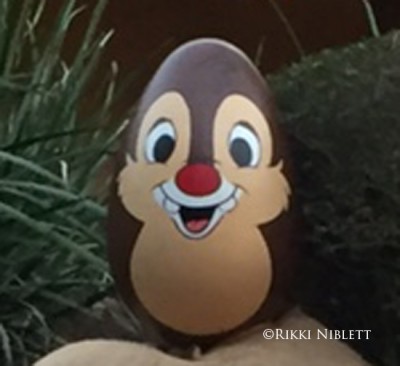 Overall, the two of us had a blast searching and exploring the different pavilions and we enjoyed pairing the egg hunt with dining on the different dishes you can enjoy at the Outdoor Kitchens at the Epcot Flower and Garden Festival. (Which is exactly how we accomplished it!)
One little tip. Make sure you do this Easter Egg Hunt during the daylight hours. We started just prior to sunset and once nighttime set in, it was extremely difficult to find the eggs. They are not lit up, so you will not be able to find them. Luckily, we only had two eggs to find by the time it was officially dark and we thankfully were able to find them, but it's certainly a good warning to heed.
One other tip…make sure to search every aspect of the different countries. Eggs aren't always where you would expect. That's all I will say about that. Don't want to give away too many spoilers.
Now, technically, if you didn't want to spend the money for the map and the prize, you could technically just hunt for the eggs. But getting the prize for completing the hunt is absolutely part of the fun!
If you are going to be visiting Epcot during this Easter season, I HIGHLY suggest taking your time to partake in the Egg-stravaganza Easter Egg Hunt. It was such a unique and entertaining experience. So what are you waiting for? Hop to it!
Incoming search terms: