This post may contains affiliate links for your convenience. If you make a purchase after clicking a link we may earn a small commission but it won't cost you a penny more! Read our full disclosure policy here.
By Teresa Pitman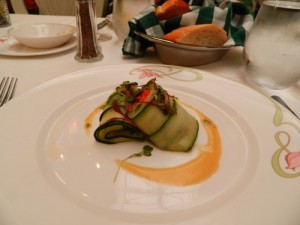 I took my first cruise on the Disney Dream more than two years ago – and wasn't sure if I wanted to go back. I'm vegan (as are most of my children) and one of the reasons I love visiting the Disney parks is that they are so good about meeting special dietary needs, whether these are because of food allergies, gluten sensitivities, or preferences such as eating vegan or vegetarian. I had hoped for the same experience on our first cruise.
Unfortunately, we were very disappointed, and the meals were (to say the least) a challenge, although we loved everything else about the cruise. Dare I say it? Disney let me down.
But I wasn't ready to give up yet. I wrote to Disney to let them know about our experience and they promised me that if I came back, I'd have a better time.
In March of this year, I took them up on it. And once again, Disney came through.
At our first dinner, our server greeted us warmly and said "I understand you are vegan, we are ready for you!" The head server also stopped by our table to bring us some vegan bread and talk about the food that was on the menu and what could be modified for us. Already, things were looking up.
On our first trip, we found no vegan options at all on most of the menus. On this trip, there was one entree at each restaurant that was either vegan or could easily be made vegan. Not only that, but our server told us that the chef would prepare some additional meals for us so that we could have more choices. Were we thrilled? Oh, yes!
Another change from our first trip was that we were able to get vegan pizzas from the pizzeria near the pool. We simply asked at the window, and the chef would quickly prepare us something. What we got was a bit different each time, but they were all delicious and made for enjoyable afternoon snacks.  (We had the late dining rotation, so a late-afternoon snack helped us keep going until our dinner time.)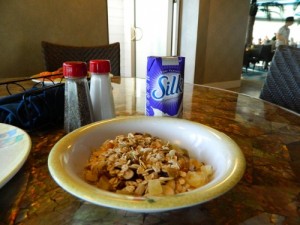 For breakfast and lunch each day, we headed to the Cabanas buffet. We'd actually had good experiences with this on our first trip but this time there were more vegan options, including several dishes made with tofu. When I asked about some items that turned out not to be vegan, the chef offered to make me a vegan version in the kitchen – this usually only took a few minutes. Soy milk was readily available to add to breakfast cereals.
On our first trip to Castaway Cay, we had to ask if there were any vegan burgers; there were, but the person had to go look for them. This time there was a sign at the buffet table offering vegan burgers and we had no problems getting them. The buffet also includes abundant quantities of delicious fresh fruits so we certainly didn't go hungry.
Since these experiences were going so well, we decided to take a chance and try a dinner at Palo. I'm so glad we did! Several menu items were easily made vegan and we thoroughly enjoyed the elegant setting and our meal.
Vegan dining (and other special dining requirements) will be handled a little differently on the cruise ships than in the theme parks.  The chef doesn't come out to meet with you, so you are relying on your server to convey your needs. If you go to the lunch and breakfast buffets, you'll see chefs behind the counters and other staff nearby; just ask someone and you'll generally get help quickly.
I would strongly suggest that you contact Disney Cruise Line customer service prior to your trip and let them know your concerns; that's what I did this time and I think it made a big difference. As well, the head chefs are available on the afternoon of the departure day and we were told this is a good time to discuss any special requests. However, we arrived too late to attend that meeting.
I was very encouraged by the big improvements between our first trip and our second – this time matched the service standards of the Disney vacations I've come to love. I can't wait to "sail away" again!
Incoming search terms:
https://www themouseforless com/blog_world/eating-vegan-on-the-disney-dream/