This post may contains affiliate links for your convenience. If you make a purchase after clicking a link we may earn a small commission but it won't cost you a penny more! Read our full disclosure policy here.
From Our Magically Speaking Newsletter Archive – subscribe today!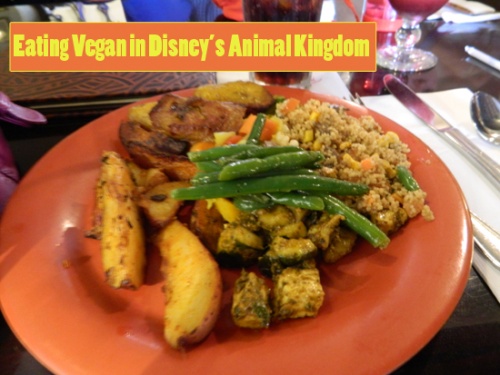 By Teresa Pitman
In the months before Disney's Animal Kingdom opened, there were rumors that all the restaurants in the park would be vegan, out of respect for the animals that would be living in the park. You can't imagine the excitement in my mostly-vegan family when we heard that! We dreamed about enjoying black bean burgers, lentil soups and tofu stir-fries in our favorite vacation spot…
That dream soon ran into reality: those were only rumors and the restaurants that were eventually built include mostly meat-based options.
Don't worry, though – you're in Walt Disney World! You will be able to find vegan options that you can enjoy as you visit the animals and prepare to flee from the Yeti.
Here are some of my favorite options:
Snacks:
Animal Kingdom has some excellent vegan snack options.
Stop first at the Gardens Kiosk near "It's Tough to Be a Bug." This colorful booth has both vegan and gluten-free snacks (including items from the much-missed Babycakes. Ed. note: Babycakes will be returning to Disney Springs soon, in the form of Erin McKenna's Bakery NYC.). The Cast Members there can also give you information about other dining options. The menu changes from time to time, but usually includes treats such as vegan ice cream (Tofutti), vegan doughnuts, cookies and cupcakes (from Babycakes) and hummus with vegetables. Stuff a few of the packaged items in your bag and head off to enjoy your day.
Near the entrance to the Kilimanjaro Safaris, you'll find a fruit and vegetable cart. The foods offered do change from time to time, but you can usually find containers of grapes, apples, bananas, cut-up celery and carrot sticks, etc. This vendor also sells vegan soft pretzels with mustard sauce. So good.
My other favorite snack is available at several locations: the chocolate and nut-covered frozen banana. These are wonderful on a hot day! Some of the ice-pops are also vegan (ingredients are listed on the packages, so just ask to see them).
Counter-service: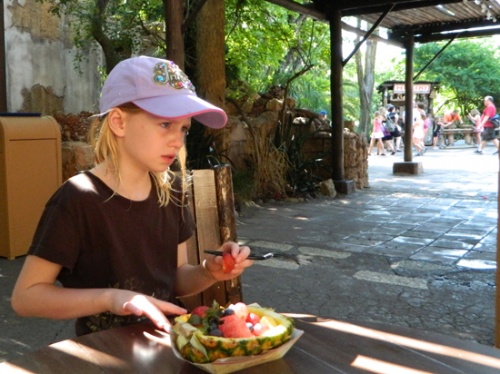 Sadly, the counter-service options in Animal Kingdom are limited. At Tamu Tamu refreshments, for example, your only option is the Fruit Salad. The Quinoa salad – which looks so promising, since it even includes tofu – actually has feta cheese mixed in so it is not vegan. And it comes pre-mixed so they can't prepare it with the cheese left out.
And the black bean burger at Restaurantosaurus? Not vegan.
Mr. Kamal's kiosk has recently added a vegetarian menu – so recently that I haven't had a chance to check it out. I understand, though, that the falafel dish (minus the sauce, which contains dairy) is vegan. I would guess that the edamame is as well. I believe the samosas are the same as the ones at Tusker House and not vegan.
You can also get pizza with vegan cheese (Daiya) at Pizzafari.
So, moving on…
Table-service:
Tusker House. Let me say it again: Tusker House!! I love this place. It is like a mini-version of Boma, with great theming and characters to visit your table. The buffet menu varies, but there are generally a good number of vegan options, and I have found the chefs to be VERY accommodating and helpful in preparing vegan versions of some of the items for us. I enjoy the spicier African flavors as well. Fruit is usually the only dessert option, but the chefs can often bring out some vegan ice cream for you (and hey, didn't you pick up some treats when you were at the Gardens Kiosk?).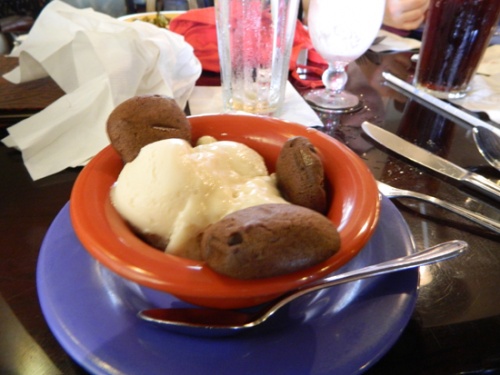 Another option is one that many people don't think of: Rainforest Café. Located at the entrance/exit to Animal Kingdom, this restaurant has a vegan burger (they call it the Natural Burger) that isn't anything special but will fill up your tummy after a long day in the parks. You also get to enjoy the jungle décor and occasional storms. I like the bar, too, where the stools have tails and zebra stripes.
The Yak and Yeti restaurant has a Vegetable Lo Mein that can be made with tofu. The noodles have egg in them but you can ask them to substitute rice or rice noodles. You can also ask to substitute tofu (since they have it lying around in the kitchen anyway) for meat in any of the meat dishes. The Maple Tamarind Chicken with tofu replacing the chicken is good, and I've heard rave reviews of some of the other dishes with tofu replacing the meat. Just make sure that the chef knows you don't want any dairy or egg in the sauces, either.
One more possibility, if you find yourself wanting more dining options: take a quick bus ride (or drive your car) to Animal Kingdom Lodge, just a short distance away. There you can eat at Boma, Jiko or Sanaa, all excellent restaurants with an array of vegan options and chefs who will happily prepare something special for you.
As you can see, there are quite a few options that are available for vegan diners. I hope this guide helps you in your dining experience.
Magically Speaking Featured Article
Library of Congress ISSN:1556-3863
Incoming search terms:
https://www themouseforless com/blog_world/eating-vegan-disneys-animal-kingdom/
https://www themouseforless com/blog_world/eating-vegan-disneys-animal-kingdom/#:~:text=My other favorite snack is just ask to see them)