This post may contains affiliate links for your convenience. If you make a purchase after clicking a link we may earn a small commission but it won't cost you a penny more! Read our full disclosure policy here.
When I first started visiting WDW back in 2001, it was fairly difficult to find a variety of good food options for a strict vegetarian. I do not eat any kind or meat or fish and I lived on 'garden' burgers and cheese pizzas. One restaurant in fact (not on property, I hasten to add) told me one of their dishes had 'hardly any meat in it at all' … Not the most comforting thought for someone who prides themselves on checking the back of sweet packets in case they contain gelatin!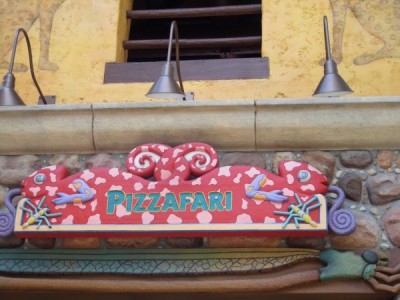 Photo courtesy of Aimee Weston
Move forward 15 years, and the parks and resorts are an awful lot better. I tend to have an option at most Counter and Table Service places, and there are plenty of snacks available. I have also learned to make inquiries – especially at the sit down restaurants. If you mention a special dietary requirement to your server they will happily try their very best to sort something out for you. This does of course depend on how busy they are, and if possible it is best to call ahead, or make a note on your reservation if you are making an advanced dining reservation (ADR).
Also, if in doubt when looking at the options in a counter service location, ask. If you are not sure if an item is fully veggie, then ask the cast member or even see if there is a way that they can leave something out to make it meat-free.
So where are some of the best places for a veggie to eat, in and around Walt Disney property?
I have to say firstly, that I tend to eat fairly healthily when I am at home in the UK, and therefore when I travel to Florida, I tend to forget calorie control and just eat what I enjoy. Therefore, pizzas and veggie burgers are actually a treat, and I will often pick these over a more adventurous non-meat item, just because I can.
My favourite places to eat are as follow: –
Magic Kingdom 
Cosmic Rays – Veggie sandwich/burger
Columbia Harbour House – Lighthouse sandwich
Be Our Guest (lunch) – Quinoa salad/quiche
Disney's Hollywood Studios
Starring Roll's Café – Roasted vegetable sandwich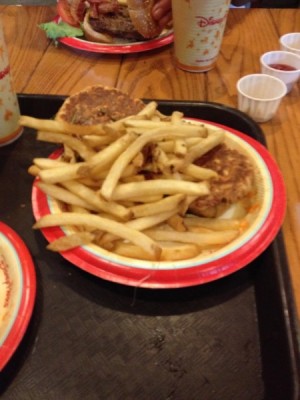 Rosie's All America Café – Fried green tomato sandwich
Catalina Eddie's – Cheese pizza
Disney's Animal Kingdom
Pizzafari – Pizza (cheese and Mediterranean)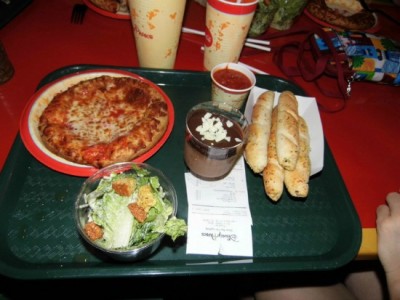 Photo courtesy of Aimee Weston
Yak & Yeti Local Food Café – Roasted vegetable couscous wrap
Eight Spoon Café – Jalapeno pretzel
EPCOT
Sunshine Seasons – Oak-grilled veggie flat bread sandwich
Electric Umbrella – Veggie flat bread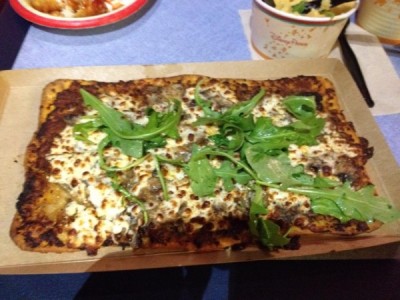 Tangierine Café- Vegetarian platter
Disney Springs
Earl of Sandwich – Caprese/veggie
Wolfgang Puck Express – pizzas, pastas and salads, all extremely good value if you are on the Dining Plan
The food courts and counter service eateries in the resorts tend to have at least a couple of meat free options (I love the create your own pasta at Port Orleans Riverside as you can really load up on the veggies) and buffets like Chef Mickey's and Crystal Palace always have plenty of choice.
Another tip is to bring snacks or even sandwiches into the parks with you. Not only will this save you money and time (if you're not waiting in line for a burger, then you have more time for attractions!) but you will know exactly what you're eating. This can save a lot of stress too if you are new to the parks and are worrying about what you will be able to get.
If you do venture off site to eat, I tend to find pasta/pizza places are one of the best for meat-free options, such as The Olive Garden, but one of the winning places is Sweet Tomatoes.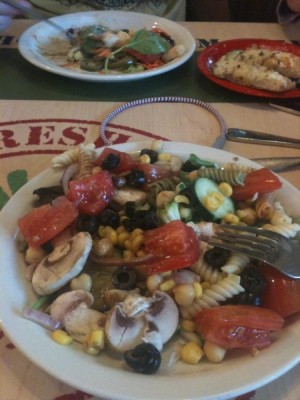 Here you can really load up on a huge range of salads and vegetables, and there is always a good range of home cooked style soups and hot food too – yum yum.
What are your favorite places to eat vegetarian at Walt Disney World? Share in the comments!
Incoming search terms:
https://www themouseforless com/blog_world/eating-meat-free-at-walt-disney-world/