This post may contains affiliate links for your convenience. If you make a purchase after clicking a link we may earn a small commission but it won't cost you a penny more! Read our full disclosure policy here.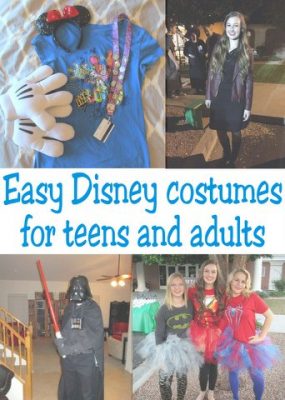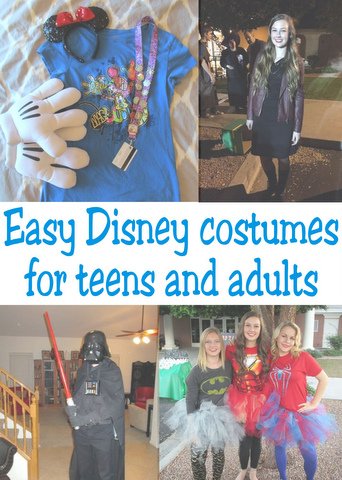 Maybe you don't have the time, or maybe you can't stomach spending a ton of money on something you'll only wear once. But you still want a some sort of costume whether it's for a runDisney event, for fun or for Halloween, even if you're far past trick-or-treating age. What you need are ideas for easy Disney costumes for teens and adults!
The best place to start your search for a quick and simple costume is by figuring out what your goals are, so ask yourself these questions:
How much time do I have to put together a costume?
What do I have around my house, and what can I borrow from friends or their kids?
Am I willing to buy a piece of the costume I will use later?
Am I part of a group?
Do I want instant recognition of what I am, or am I OK with a little mystery or explanation?
Are there any restrictions on costumes at the party or event (like Mickey's Halloween Party at Disneyland or Mickey's Not-So-Scary Halloween Party at the Magic Kingdom)?
Here are some ideas, drawn from my own family's attempts to have some Halloween fun while not breaking the bank!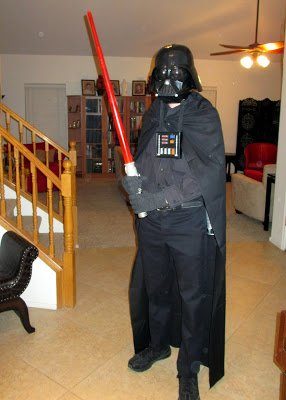 Little time, shop your own house — My Star Wars-loving husband has owned a Darth Vader mask for many years. But this is actually my 6-foot-2 son, disguised well enough that his high school friends didn't recognize him when he walked into the party! Since the mask truly makes this costume, it was easy for him to add his own lightsaber, pants, and shoes, plus his father's black shirt, some stretchy gloves, and a large piece of black fabric for the cape.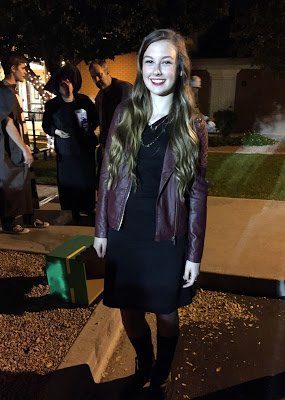 Buy a key piece to wear after Halloween — My daughter wanted to be Scarlet Witch from the Avengers. She was willing to put in a little time and money to scare up her costume. Together we bought the maroon leather-like jacket that she is still wearing. She also sewed a very simple black tunic dress and borrowed my combat boots. She finished the outfit by tearing holes in a pair of dollar-store black tights. She didn't mind explaining who she was to the Marvel-uninitiated grown-ups at the party.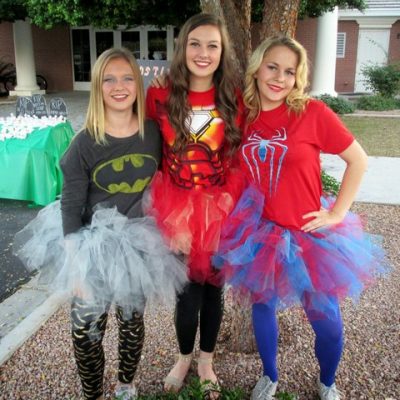 Group costume with a little money and time — Same daughter, different year. She and her friends decided to be superheroes with tutus. They each bought a superhero T-shirt that they could wear after Halloween, then rounded up leggings to match. The bulk of money and time went into cutting many strips of tulle for their fluffy skirts. Other great group Disney costumes would be Alice in Wonderland, Peter Pan, or Star Wars.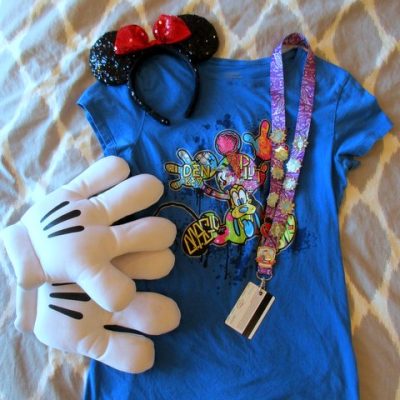 No time, instant recognition — This is a super-simple costume I wore a few years ago when I needed something on an hour's notice. I went as a "Disney fan."  Tther than the giant Mickey gloves (borrowed from my son), it's what many of us would wear regularly in the Disney parks — Mouse ears, a Disney T-shirt, and a lanyard.
Other possible easy Disney costumes for teens and adults, focusing on the key pieces needed to pull them off:
Indiana Jones — fedora, leather jacket, and whip
Cruella De Vil — spray half of your hair white, fur coat, exaggerated makeup
Incredibles — black mask, red T-shirt with Incredibles logo (great group costume)
The White Rabbit — ears, bow tie, large clock
Woody — yellow shirt, cow-print vest, cowboy hat
What kind of easy Disney costumes for teens and adults have you whipped up? Share in the comments.

Incoming search terms:
https://www themouseforless com/blog_world/easy-disney-costumes-teens-adults/