This post may contains affiliate links for your convenience. If you make a purchase after clicking a link we may earn a small commission but it won't cost you a penny more! Read our full disclosure policy here.
Author: Lindsey Tullier
Since becoming Disney Vacation Club (DVC) members in 2007, my family had only stayed at our home resort of Disney's Saratoga Springs Resort and Spa on our visits to Walt Disney World. However, for my husband's birthday this past March, we decided to try something completely different and head to Disney's Hilton Head Island Resort in South Carolina.
I must admit that I had mixed feelings about taking this trip. We became DVC members because we love Walt Disney World and wanted to go as often as possible, so the idea of using our precious DVC points on something other than the House of Mouse made me a little sad. However, at the same time, the thought of visiting a new vacation destination that would still provide the Disney service that we love was kind of exciting.
We were thrilled with both the décor and layout of these villas, which are modeled after a 1940s hunting and fishing lodge. True to Disney fashion, there were little touches of this rustic charm spread throughout the villa. Unlike other DVC villas, Hilton Head features a mudroom. Since we happened to visit during a freak cold and rainy spell, this area came in very handy for storing our jackets and wet shoes. This is also the area that houses the washer and dryer. If you look carefully, you will find a few "hidden" gems here.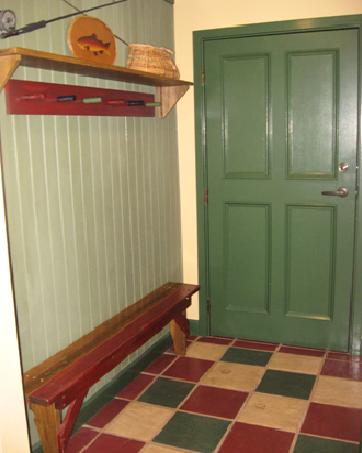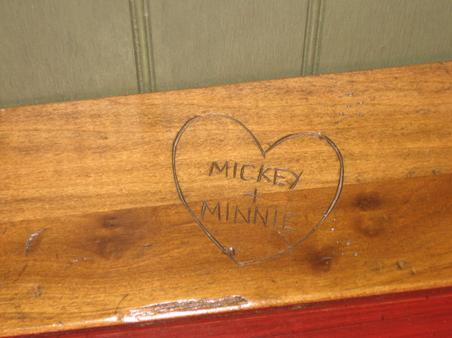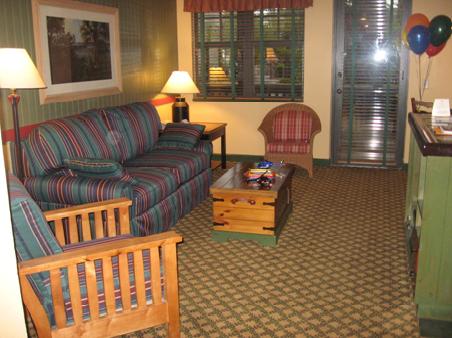 I was very pleased with the kitchen area, as I have always found that the kitchens at Saratoga Springs are lacking in storage space. We typically buy plenty of groceries, even when we are in the World.  One major problem is thatSaratoga Springs has no place to put non-perishables other than the countertops. However, Hilton Head had plenty of unused cabinet space for storage.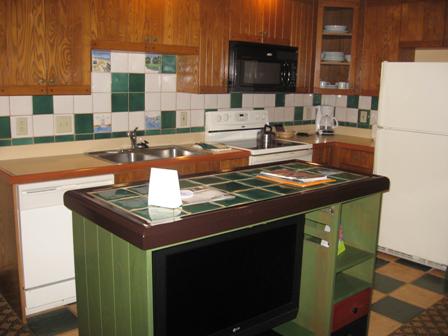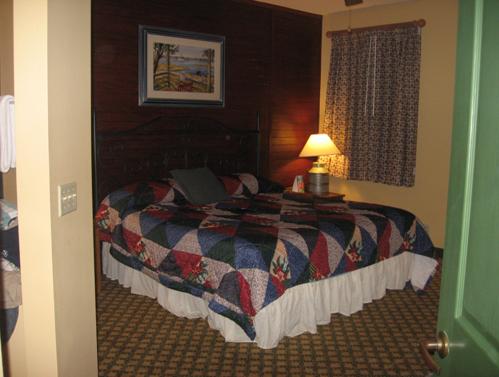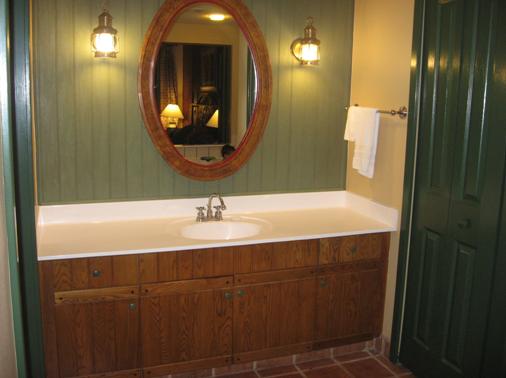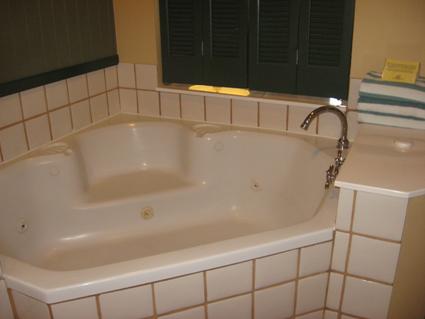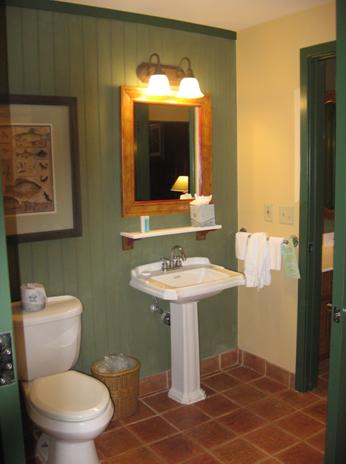 As for my 5- and 3-year-old boys, there favorite feature in this villa was the large deck with a picnic table and two rocking chairs. Based on our guided tour of the resort, our deck seemed to be larger than other villas here, most likely because we were directly beneath a grand villa. Had the weather been warmer and drier, we likely would have spent much more time here. We also liked that the deck could be accessed from both the living area and the master bedroom.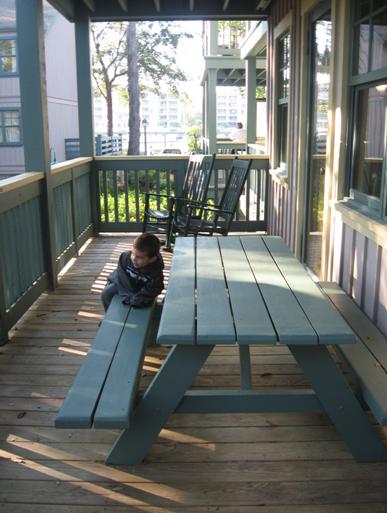 While the town of Hilton Head Island has plenty of attractions to keep visitors entertained, we found that you could make a vacation out of just the activities at the resort. There were tours, kayaking, pool events, campfires, children's activities, and more. The resort's canine mascot Shadow and resort entertainer B'Lou Crabbe make several appearances throughout the week. We first met this duo at check-in as they were greeting guests. Shadow seemed quite content to soak up the affection of adoring children while B'Lou entertained guests with stories and songs. We made a point to attend as many of Shadow and B'Lou's activities as possible.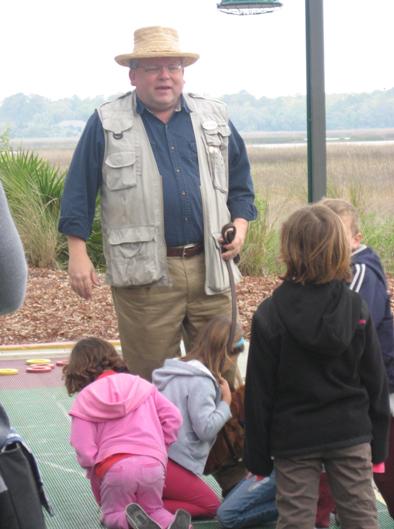 As a new homeschooling mom, I was thrilled with the available children's activities. Our boys learned about alligators, ladybugs, and butterflies from Miss Gwyneth in the Community Hall. She also introduced my oldest son and me to the plant life around the resort during a nature walk.
One thing that most children seemed to be interested in was the program lanyards. For $10 ($8 for DVC members), you can purchase a lanyard to decorate, which includes supplies for making your own button. At most of the activities, the children who have lanyards will receive a button representing that activity. This makes a great, inexpensive souvenir for the kids.
Since it was cold and rainy, we avoided the pool area. We are Southerners, so we don't swim when it's 50 degrees outside, even if it is a heated pool. However, there were a number of people braving the cold while enjoying a swim (I assume they belonged to all those Illinois license plates we saw throughout the resort).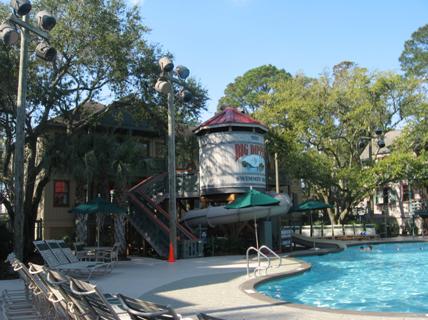 Even though we had no intention of swimming in the cold, we did visit the beach for some sand fun. The resort has a Beach House, with quick-service dining, a pool, and access to the beautiful beach on Hilton Head Island. The sand was perfect for building sandcastles. There were even a couple of brave souls going for a dip in the water (and the last time I checked, the ocean wasn't heated).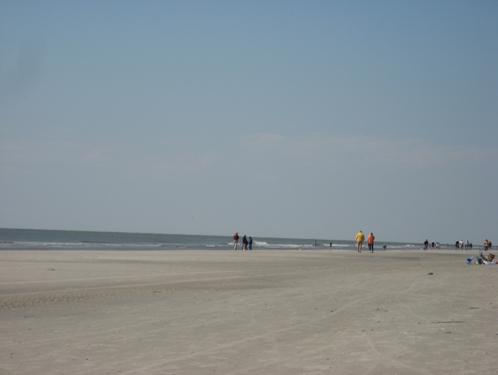 Although the weather was uncooperative (except, of course, for our last day, which was gorgeous), we were thrilled with our stay at Disney's Hilton Head Island Resort. It proved to be a wonderful way to have a slow-paced vacation without sacrificing that Disney magic. We look forward to returning in the next couple of years, hopefully to nicer weather.