This post may contains affiliate links for your convenience. If you make a purchase after clicking a link we may earn a small commission but it won't cost you a penny more! Read our full disclosure policy here.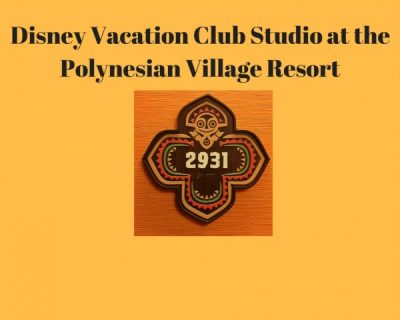 Our DVC Studio at the Polynesian Village Resort – Tokelau 2931
My parents recently became Disney Vacation Club members, and decided that they wanted to arrange a family reunion at Walt Disney World. They graciously offered to use their DVC points to get three studio units at the Polynesian Village Resort for six nights.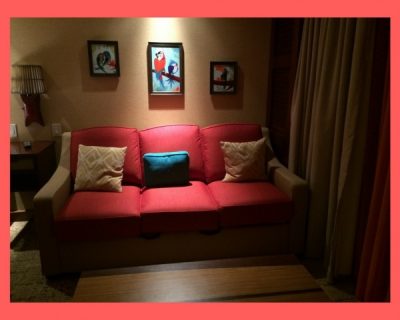 Our sofa pulled out into a bed
I'd stayed at the Poly before, once in the late eighties and once in 2014. But I've never stayed in one of the DVC units before. I'm happy to say that we had a marvelous stay.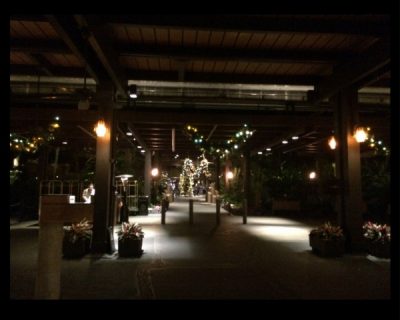 the entrance to the Polynesian at night
The Polynesian, as you can probably tell by its name, is themed towards the Polynesian islands. A main building called the Great Ceremonial House features restaurants, a monorail station, a bus stop, shops, and a breathtaking lobby.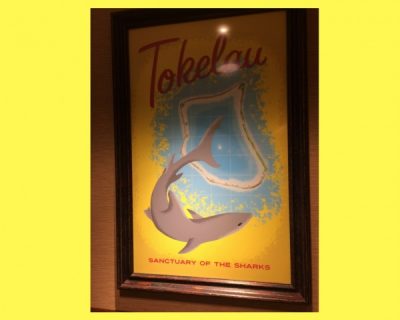 our longhouse: Tokelau
The rooms are located in longhouses, each one named for a different island. Our studios were located in the Tokelau building. We liked this location because it is equidistant from the Great Ceremonial House and the Transportation and Ticket Center.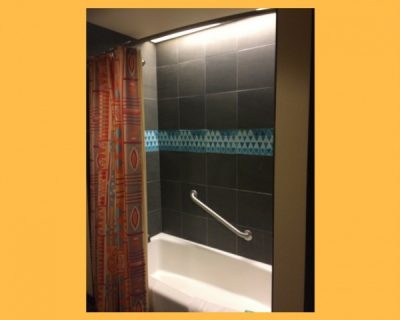 First of two bathrooms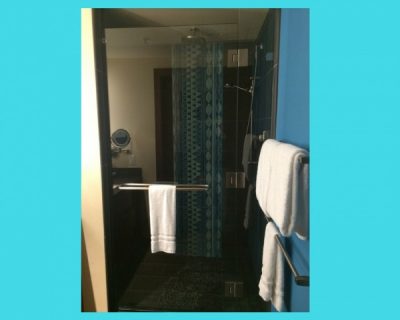 Second bathroom
My sister and her family were in room 2930, and we were in 2931, which connected to my parents' unit, 2932. The studios are very spacious. They feature two bathrooms: one with a toilet, shower, sink and vanity, and the second with a walk in shower, sink and vanity. Both these bathrooms have a motion sensor controlled fan, which my parents found very annoying. The fans and loud and run for 20 minutes after the motion sensor is activated. My Dad figured out a way to lodge a coaster in the fan to stop the motion sensor from being activated. However, my family did not mind the fans.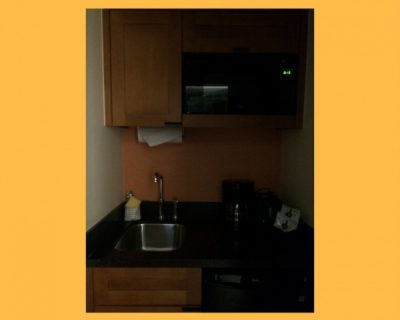 Our kitchenette
The kitchenette is small and features a toaster, microwave, coffee maker, plastic utensils, paper flatware, refrigerator, coffee cups, wine glasses, and a garbage can and recycling bin. Since we were staying on DVC points, we only got enough coffee for one day. If you rent this as a regular room, Mousekeeping will bring coffee each day.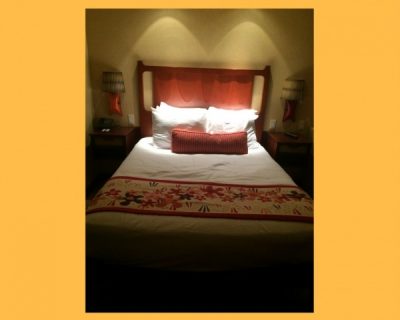 Queen sized bed
The sleeping area offers a very comfortable queen sized bed, with room underneath for storing luggage, as well as a drawer. There is also a sofa that pulls out into a full sized bed, and a pull down daybed under the television.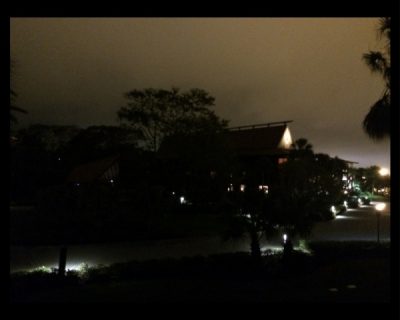 view from our balcony
Our view was of the landscaping of the resort, which is lovely. A word about the temperature controls: we usually set our heat to 70 degrees at home, so we are used to a cool room. However, we noticed that the heat here was set to 76 degrees and it still felt unusually cool.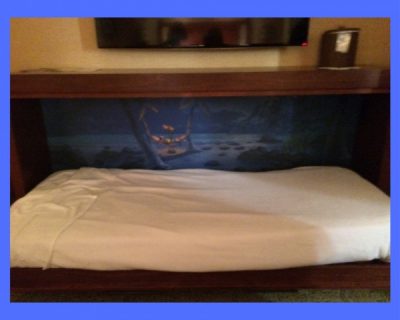 daybed with Lilo and Stitch design
We love the Polynesian because of its centralized location, beautiful theming, and spacious rooms. Our DVC studio was the perfect room for us on our vacation. We saved quite a lot of money by eating our breakfasts in the room, the walk in shower was fabulous, and the beds very comfortable.
Have you stayed at a DVC studio at Disney's Polynesian Village Resort? Share your experience in the comments.
Did you like this article? Make sure to share it with your friends! Check below for easy ways to share!