This post may contains affiliate links for your convenience. If you make a purchase after clicking a link we may earn a small commission but it won't cost you a penny more! Read our full disclosure policy here.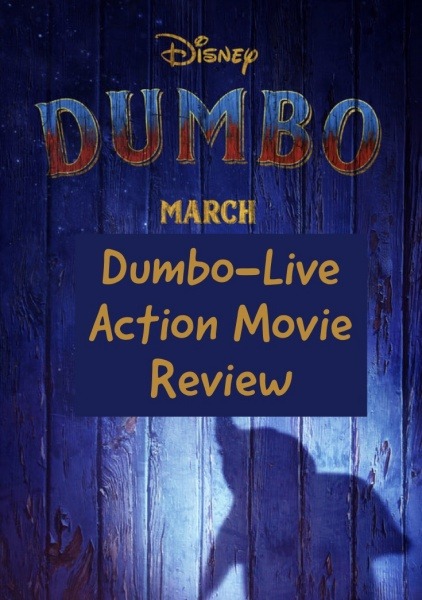 2019 is a year full of anticipated Disney movies, particularly live action films. The first one of the year kicked off with Dumbo, which is a live action version of the original film, directed by Tim Burton.
I may be a tad biased because Disney never seems to let me down with their films! However, I am not the biggest Tim Burton fan, but Dumbo was one that I was most anticipating! I think the original Dumbo did not get enough credit, and maybe that's because it was just SO SAD, but baby Dumbo is hands down one of my favorite characters. (Disclaimer: The live action is EQUALLY, if not MORE sad!!)
There's been a lot of mixed reviews on this film, but I think a lot of people just forgot how truly sad this movie is. Without giving any spoilers, let's just say that the live action did at least warm the heart a bit more than the original does. Despite the mixed reviews, I still wanted to give this movie a try, and I wasn't let down! We all absolutely loved it.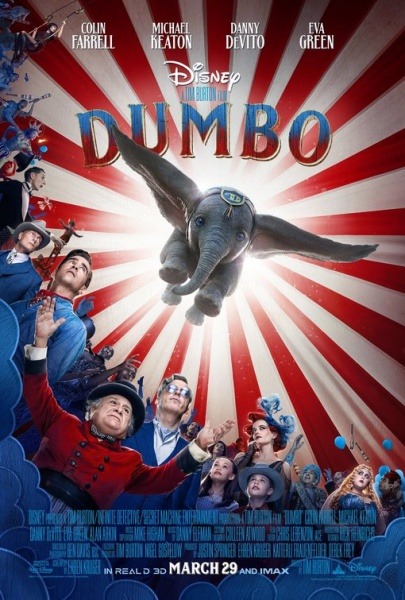 The movie started out at the Medici Brothers Circus, where one of the main characters returns home from war to his children. Not long after he arrives, he is put on elephant care duty, where he meets Mama Jumbo who is expecting a baby. Baby Dumbo eventually is born & has big ears that make him fly. The plot then, of course, thickens when Mama Jumbo "goes mad" and the circus is forced to send her away. Dumbo becomes heartbroken & misses his mom every single day.
As Dumbo's powers become known in the town, the fame of the Medici Brothers Circus grows & the circus owner is offered the chance of a lifetime. The circus family, Dumbo included, packs up & becomes part of a huge theme park called Dreamland.
All actors, from Danny Devito to Colin Farrell, did a great job. They were able to harness the essence of a movie that didn't have many human characters & make it a perfect, relatable live action movie.
We all know the plot of Dumbo, and I have to say, Disney did a fantastic job with sticking with the original storyline! In fact, from that aspect, I would even venture to say it is one of the better live action films where Disney manages to stick to the original plot. If you have seen the original, you already know the heart wrenching plot. What Tim Burton did to this film was phenomenal. He added in so many ways that pulled at our heartstrings a little more, and of course had tons of new plots & twists that weren't in the original. Tim Burton found so many unique ways to have a nod to the original Dumbo movie.
A lot of reviews are saying that this movie is dark & unexpected. I have to say-I completely disagree. This movie is exactly what it should be-a tale of a baby elephant whose mother was taken from him way too soon. If anything, it is a little eye opening on some of the things that animals have to go through for the sake of human entertainment. Tim Burton brings the elephants to life in this movie & the CGI effects are absolutely incredible.
I did prefer this movie over the original! It was much like the original, but better. I will say-as far as live actions go, it didn't make my top 3, however, it is definitely up there! All in all, a great movie that I think every Disney, Tim Burton & animal lover should see. Pack your tissues, because you may just need them!
Have you seen Dumbo? What did you think of the film? Let us know in the comments below or on Facebook or Twitter!
Did you like this article? Make sure to share it with your friends! Check below for easy ways to share!
Want to visit a Disney Resort? Contact The Magic for Less Travel for more information and a free, no-obligation quote.