This post may contains affiliate links for your convenience. If you make a purchase after clicking a link we may earn a small commission but it won't cost you a penny more! Read our full disclosure policy here.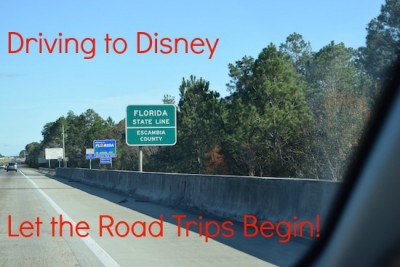 For many, the Memorial Day weekend signifies the unofficial beginning of summer, and with summer comes…road trips! While Disney does make it easy to get around without a car, through Disney's Magical Express and on-site transportation such as boats, buses, and the monorail, many visitors to the Walt Disney World Resort like having a car, and one way to get a car there is to drive it from your home.
A few years ago, the Mythbusters tested whether, for a trip of 400 miles or less, it was faster to drive than fly. For that experiment, travel by flying was a tiny bit faster than driving, but it was close. From Walt Disney World, this distance would get you to around Atlanta.
But what about for farther distances? With the continued relatively lower gas prices, driving, especially as you add people, can save you a lot a money. For example, I live in central Texas, just over 1,100 miles from Walt Disney World. A round trip non-stop flight to Orlando, flying in the middle of the week, would cost us a total of around $480 on our usual carrier (which includes 2 checked bags each). To drive from here to Walt Disney World, using our car's average mileage and an average cost of gas, would run us just over $150. With that we can bring as much luggage as we want, could get a hotel, and even add people and still come out way ahead.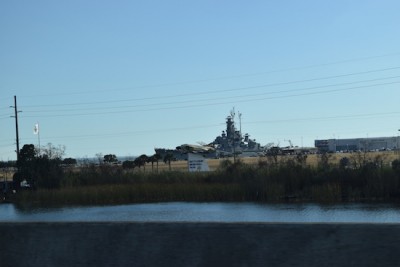 While driving you can check out the U.S.S Alabama
However, I know that cost is not the only issue that people think about when they consider their transportation options, and I wanted to share the experience my wife and I had when we did this very drive in December.
The first piece of advice I will give based on our experience is to split the trip up. I have seen plenty of stories of people leaving home after work and driving through the night to make it to the Magic Kingdom in time for opening. If you have multiple drivers and can do that safely, more power to you, but from our experience, splitting the trip up is helpful for mental and physical well being.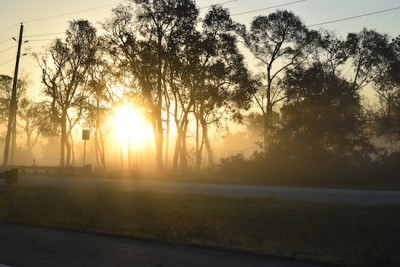 Sunrise on the road can be beautiful
On the way to Disney, we did this, first driving a few hours to stay with family, and then driving to Gainesville to spend the night before getting to Disney World. We stopped in Gainesville because we wanted to have a short drive on arrival day, but didn't want to pay the premium of being on or near Disney property when we wouldn't be able to enjoy being there that night.
We also used hotel points to book our stay, so we didn't actually pay anything out of pocket for that hotel. (As an aside, getting a hotel with an included breakfast can be great for starting your day and saving money).
After being in Disney World for a week, we drove back home all at once. For that trip we left the Animal Kingdom Lodge at around 6:00 a.m. and arrived home right around midnight central time. This was a hard drive for us in a few ways. First, this was a long drive under any circumstances. Second, after the amount of walking we did that trip, sitting still for that long was incredibly uncomfortable and we were very sore. About 15 hours in my wife turned to me and said that she really enjoy the trip, but if we ever drove again we would be breaking it up on the way home.
The Florida welcome center features the Blue Angels
And that brings up an important point, driving can take a fair amount more time, and some of us are not able to take that much, or if we are able to take that much, we would rather spend a few extra days riding Tower of Terror and watching Illuminations rather than hanging out in a car. However, for me and my wife, and I know for many other families, we enjoy road trips. We like seeing random sites along the way, guessing what those historical markers are actually signifying, and seeing the changes in landscape along the way.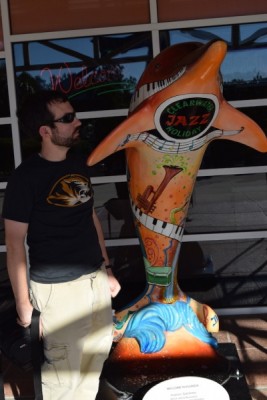 Besides dolphins, this rest stop also features Disney music, to get you in the mood
So as we start the summer season, if you are looking to mix things up or save some money, think about if driving to Disney is right for your family. You can make the journey part of the fun, and, as a bonus, have a car at Disney World, which can be a great asset. Either way, thinking about how you are going to get to Disney means you are thinking about Disney, and who doesn't love that?
Have you ever driven to Disney? What are your best tips for the road trip? Share them in the comments.
Incoming search terms:
https://www themouseforless com/blog_world/driving-disney-let-road-trips-begin/
road trip from texas to disney world