This post may contains affiliate links for your convenience. If you make a purchase after clicking a link we may earn a small commission but it won't cost you a penny more! Read our full disclosure policy here.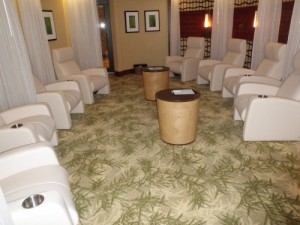 When I first started making plans for my trip on the Disney Dream, I was excited, and I wanted to see everything, do everything and experience everything.  One of the things I was most excited for, of course, was the spa.  I love the spa on any ship, but this was a new ship, with a new spa, and new offerings.  So, I was really excited, and couldn't wait until I had a chance to tour the spa and try a new treatment.
Most of this blog is going to focus on my experience with a Couples Villa, but, I do want to include a little info about the new Senses Spa and Salon on the Dream.  It's a bigger spa than the ones on the Magic and Wonder, and it has a much more land-like spa feel to it.  Disney has also gone out of their way to make it a much more complete experience, unlike the other spas.
On the Dream, there are two Spa Villa treatment rooms.  Chris and I booked the Couple's Choice Villa, which is the middle of the three choices.  It offers you 130 minutes of time in the Villa.  The other choices are the Romantic Hideaway Villa which is 120 minutes.  Then there is the Ultimate Indulgence, which is 150 minutes.
We arrived a bit early for our villa time, so we were asked to wait in the waiting room for a few minutes, which was fine, as we had a chance to take in the view from the floor to ceiling windows that they have.  This is a great little alcove, though you never sit here long.  After just a moment we were collected by a therapist who brought us back into the spa, and explained that normally she would drop us off at the locker rooms, but because the spa villas are ensuite, we would be changing in there, so she just took us directly to the relaxation room.
I love the addition of the relaxation room in the spa.  It's a wonderful place!  A quiet room, where you can wait for your therapist, or a place to rest after your service.  The lights are dim, and the music is quiet, there are an array of teas to try, along with a few types of water.  And, there are a bunch of comfy white recliners to relax in, with built in cup holders.  All of the chairs are separated by sheer curtains that you can adjust, so if you want to have a conversation with the person next to you, you can, or if you'd prefer to be in your own world of solitude, that is fine as well.  This is also the area where you will fill out your pre-treatment paperwork.  Chris and I filled out our paperwork, and then settled in to wait for our therapists.
It was a short wait, and then they escorted us to our spa villa, which was gorgeous.  The villa itself was quite large.  When you entered the room, directly in front of you was a large glass shower that opened both into the room and out onto the deck.  There is an ensuite bathroom, and then the rest of the room held 2 treatment beds.  The treatment room opened out onto a large private deck with it's own private Jacuzzi, two chairs, and a roman daybed.  The therapists had us sit on the treatment beds while we went over the paperwork and discussed the treatments that we wanted and any problem areas we had. This was actually one big difference from my last spa villa experience on the Disney Magic.  When we had that one, the treatments were a pre-set deal, and it was a massage and a facial.  This time we had our choice of treatments, and we were able to choose independently.  Chris is going to write about his experience later, but, I opted for something totally different than his treatment.  I did a 75 minute bamboo massage.  She offered me a 50 minute bamboo massage with a facial, but I felt that the best use of the time for me would be a massage, so we settled on the whole time being a massage, and she would add in a bit of product application to go along with it.  And that was that, the therapists excused themselves so that we could change, and after we were settled in our robes, we were to join them outside on the verandah for the foot ritual.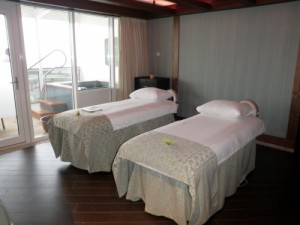 All of the spa villas start with a foot ritual, which is a washing and an exfoliation of your feet.  It was a bit of an unusual experience for me, but that was mostly because we thought that I'd broken my foot (it later turns out that I actually had a strange form of tendonitis), so, she was extra careful with my foot.  When our foot rituals were complete, we were left alone for our Jacuzzi time, after being given fresh cucumber water.  The therapists told us that they would knock on the door when it was time for us to come in, but that if we wanted to get in the shower, to feel free.
Chris and I had a wonderful time relaxing in the Jacuzzi, while taking in the views of houses around Nassau.  It was a gorgeous afternoon, and a wonderfully quiet and peaceful place to be.  After soaking for a long while, we both decided that we wanted to rinse off before our treatments, so we got out of the tub, and headed in to the shower.
I returned outside after I rinsed off, and that was right about the time that the therapists knocked on the door to let us know that it was time to come inside.  We switched places for a few minutes, with them stepping outside, to give us the privacy to change out of our bathing suits and slip under the covers of our treatment tables.
My treatment was a bamboo massage.  When I had asked about it, I was told that it was sort of like a hot stone massage, but that it uses bamboo stalks instead of stones.  The stalks vary in length and diameter and are heated, and they are used to provide deep-tissue work.  I really found the massage to be thorough, and I really enjoyed it.  It was very deep, but not at all painful, and it was really relaxing.  I would definitely do it again.
Soon it was time for me to flip over, which I did, and there was a brief break in the massage, while my therapist cleansed my face, then exfoliated it and then applied a moisturizer.  She then put an eye pillow on me, and continued on with my massage.  I was nearly asleep by the time the villa treatment was done, but, soon they were taking my hand and putting it in Chris's.  They excused themselves again, so that we could get dressed, and told us that when we were dressed, we should head out onto the verandah to the roman daybed.
We were waiting out there when our therapists came back with tea for us, along with a plate of fresh fruit and chocolate covered strawberries.  Chris and I were left alone to enjoy the afternoon and our snacks, and then to take our time getting ready to leave.
All in all, it was a wonderful time at the spa, and I can't wait to spend more time there!
Incoming search terms:
https://www themouseforless com/blog_world/dream-ing-of-the-spa/