This post may contains affiliate links for your convenience. If you make a purchase after clicking a link we may earn a small commission but it won't cost you a penny more! Read our full disclosure policy here.
By Deb Niarhos
Walt Disney's dream for Disney World included a self-contained town, E.P.C.O.T, where people could work, live, shop and play. Although his dream was not achieved as envisioned, the Walt Disney World we know today has come pretty close. You can shop, dine and play throughout the resort. But, in Downtown Disney (DTD) you can do all three, and there is no admission fee (except for some of the "adults-only" venues).
The Lake Buena Vista Shopping Village officially opened on March 22, 1975. The area has undergone many changes over the years. During the evolution, the name was changed to the Walt Disney World Village and later The Disney Village Marketplace. In 1996 it took the name it still has today: The Downtown Disney Marketplace. The entire complex, which is now comprised of three distinct sections, has evolved into over 120 acres of shops and restaurants surrounding the 35-acre Buena Vista Lagoon.
During the late 1980s, Disney officials saw a need for a place where adult guests and locals could enjoy evening activities. They created Pleasure Island, which opened in 1989. Surprisingly, it is not named after the Pleasure Island in the Pinocchio story, but has its own backstory. Imagineers created a fabricated history based on the fictitious character Merriweather Adam Pleasure. As the story goes, Pleasure was a businessman who owned the buildings as part of his shipping company. A storm destroyed the business, Mr. Pleasure vanished, and the buildings were left in ruins. The buildings were refurbished from the run-down waterfront into bustling nightclubs.
Like the Marketplace, Pleasure Island has also undergone its share of changes. For example, there used to be an admission fee to enter and it also used to be closed during the day. In 2005, Disney got rid of the admission fee and gates and since then has only charged to enter the nightclubs. As a result, guests can stroll unobstructed from one end of DTD to another (previously Pleasure Island was a closed roadblock between the Marketplace and West Side, which were open all day). On the downside, the carefully crafted backstory is no longer a part of the area. The adults-only area has moved to a more family-friendly atmosphere.
Another expansion in the '90s saw the opening of the West Side. This entertainment side features an AMC movie theater, Virgin records megastore, DisneyQuest and the Cirque du Soleil theater.
With the many changes throughout the years, Downtown Disney has remained a must do for most WDW visitors. What is it that keeps people heading to DTD? Simply put: it is fun!
First things first: How do you get to DTD? Well, that depends on where you start. From Saratoga Springs, Port Orleans or Old Key West, you can get there by boat. From all resorts you can catch a bus; often during the day the bus also goes to Typhoon Lagoon. There are two bus stops once you get to DTD: one at the Marketplace and one at Pleasure Island. Although busses run one hour after Pleasure Island closes, we prefer to drive. Parking is free and we always seem to get a great spot near the World of Disney. Plus, we do not want to lug all our purchases onto a bus.
So, now that you're there, via boat, bus or car, what exactly is there to do at DTD?
Shopping: Let's begin our journey through DTD with one of my favorite activities: shopping. There are so many unique and interesting places to shop. My first trip to DTD, I was surprised how many stores were there. One of the best times to visit DTD is Sunday morning. Everyone is either in church or asleep. No crowds, great shopping.
The most popular signature stores are:
World of Disney: if it's a Disney product, it's probably here
Bibbidi Bobbidi Boutique: inside World of Disney, where your child (or the child in you) transforms into a princess
Once Upon a Toy: Mr. Potato Head and lots of toys
Virgin Megastore: two huge floors of music, movies and more at the West Side
Lego Imagination Center: The most awesome Lego store ever
And now in alphabetical order:
Arribas Brothers: hand-blown European glass
The Art Of Disney: great store full of Disney art and collectibles
Basin: natural bath and body products (plus a 10% annual passholder discount)
Cirque du Soleil Shop: need I say more?
Disney's Candy Cauldron: sweets and show kitchen
DisneyQuest Emporium: virtual (yet real) souvenirs
Disney Tails: a great pet-stuff store
Disney's Days of Christmas: huge Holiday store
Disney Pin Traders: guess what they sell here?
Disney's Wonderful World of Memories: photo albums, scrapbook stuff, books, stationary, post cards etc.
Harley Davidson of Orlando: well, you know what they sell!
Goofy's Candy Co.: sweet store!
Hoypoloi: creative art
House of Blues Company Store: Blues-y stuff!
Magic Masters: cool magic store
Magnetron Magnetz: lots of magnets (like my fridge)
Mickey's Groove: all Mickey, all the time!
Mickey's Mart: everything under $10
Mickey's Pantry: for culinary merchandise with a Disney twist
Planet Hollywood On Location: the usual PH stuff
Pooh Corner: all Pooh, all the time!
Rainforest Café Shop: lots of cool shirts and stuff
Sosa Family Cigars: yes, a cigar shop
Starabilias: for Americana collectibles and memorabilia
Summer Sands: beach stuff
Sunglass Icon: you guessed it- sunglasses
Team Mickey Athletic Club: sports themed Mouse gear
Whew! Although you will not find any theme park-specific merchandise (you will have to buy that in the parks), most every other kind of souvenir you could think of can be found here. Also, if you are an Annual Passholder, you get a 10% discount at the World of Disney and Basin. I love shopping in DTD.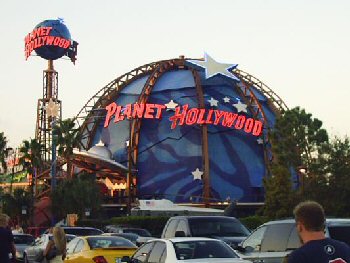 Restaurants: Now onto my next favorite thing to do at WDW: eating! There are many great restaurants in DTD. Again, to get a feel for the number of diverse eateries, there is a list below. If they are on the Disney Dining Plan, there is a "DDP" next to the name. For Location, MP=Marketplace, WS=West Side, PI=Pleasure Island. And away we go…
Let's begin with unique dining places:
Bongo's Cuban Café: (WS) Gloria Estefan's Cuban-themed place
Fulton's Crab House: (MP) great seafood. When DTD first opened this was the Empress Lilly, named after Walt's wife. It had three elegant fine-dining restaurants in it: Fisherman's Deck, Steerman's Quarters and The Empress Room.
House of Blues: (WS) Southern-style foods
Planet Hollywood: (PI, DDP) American fare
Portobello Yacht Club: (PI) Italian fare
Raglan Road: (WS, DDP) Irish pub
Rainforest Café: (MP) yummy food, great atmosphere
Wolfgang Puck Café (WS, DDP) very unique menu
Cap'n Jack's Restaurant: (MP, DDP) casual dining featuring seafood and a nice location overlooking the water
Now for the quick service restaurants in DTD:
Ghiradelli's Soda Fountain and Chocolate Shop: (MP) wonderful ice cream treats and yummy beverages in the soda fountain side. The chocolate shop is always giving out free samples…very enticing. Highly recommend this one!
McDonald's: (MP) okay, I guess it is necessary.
Earl of Sandwich: (MP, DDP) great sandwiches, what else?
Food Quest at DisneyQuest: (WS) wraps, burgers, dogs, pizza and salads
Wolfgang Puck's Express: (WS & MP, DDP) sandwiches, etc.
Play: So you say you want to have some fun after all of that great food and the theme parks aren't enough for you? You don't want to spend a day's theme park admission but still want a diversion on property? You got in your nap in the afternoon and you are ready to go?  You want the nightlife, you want to boogie? DTD has all of that too!
Fun for all ages:
AMC Movie Theater: largest theater in the Southwest- all the latest release movies, all stadium seating and very comfortable.
DisneyQuest: it's virtual magic, a theme park in a "box"!
House of Blues: great live shows, plus a tasty gospel brunch on Sundays!
Cirque du Soleil: with La Nouba, a special made-for-WDW performance. Outstanding!
Let's not forget the Carousel and Train Ride for the little ones. There is a fee for them, but the kids like them so much, we usually go at least twice.
So you got your groove thing on, and want to shake it:
8 Trax: '70s and '80s dance club
Adventurers Club: Audience participation comedy club: KUNGALOOSH!
Mannequins Dance Palace: warning- if you get motion sick, do not visit this club . . . the dance floor rotates!
BET Soundstage Club: hip hop and R&B
Rock 'n' Roll Beach Club: beach music
Motion: all top 40, baby!
The Comedy Warehouse: great improv!
As if all of this isn't enough, Downtown Disney is host to several special events during the holiday season:
The Festival of the Masters (November 9-11, 2007): an open-air art festival
The Festival of the Seasons (November 12, 2007 – January 6, 2008): DTD becomes a true winter wonderland!
Pleasure Island New Year's Eve: Party!!!!
So now that you know about all the wonderful things to do at DTD, I am sure you want to know the hours of operation. Although they vary slightly by season, here are the basics:
Marketplace
shops open 9:30 a.m. to 11:00 p.m., Sunday through Thursday
shops open 9:30 a.m. to 11:30 p.m., Friday & Saturday
restaurants open daily 9 a.m. to 11:00 p.m.
Pleasure Island
shops open daily 3 p.m. to 1 a.m.
clubs open nightly 7 p.m. to 2 a.m.
West Side
shops open 10:30 a.m. to 11 p.m., Sunday through Thursday
shops open 10:30 a.m. to Midnight, Friday & Saturday
restaurants open daily from 11 a.m. to midnight
DisneyQuest
11:30 a.m. to 11 p.m., Sunday through Thursday
11:30 a.m. to midnight, Friday & Saturday
Cirque du Soleil Theater
shows at 6 p.m. and 9 p.m., Tuesday through Saturday
Downtown Disney is a wonderful place to relax, dine, shop and play. I love the theme parks, but DTD is the perfect place to spend the day doing three of the things we love to do while at Disney. It is part of the Magic that should not be missed. And since there is no admission fee, anyone can grab some Magic anytime.
Incoming search terms:
https://www themouseforless com/blog_world/downtown-disney/