This post may contains affiliate links for your convenience. If you make a purchase after clicking a link we may earn a small commission but it won't cost you a penny more! Read our full disclosure policy here.
By Stephanie Rouse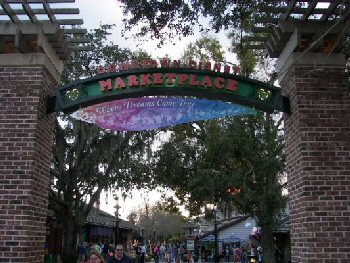 There's no doubt about it: Walt Disney World is the vacation destination that has something for everyone, and keeps millions of people coming back time and time again. Of course, the theme parks never get old. There are always new attractions, and who doesn't like to revisit their favorites each time they step through a turnstile?
Lately, however, I have been finding that my family is spending more of our time exploring Downtown Disney (DTD). With shops and restaurants catering to just about everyone, we never seem to run out of things to explore.
You'll find Disney-owned and -operated locations, along with some well-known chains. And for a truly special perk, this is one Disney destination where parking is free! Plus, the lots are easy to navigate. Just remember to look and see what you are near when you park, or you may find yourself wandering the lots looking for your car.
For guests staying on Disney property, bus service to DTD is available from each resort. From the Port Orleans resorts, as well as Old Key West and Saratoga Springs, guests may also take a ferry boat, weather permitting. Arriving via ferry is an especially fun option — you can't take a ferry to your local mall!
Because DTD is popular with locals, weekends are usually very crowded, and evenings can be as well. For the least crowds, aim for visiting early in the week, and in the morning. Of course, if you don't mind the crowds, I highly recommend checking it out during an evening. The atmosphere can't be beat.
Downtown Disney is separated into three sections: Marketplace, West Side, and Pleasure Island. I was so excited to write about one of my favorite places that I later realized, there is so much to do and see in Downtown Disney, there is no way I could fit it all in one article, so I have decided to focus on Marketplace for this issue  (with info on the West Side and Pleasure Island to come).
Marketplace is full of great shops and some equally great restaurants. The Marketplace is nestled along the shoreline of Village Lake, and Saratoga Springs can be seen across the water. The location even affords the option of renting boats during the daytime hours.
Let's begin with an essential part of any Disney expedition: food! Landry's Restaurant chains — Rainforest Café and T-REX —are two major attractions here. Even if you don't eat at them, you can still spend some time browsing their souvenir shops. Cap'n Jack's, located lakeside, is another good option. The obvious choice here is the fresh seafood, but land lubbers will also find a nice selection of dishes.
If you can't wait to explore the rest of DTD, go for one of the faster but still delicious dining options. Earl of Sandwich is a favorite among many Disney visitors. With soups, salads, and amazing sandwiches, plus a breakfast menu, everyone in your group will enjoy their meal. For another delicious option (also open for breakfast), famed chef Wolfgang Puck, well known for his gourmet pizzas, lends his name and plenty of tasty recipes to Wolfgang Puck Express.
Now that your group's fueled up, it's on to the next highly important activity while at a Disney destination: shopping!
If you are here to shop, Marketplace is the place to be. The largest Disney character store in the world, appropriately named World of Disney, can be found here. World of Disney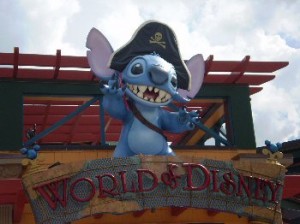 divided up into different rooms. You will find everything from T-shirts to fine art and jewelry here. The princess room is sure to be a hit with every little girl, boys can browse the pirate room, and tweens will find all things High School Musical and Jonas in the same area! There are also rooms for little ones, kitchen items, men, women, jewelry, and much more.
Also located inside World of Disney is one of two Walt Disney World Bibbidi Bobbidi Boutiques (the second one is located at the Magic Kingdom.) Specializing in hair, nails, and makeup, little girls (ages 3 and up) can transform into their favorite princess or teenage rock star, Hannah Montana! They do everything from a basic hair package to packages consisting of everything, including costume and photo shoot. Boys (ages 3 and up) don't have to feel left out, either: they can get the Cool Dudes package, complete with wild colors in their hair.
Here at the Downtown Disney Marketplace, specialty stores abound. Looking for something to take to that sports fan back home? Check out Team Mickey, sports merchandise central. The popular chain store Basin operates a store here as well, where you can find soaps and bath items, some with a Disney touch. For those like myself who can't get enough of Christmas, Disney's Days of Christmas celebrates Christmas 365 days a year with ornaments, CDs, plush, and collectibles. You'll also find Disney's Design-a-Tee, Wonderful World of Memories, Mickey's Pantry, TrenD, and more. That doesn't even include the pin store, and many kiosks that offer such items as pearls and silhouette creation.
Sure to please little kids and us considerably older kids, Disney's Once Upon a Toy is packed with plush, dolls, and even some classic toys, such as Lincoln Logs and Tinker Toys. You may want to spend some time just checking out the decor here. A very popular choice here is the Build-Your-Own Mr. Potato Head. You grab a potato and fill the box with as many pieces as you can, all for around $20. There are traditional Mr. Potato Head parts, along with lots of Disney pieces. These have become popular with collectors, and Disney often adds new pieces. If you like the build-your-own concept, guests can also build their own light saber, or create a unique collection of My Little Pony horses and accessories.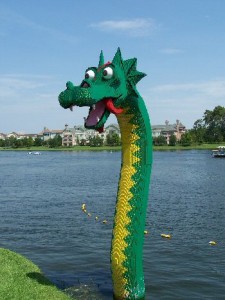 Two childhood favorites, LEGO and McDonald's, also are represented at Marketplace. LEGO Imagination Center is a sight to look at, as well as one to shop in! With life-size LEGO models, and a nice play area for the kids, it's a great place to let little ones blow off some steam while enjoying the day. McDonald's is also located right next door, putting two kids' favorites right next to one another.
After all that shopping, you might be exhausted. Fortunately, DTD offers plenty of tempting ways to get an instant sugar rush.
San Francisco–based Ghirardelli Chocolate operates a soda shop with ice cream and decadent chocolate to satisfy a gourmet sweet tooth. Have a craving that a menu simply can't accommodate? Head over to Goofy's Candy Company, the most interactive candy shop I have ever been to, where you can create your own treats! You pick a base, such as pretzel rods or marshmallows, even apples, and a coating, such as chocolate or caramel, and you pick the toppings! Fill out your order slip and your custom treat is made to your specifications.
Now that we've got our energy back up again, get out there and explore the wonderful world of the Downtown Disney Marketplace. I've only touched on some of the options here…check out more for yourself in person!