This post may contains affiliate links for your convenience. If you make a purchase after clicking a link we may earn a small commission but it won't cost you a penny more! Read our full disclosure policy here.
Doorway to Dreams
By Erica Colmenares

Here in the wilds of Wisconsin, there's not much Disney. We're over 1300 miles from Lake Buena Vista, and almost 2000 miles from Anaheim. Our Disney Store closed earlier this year (without letting me know, by the way). There was that time that Disney on Ice came to town. That was big! But otherwise, we make do with Disney fan email lists, Disney podcasts and trip planning- that's what sustains us between Disney vacations.
But recently, the Midwest got its own dose of Magic. On March 1 of this year, Disney Vacation Club announced it was opening up a storefront in Chicagoland. "Woo hoo, that's practically in Wisconsin," I says, and anxiously await details. Seemed like the plan was to locate this new DVC sales center in the Woodfield Mall, in Schaumburg, IL. The Village of Schaumburg is a straight shot from my hometown. Sure, a 130-mile straight shot, but beggars can't be choosers. The preview center would be 6300 square feet, and have a two-bedroom villa unit as well as a supervised children's play area and interactive information area. Coming this summer. But when this summer? When?
Finally, things get concrete. Disney Vacation Club announced the Grand Opening of Disney's Doorway to Dreams for August 4, with three DVC member preview days on August 1-3. "I'm a member," I shouted with glee. It was clearly time for a road trip. And Carol Garcia (senior editor for Magically Speaking) is also in the neighborhood (or at least the state), so we planned a rendezvous at this great Midwest Disney Event.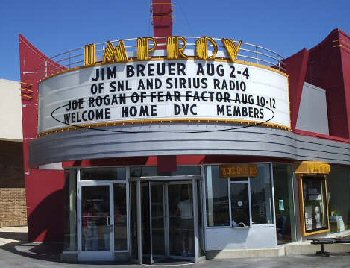 Welcome Home DVC Members – that's us!
Friday, August 3 arrives. It's hot. It's humid. We're standing in a parking lot at the Woodfield Mall, looking around for the Improv Comedy Club, which is where our official confirmation postcard tells us to go. Ah, there it is. We enter, and a very nice woman smiles and asks "Are you here for the noon tour?" Yes indeed, we are! We (patiently) wait a bit, since it's before noon, then are ushered down a set of stairs to the club rooms.
Here we get checked in, assigned a group (we are henceforth known as Group Five), an entry form for a sweepstakes (still waiting for the news that we won!) and a cool, light-up 'Doorway to Dreams' pin. There are drinks by the bar- soda and water – and display areas set up with drawings of Animal Kingdom Villas. I learned on the internet that the lucky later time slots actually got wine and beer. Guess Disney's trying to adhere to the "no drinking before 5 pm" social norm.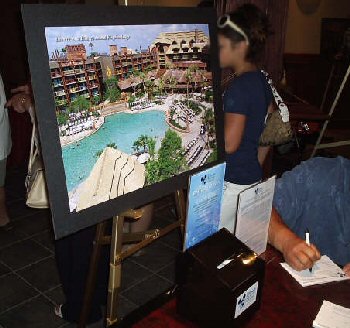 The sweepstakes, by the way, is a pretty nice one: all expenses paid trip for four, five nights in a two-bedroom Saratoga Springs villa and one night in the Cinderella Castle Suite! With tickets and the dining plan. If you're bummed you didn't get to enter, they are still taking entries at the Doorway to Dreams store, or you can enter by mail . Keep in mind that I just decreased my chances of winning by telling you about this, so if you win, at the very least take me along, I mean, send me a postcard.

OK, now back to Schaumburg. It's time for the main event. By now about 150 people have arrived. We're invited into the theater area, where there's lots of stadium seating with tables. Then it's off to the buffet for deli selections, chips, sub sandwiches, meatballs, chicken wings, and fruit and pasta salads. There is such thing as a free lunch!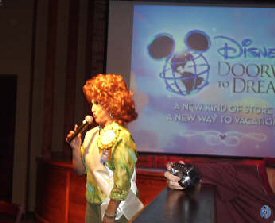 Just as we're digging into the chow, the lights lower and who should come out but Miss Dee Vee Cee. Now, I know she's not everyone's cup of tea, but I, personally, love Miss Dee Vee Cee! She's the first lady of the Disney Vacation Club- did you know that? For those of you have been to Welcome Home Wednesdays, she's the star attraction there. And now she's in my own little Midwest! Sigh. Doesn't get much better than that. She does her high-voiced schtick, gets a few laughs, does a little trivia contest, then introduces the actual DVC salespeople.
There are three of them, and they're polished. They walk us through the special incentive offers available only at these preview events. These incentive offers are now expired, defunct, kaput, invalid, obsolete. Gone. But in the interest of complete disclosure, these were the full offers:
For all purchases equal to or above 110 points, members would get $10 off per point for Saratoga Springs; $8 off per point for Animal Kingdom Villas. Closing costs would be waived as well.
The Fall Collection Offer (presented by a DVC guide in safari gear)
For purchases between 110-159 points, members got their discount plus developer points equaling points purchased, for use within a year from closing.
The White Sale (presented by a DVC guide initially in a ski get-up, then in beach garb)
For purchases between 160-199 points, members got their discount plus developer points equaling 1.5 times the number of points purchased, for use within a year from closing.
The Shipping Included offer (presented by a third guide in classic, tasteful cruise wear)
For purchase equal to or above 200 points, members got their discount plusdeveloper points equaling two times the number of points purchased, for use within a year from closing.
That's a heck of a lot of points.
For Saratoga Springs purchases with September, October and December Use Years, guides were also writing contracts beginning in 2006, and waiving dues as well as banking deadlines for 2006 points, so that they were 100% bankable.
That's a heck of a lot of points.
But on to the next phase. The groups were split up, some staying to be entertained by Miss Dee Vee Cee a tad more (lucky people), some going to get their photos taken with Disney characters, and others going with guides into the mall area to the actual DVC storefront. Group Five got photos first.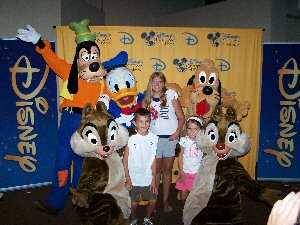 It was a short line, and we were enthusiastically greeted by Chip, Dale, Goofy, Donald and Pluto. Minnie and Mickey were rumored to be visiting a local hospital- we didn't find out definitively, although we know they were at the Woodfield Mall for the Grand Opening on Saturday. We're given photopasses of our shots, and are told that we can use them for complimentary downloads of our photos. For good measure, they also gave us a signed 8×10 shot of Mickey and his gang in front of Cinderella Castle.

We're finally here!
Now it's finally our turn to see the Doorway to Dreams store. Our guide leads us through a (somewhat depressing) back hallway of the mall, then up into the shiny bright public area. The Doorway to Dreams is on the third floor of the mall, right next to Nordstroms. We've arrived.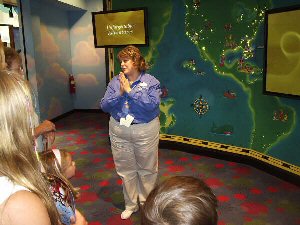 We are briefed on the places we can use our points (locations are lit up on the map).
Group Five is moved through the space fairly quickly, first to a cast member who showed us a map of DVC locations world-wide. She's in front of the large flat panel screen that is touted as a glasses-free 3-D display. We blinked, and we missed it. Then it's directly into the AKV one-bedroom mock-up. You enter as if through the villa doorway, and the first bathroom is on your left, with the kitchen/living room area straight ahead. We got about twenty seconds to ooh and ahh over the nice living space before we were herded into the master bedroom, which has a huge master bathroom. It's all very roomy and nicely decorated, in my humble opinion. Lots of room for that 5th person who will officially be allowed in AKV one-bedroom villas! There's a mock-up balcony area, with a huge photo mural of the AKL savannah. The CM said the Doorway to Dreams balcony is in fact wider than actual villa balconies, so keep that in mind when dreaming of a dance party on your real life villa balcony. Next comes the mock-up of an AKV studio. The two villas together form a lock-off two-bedroom.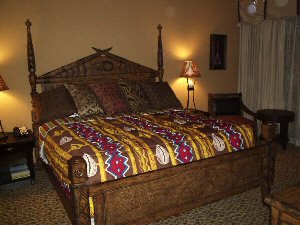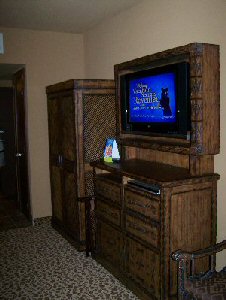 Amenities in the master bedroom

Bed and pull-out sofa in the studio/second bedroom.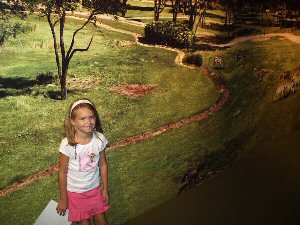 Standing in front of the savannah (in mural form) just outside of the balcony.
After the tour, we returned to the Improv as a group. There, guests were able to sign up for time with a DVC guide to get points. In usual DVC style, there was no pressure to do so. We bravely resisted the urge to add on, and left, receiving a nice goody bag on the way out (Mickey ears hat, magnet clip, and a strange door hanger holder thing-a-ma-jig, among other things).
All in all, a very nice outing. Not as good, say, as Disney opening its third U.S. resort in the Wisconsin Dells. But it was much, much better than a boarded up Disney Store in the local mall.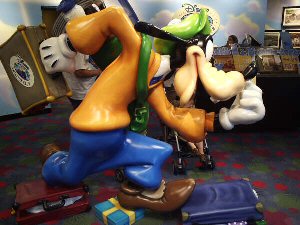 Goofy races to make his purchase and get traveling.
If You Go to Disney's Doorway to Dreams:
Located between Nordstrom and Lord & Taylor on the third floor of Woodfield Mall.
The mall entrance that will get you closest to Disney's Doorway to Dreams is the entrance through Nordstrom.
5 Woodfield Shopping Center
Mon.-Sat. 10:00 a.m. – 9:00 p.m.
Sunday 11:00 a.m. – 6:00 p.m.
Disney's Doorway to Dreams official website