This post may contains affiliate links for your convenience. If you make a purchase after clicking a link we may earn a small commission but it won't cost you a penny more! Read our full disclosure policy here.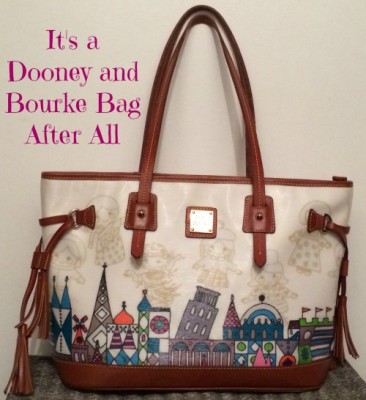 As a purse-toting Disney fanatic, I had been eying the Disney Dooney and Bourke collection for quite some time, trying to decide which style and print was just right for me. Now don't get me wrong – if price weren't an issue, I'd probably run out and buy them all – but at an average of $200 a pop, I'd probably have a hard time justifying a closet full of Dooneys to my husband! So one day, as had become my slightly compulsive habit, I was searching the web for new Disney Dooney and Bourke patterns when I stumbled upon an article about the limited edition 50th Anniversary 'it's a small world' tassel bag. It was love at first sight – I knew that I had to have this bag! I've always loved everything about 'it's a small world', from the colorful artwork of Mary Blair to the cheerful singing of the Sherman brothers timeless tune, 'small world' is a classic, feel good Disney attraction!
I hurried on over to disneystore.com only to find that my Disney/Dooney dream bag was SOLD OUT! I was crushed. I had finally found the perfect bag for me, and it was gone. I spent the next few weeks searching the site daily, hoping that Disney Store had restocked. I seriously considered buying my precious Dooney from an online auction site at a ridiculously marked up price. Just as I began to give up hope, it happened – the 'it's a small world' tassel bag was available on disneystore.com once again! I didn't waste any time – I purchased it right away and waited with anticipation for my beautiful bag to arrive!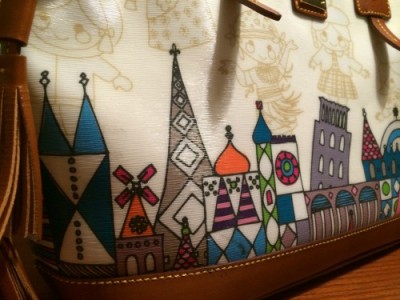 A close up of the 'small world' facade print.
When I finally received my Dooney and Bourke 'it's a small world' tassel bag, it was even more amazing than I had imagined! Obviously I had reviewed the dimensions listed on the site, but it wasn't until I ripped open the Disney store box that I realized just how spacious it is!
The bag's print features a whimsical homage to the colorful facade of the classic Disney attraction, and also includes subtle outlines of several of the attraction's international dolls, all on a cream colored backdrop. The buildings, which comprise the bottom half of the bag, are bold and eye catching, whereas the international doll designs, which dance across the top half of the bag, are subtly outlined in a light tan. The bag is made of coated cotton, which makes this light colored bag easy to keep clean, even with regular use (and a small child running around). The bag also features supple tan leather detailing along the bag's top and bottom, handles, and signature tassels.
I really appreciate the fact that this bag has metal feet on its bottom, which help to protect the coated cotton print, and that the bag has a zippered top closure, so I don't have to worry than anything will fall out! I mentioned earlier that this bag is spacious, and it truly is!
This purse will easily hold all of your essentials and more – including electronic devices, books, planners, etc. – it could also easily be re-purposed as a diaper bag, for those Disney-lovers with little ones. The handles on the 'it's a small world' tassel bag are long enough to fit comfortably over the shoulder (even when wearing a bulky jacket), which if you're like me, is essential when carrying a bag of this size.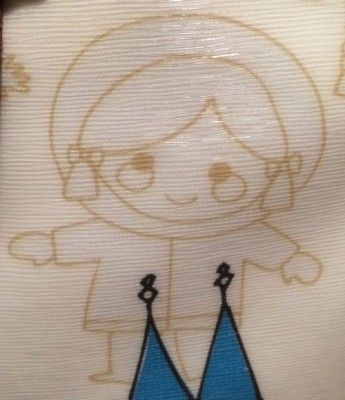 A close up of one of the international dolls.
One of my favorite things about this particular Disney Dooney, which made it so appealing to me, is that in my opinion it is much more subtle than some of the other Disney Dooney prints, which are far more "in your face" with their Disney theming. I receive compliments on this bag whenever I carry it from Disney fans and non-Disney fans alike, and oftentimes people have no clue that it's Disney until I tell them. I know I've found another Disney-lover when someone asks "is that an 'it's a small world' bag?!"
If you enjoy 'small world' I truly cannot recommend this bag enough – it is beautiful, well crafted, durable, spacious, and best of all – fun! Whenever I carry this bag (which has basically been every day since I got it… It might be time for a new Dooney!) I can't help but smile, and recall all the magical times my family has enjoyed the classic Disney attraction.
The Basic Details:
– Coated cotton / leather
– Gold tone metal details
– 11″ H x 14″ W x 6″ D
– Handles drop 9″ L
– 4 metal feet
– Zip top closure with leather zipper pull
– 1 interior zippered pocket
– 3 interior open pockets
– Red fabric lining
– Gold tone "Dooney & Bourke 1975" metal label on the front
– $298 Retail price