This post may contains affiliate links for your convenience. If you make a purchase after clicking a link we may earn a small commission but it won't cost you a penny more! Read our full disclosure policy here.
At dinner this evening, in between excited exclamations of whom was going to be tall enough to ride which rides come June, we decided that we couldn't forget the Kitchen Sink on this trip.  No, not an actual kitchen sink.  Considering we travel with four children I sometimes feel like all we left at home was the kitchen sink but we certainly are not going to start packing one either!  The kitchen sink I am talking about is the super fun dessert that can only be found at Beaches and Cream Soda Shop at the Beach Club Resort.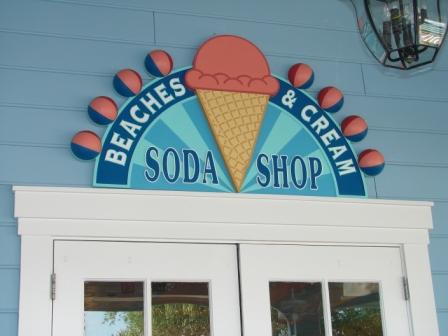 Think of the biggest, best ice cream sundae that you have ever had and then super size it and you might come close to the enormity that is the Kitchen Sink!  I have had the Kitchen Sink once before, a few years ago on a "girls only" trip, then we were a group of five adults and four children.  When we told the kids we were going to get dessert, they had no idea what was coming their way and when it was served their eyes were as big as the bowls in front of them.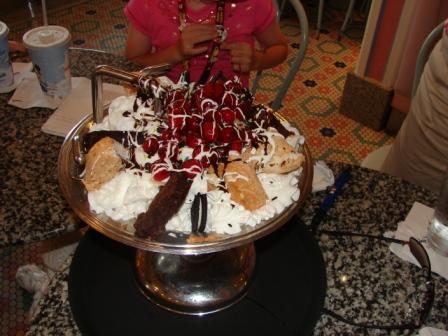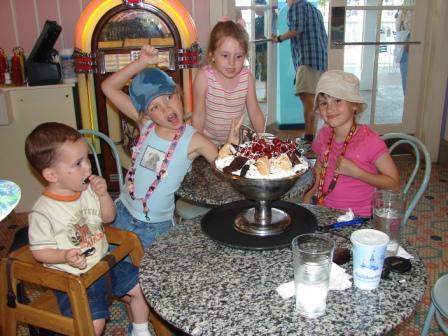 The Kitchen Sink consists of scoops of ice cream of every flavor that the soda shop offers, plus chocolate, butterscotch, and caramel syrup, brownies, cookies, nuts, cherries, bananas, sprinkles, and of course whipped cream!  It is served in a bowl shaped like an actual kitchen sink, faucet and all, with as many bowls and spoons as you need to share with your friends and family.  When the waitress (or waiter) brings it to your table they turn off the overhead lights in the shop, turn on flashing lights and sound a siren and announce to the whole place that someone has ordered the Kitchen Sink!  The kids loved it and trust me when I tell you that you will need to share this with other people.  The nine of us had way more ice cream than we needed and by the time we were finished there were a few tummy aches in the group.  That being said we are ready to tackle this extra large dessert once again and since we will be a group of twelve this time, maybe the tummy aches won't be a problem.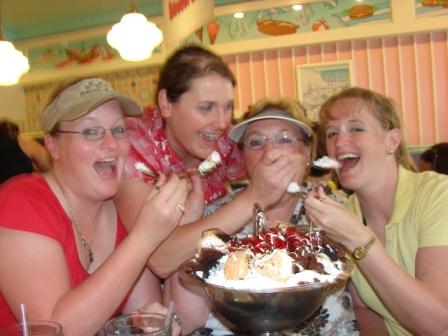 If you decide that the Kitchen Sink is something that your group would like to tackle, there are a few things you need to know before you go.  It is located at the Beach Club resort, near the Stormalong Bay pool.  If you go around lunch or dinner you can bet that the restaurant is going to be crowded and you will have to wait for a table.  I recommend going a few hours after lunch on a day when you do not have a big dinner planned because it will ruin dinner.  You have been warned.  The soda shop is not available for dining reservations so an ADR is not an option here, but strangely enough if you choose to eat a meal here and you are on the dining plan, be aware that it is considered a table service credit even if you get food from the outside window!  I have no idea how you could possibly eat lunch or dinner here and then consume the Kitchen Sink immediately after, but I am sure there is someone out there who has tried.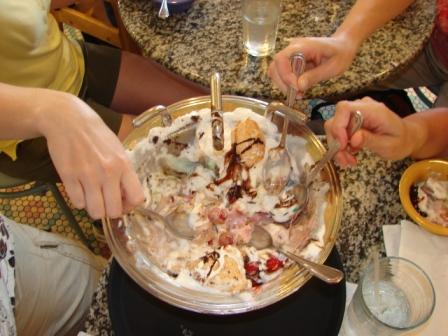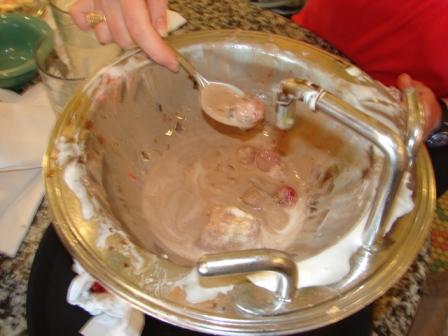 After we were overdosed on sugar we chose to walk back to Epcot to try and help digest some of the ice cream.  After a leisurely stroll through the park we decided that it was probably time to call it a day and we took the kids back to Pop Century Resort (where we were staying that trip) and let them swim off dessert while the adults rested in chairs poolside.  Dinner that night was shared counter service from the resort's food court as no one was really in the mood for a big dinner even a few hours later.
We still talk about how fun it was to experience the Kitchen Sink and the kids want to give it another try, so I guess we will be heading over to the Beach Club again in June.  Why not, right?
Incoming search terms:
dont forget the kitchen sink
https://www themouseforless com/blog_world/dont-forget-the-kitchen-sink/