This post may contains affiliate links for your convenience. If you make a purchase after clicking a link we may earn a small commission but it won't cost you a penny more! Read our full disclosure policy here.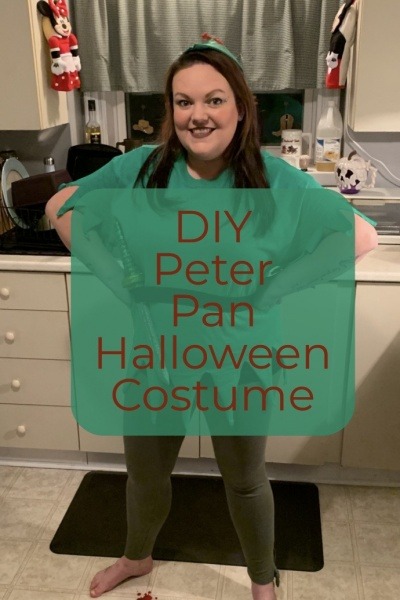 Halloween may have come and gone, but there's always time to start planning for next year, right? We're going to help you learn how to make a quick & easy Halloween costume – Disney inspired! This year for Halloween, I was Peter Pan & my dog was my shadow. It was a very simple, no sew costume that I made entirely at home.
What You'll Need
Green leggings
Green shirt
Scissors
Elastic belt or rope
Plastic sword
Green felt
Red feather
Pipe cleaners
Black shirt
Black felt
Black feather (or more black felt)
Black leggings (If making a human shadow)
Elastic
Glitter (optional – choice of colours. I used gold, silver & green)
Mod Podge (optional, if using glitter)
Mod Podge sealant (optional, if using glitter)
Glue gun
Step One
Using your scissors cut triangle edges along the bottom of the green t shirt and the sleeves. Try it on first to know how high to cut it & make sure each triangle is wide enough to be noticeable.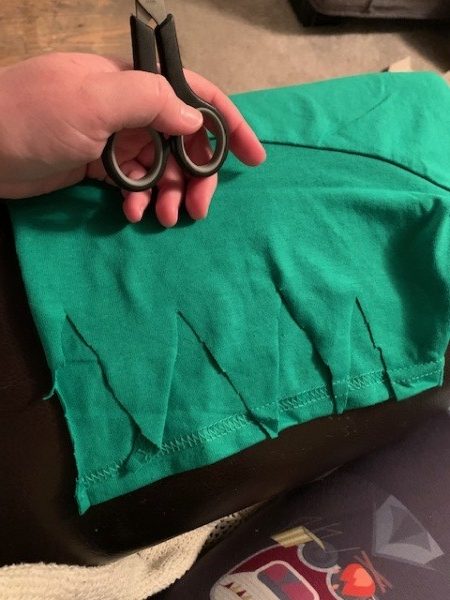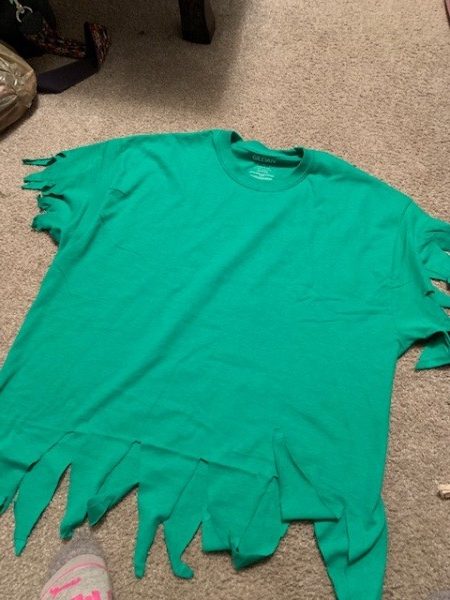 Step Two
Now it's time to make the hat. Find a square bolt of green felt to use for your hat. Remember not to make it very big, and before you begin assembling, check the size on your head. I had to do two attempts to make the hat the size I wanted.
First, fold the fabric in half. Next, tuck in each corner towards the center, leaving the open end available. Leave a space between the two folds. Then, fold up the bottom half a couple inches.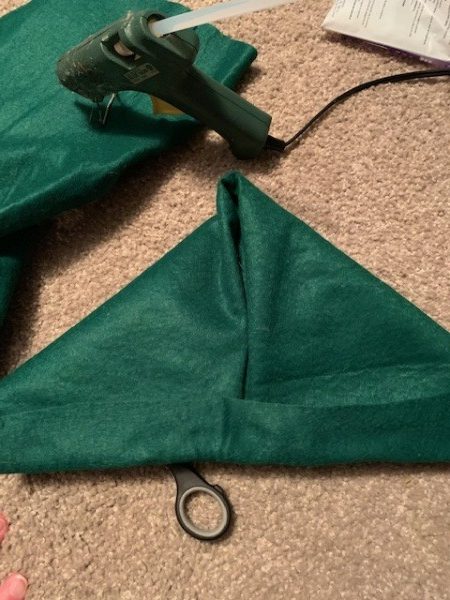 Before gluing, I would suggest comparing on your head to make sure it's the size you desire.
Then, you can begin gluing. First off glue the corners down, next the edges. The bottom edges will likely come out over a little. Just cut it to make sure it appears curved.
Last, it is time to glue on your read feather. I glued it on the side that has the corners come together.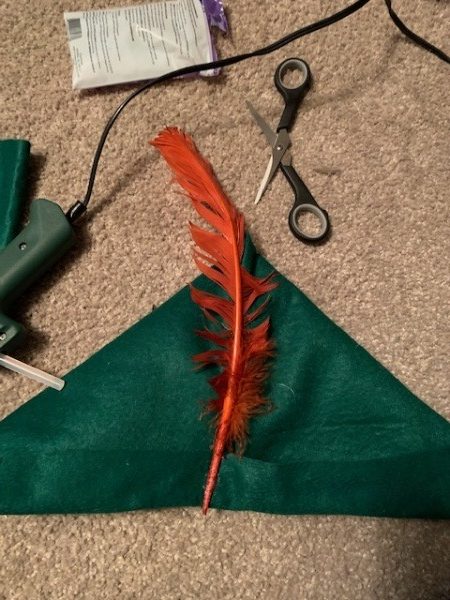 I also glued on a bit of pipe cleaner on the inside so I had something there to pin to my head as opposed to the hat itself. Optionally, you can use elastic. I used elastic on my dog.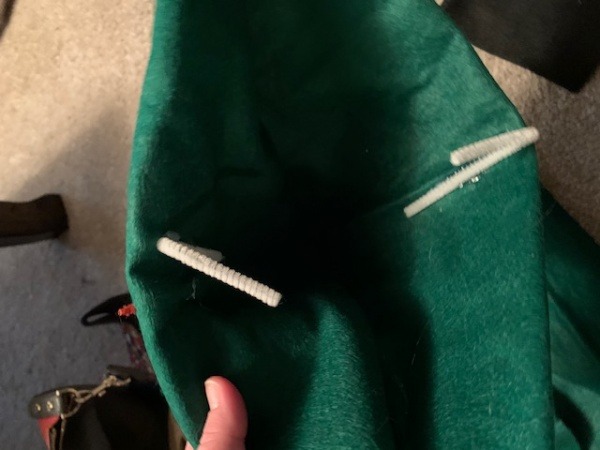 To make the shadows hat, you simply repeat these steps. If you don't have a black feather like I do, you can create one out of felt and a pipe cleaner.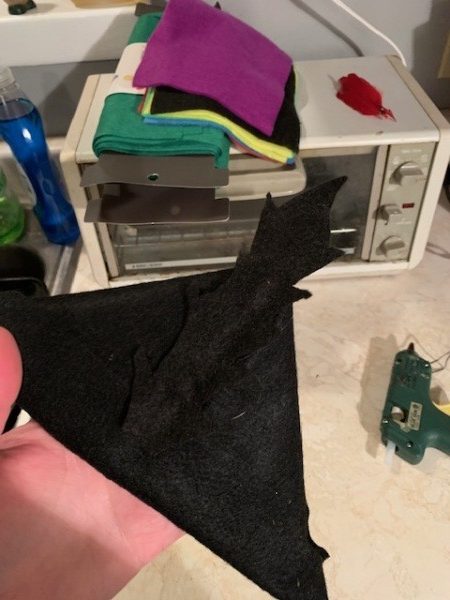 Step Three
This step is optional. I wanted to make my sword glittery to give it a bit of extra pizazz! I used a simple black sword, but mad the handle green, blade silver, and middle gold.
To do this, I used mod podge glue on each section, sprinkling on the desired colour glitter. Once it was completely dry, I used the clear mod podge sealant to make sure it was all sealed the glitter wouldn't come off. Make sure to do this in a well ventilated area as it is quite strong.
As always, make sure your work area is well covered – glitter likes to get everywhere!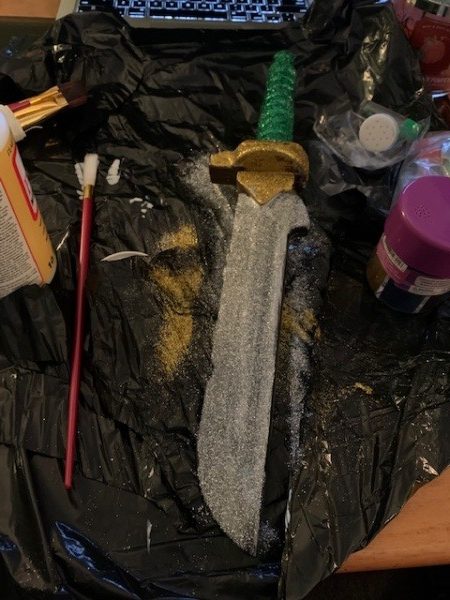 Step Four
You are basically all done! Time to put it all together. Pair your green leggings, shirt & elastic belt around the middle. Pop on the hat, and put the sword in your belt. Voila! Easy peasy Peter Pan Halloween costume.
For my dog, she is a black dog anyways, but has a white chest. I thought about using pet paint to make the chest black, but opted for a black shirt instead as it was less messy. Popped her hat on, and she was the perfect shadow! If you have a human being your shadow, you can simply do the same as the Peter Pan steps, but using black materials.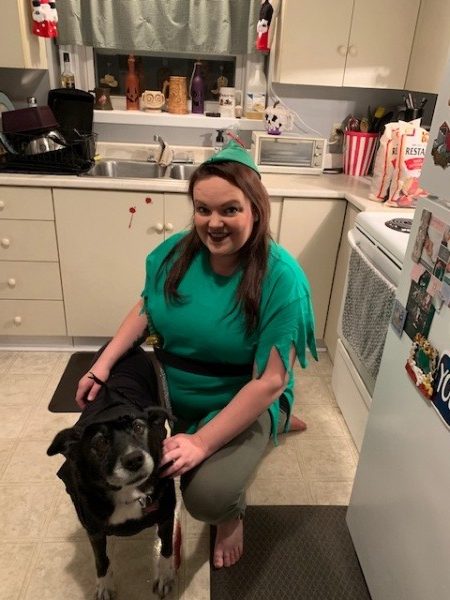 Fun tip – I also did my makeup with "second star to the right inspiration"!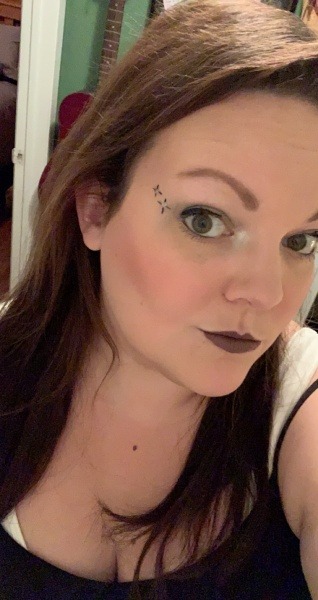 This is the perfect Halloween costume that was quick to make and very affordable. If you're looking for something that fits that bill, look no further than this DIY Peter Pan Halloween Costume!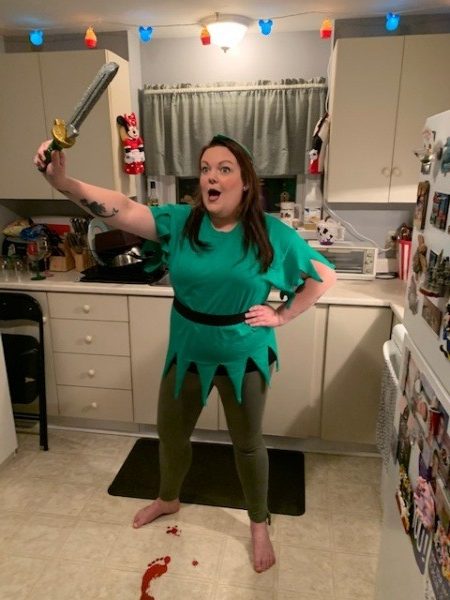 What did you dress as for Halloween this year? Share with us in the comments or on Facebook or Twitter!
Did you like this article? Make sure to share it with your friends! Check below for easy ways to share!  
Want to visit a Disney Destination? Contact The Magic for Less Travel for more information and a free, no-obligation quote.

Incoming search terms:
https://www themouseforless com/blog_world/diy-peter-pan-halloween-costume/
diy peter pan costume
diy peter pan costume for adults
what costume can you make with a greenshirt and green leggings