This post may contains affiliate links for your convenience. If you make a purchase after clicking a link we may earn a small commission but it won't cost you a penny more! Read our full disclosure policy here.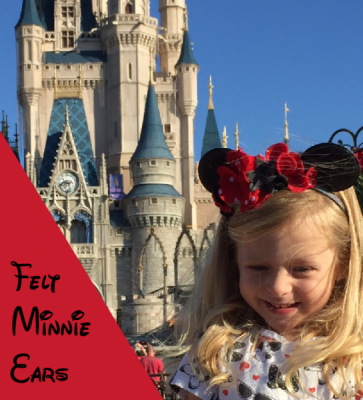 These DIY Felt Flower Minnie/Mickey Ears are a great fit for every Disney goer.  When you are planning your trip you are thinking about dinning reservations, FastPasses, and of course how will your ears match your outfit!    Your ears say a lot about you.  Are you the traditional Minnie/Mickey ears? Or do you go to your favorite character?
I wanted to make my daughter a pair of ears that were classic but not something you would see everyone in.  So of course I headed to Pinterest and was not seeing anything I was in love with.  I had previously make her some traditional felt flower crowns that I loved so I thought lets add some ears to that same concept!
This post does not require mad crafting skills at all.  If you are familiar with a glue gun and some scissors you will be set!  You can take this to the expert level and search the internet for some felt flower patterns to load in to your craft cutter – Or you can freehand (this is my preferred method).
My method is always cut way more flowers than what you think you will need.  Cut a few different styles out of each color felt in different sizes.  Once you start laying out the flowers on the head band with the ears it will come natural on how to place them.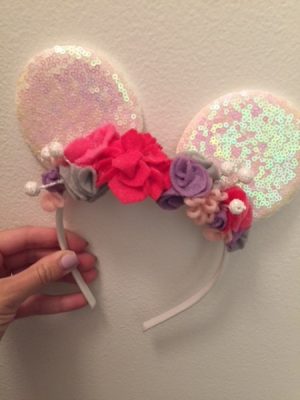 Well let's get crafting these DIY Felt Flower Minnie/Mickey Ears……
SUPPLIES:
-Ears- I got mine off of etsy, but choose your best option
-Felt- Most likely located in the kids section of a craft/sewing store – a few sheets will be more than enough depending on how many colors you are looking for
-Hot glue gun and extra glue
-Scissors
-Headband- I like to get mine from the dollar store actually- ones with a fabric lining work the best for gluing to
STEPS
-Purchase your headband and ears (of course you can make your own ear shapes but this tutorial is using stock ones)
-Choose the color felts you are going to work with.  Start to cut out your flowers:
Here are a few tutorials that are my "go-tos"
– Patterns for flowers
– Lay the flowers out on a table before you glue them all together.  Remember when using hot glue you want to try to get it right the first time that you glue
– You can add as many or as little flowers as you like.  On the ears pictured below I added a few sparkly balls that I picked up during the Christmas holiday from Michael's in the floral department.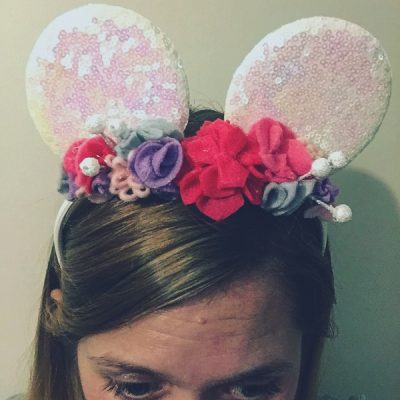 What are your favorite pair of ears to wear to the parks?  Have you made any of your own?  Have you attempted to make these DIY Felt Flower Minnie/Mickey Ears?  I would love to hear/see how they turned out for you!  Let us know in the comments or on Facebook.
Did you like this article? Make sure to share it with your friends! Check below for easy ways to share!