This post may contains affiliate links for your convenience. If you make a purchase after clicking a link we may earn a small commission but it won't cost you a penny more! Read our full disclosure policy here.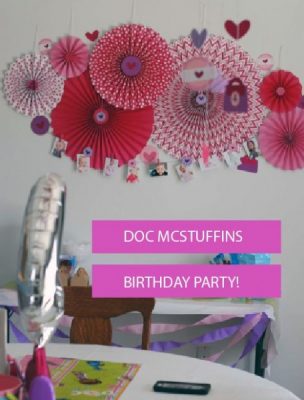 "Friendship is the best medicine" said Doc McStuffins.  So what's better than a gathering of your closest friends to celebrate your 4th birthday with a Doc McStuffins theme?  This DIY Doc McStuffins birthday party decor was thrown together for less than 50 dollars! As you can see, bringing the "Disney Magic" into a birthday party is something so special!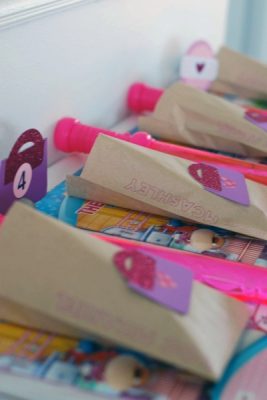 Once the Doc McStuffins theme was established, I went on the hunt through Pinterest. Everyone does this right? I knew I wanted to keep things somewhat simple, but wanted the party to shout DOC overall!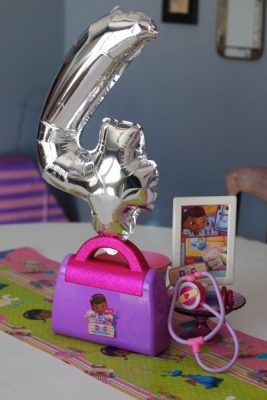 For the tables: I used a solid color table cloth from the Dollar Store to cover and protect the tables.  I added to the theme by using wrapping paper to create a table runner! Simple and easy! BONUS: If it does not get dirty, save it and use to wrap gifts after! Total investment for table coverings cost about $5 dollars. This will work for any character theme you choose.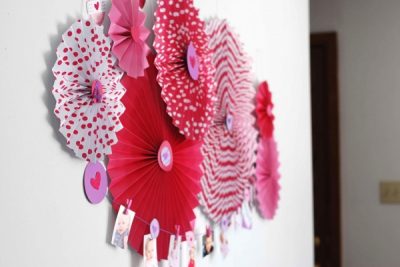 For the walls: You can create paper fans using 12×12 card stock.  You can find some great tutorials on Pinterest for these. I got the ones pictures above, at my local craft store.  I added the Doc theme to them by putting bandages and hearts to the center. This made them fit in the theme perfectly.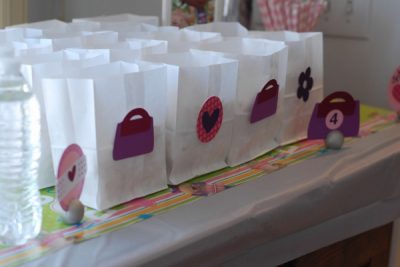 For the Food: Popcorn! What kid doesn't like a good popcorn bag? Originally, I was looking for a pink polka-dot popcorn boxes, however some road blocks came in when I saw the price and quantity you had to purchase. So I went DIY on this as well. Using a paper cutter, I created some Doc themed cut outs and pasted them to white lunch bags! Simple, easy and so cute!
For the Fun: Pinata time! Using old cardboard boxes, tape and some crepe paper, a Doc pinata was created! The kids loved this and even the adults got into the fun!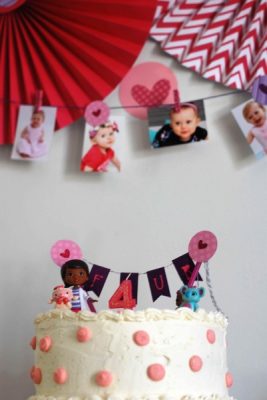 For the Cake: Simple and cute was the theme. The cake topper added some flair and was made with a paper cutter, floral wire and some drinking straws.  We had the figurines already for the top available in the play room!
It was so easy and fun to create a Doc McStuffins birthday party for our Doc fan!
What tips do you have for creating a DIY Doc McStuffins party? Let us know in the comments, or on Facebook or Twitter.
Did you like this article? Make sure to share it with your friends! Check below for easy ways to share!
Incoming search terms:
doc mcstuffins paper bag puppet