This post may contains affiliate links for your convenience. If you make a purchase after clicking a link we may earn a small commission but it won't cost you a penny more! Read our full disclosure policy here.
Halloween is over and Christmas is just around the corner, and that means it's time for Thanksgiving! Since store-bought decorations for this time of year are sometimes kind of sparse, filling in the gaps with some crafts can not only be fun, but festive as well (and many Thanksgiving decorations can also be used throughout the fall). Of course, as a good Disney fan, you have to have some of those "mouse"-terful touches.
Recently, inspired by another member's post on the Mouse for Less Facebook group, my wife and I decided to make our own Mickey wreath themed to fall. One of the great things about the classic Mickey head is how easy it is to recreate in a variety of settings (this also helps with volume of hidden Mickey's across Disney locations). The head is essentially three circles, so you can recreate it with all kinds of different objects.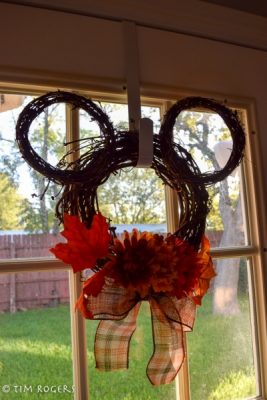 We chose the "grapevine" style of wreath because the look would be nice in the fall, but also possible to update for a spring wreath. You could use a metal or foam wreath and have a similar project, just some of the specific steps would need to be updated for connecting them too each other.
At our local craft store, they had a bunch of different sizes, which allowed us to pick something that would be a good size for the spot we wanted, but also have a good proportion between the head and ears. Our ears are about 6" in diameter and the head is around 9", but they had smaller and much larger ones as well.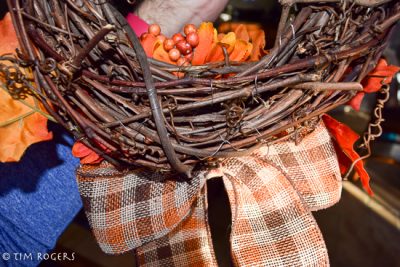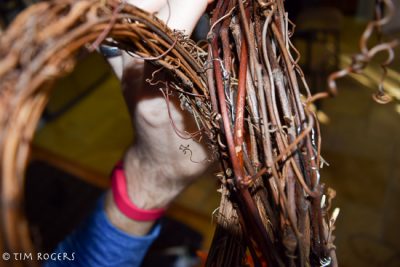 One important item for the structure was metal craft wire, also available in a spool at most craft stores. We used this to connect the ears to the head, and in doing so found a benefit and challenge of the grapevine wreaths. The challenge is that the wreaths aren't completely smooth or even so it can take a little adjustment to find the perfect spot. However, the benefit is that you can easily wind the wire in and out of the wreaths to make a strong and stable connection between them.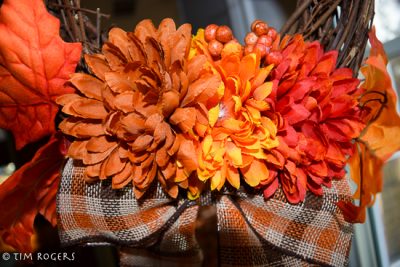 Once you have the ears on, it is time to decorate your Disney Wreath! Our original plan was to use a garland of fall leaves to wrap around an ear and part of the head, but with the size of our wreath it was just too big. However, many of the garland and flower arrangements you find at craft stores allow you to easily remove or replace the individual flowers, leaves, or other adornments as part of the design. This feature made it easy for us to pick a few leaves, flowers, and berries and then attach them to the wreath.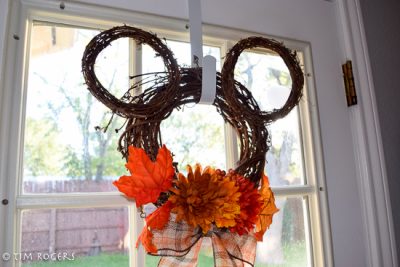 All in all, this project took maybe 20-30 minutes of work and adds a fun fall touch for Thanksgiving, or the entire season. As I mentioned earlier, this kind of craft is also versatile – you can place the flowers and bow more or less as a unit and then just trade them out for holly and poinsettia for Christmas and then hydrangea and lilies in the spring. Whichever season or combination you go for to make your Disney Wreath, this really is an easy and fun way to mix up your decorations.
Inspired to try your own Disney Wreath? Be sure to share a picture with us on Facebook!
Did you like this article? Make sure to share it with your friends! Check below for easy ways to share!