This post may contains affiliate links for your convenience. If you make a purchase after clicking a link we may earn a small commission but it won't cost you a penny more! Read our full disclosure policy here.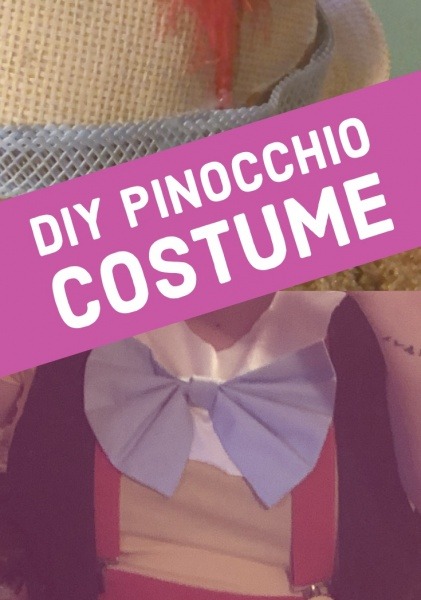 Fall is already in the air where I live, and it is definitely in the air at Walt Disney World! With Mickey's Not So Scary Halloween Party in full swing, and the Magic Kingdom decked out in fall colors, maybe it's time to start thinking about your Halloween costume!
I am big into Halloween, and this year I will be attending my first Mickey's Not So Scary Halloween Party, so I had to plan my costume extra early.
I have always wanted to be Pinocchio. This year, I finally decided to go for it! I had to choose something light & breezy for the hot Florida weather, but also something I could wear in the fall at home. I made some changes to make it more feminine for me, and I have to say, I impressed myself!
What you'll need:
Red shorts or skirt
Yellow shirt
Red suspenders
Big yellow buttons or big buttons & yellow paint
Black shirt or fabric
White shirt or fabric
Big blue bow-tie or blue fabric
Straw fedora
Blue ribbon
Red feather
Glue gun
Safety pins
White gloves
Red face paint
(optional) Knee high white socks
Step One:
I started out with the basics & found myself a red skirt, yellow shirt & red suspenders. This was the base of my costume. The rest of it I essentially made myself & added some final touches.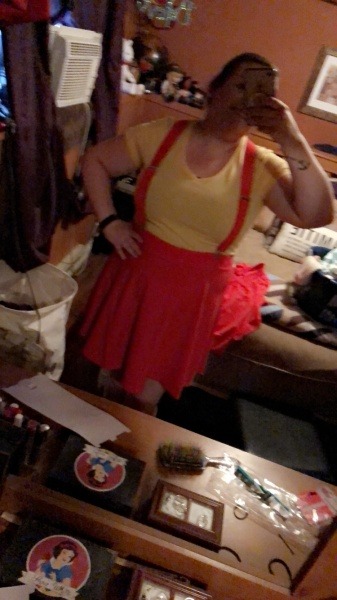 Step Two:
My local dollar store did not have big yellow buttons, but I knew I had some in other colors at home, and also had yellow paint. To keep things thrifty, I re-purposed these buttons by painting them yellow! it did take a few coats, but definitely did the trick. I allowed them to dry for a few hours, then did the same to the back. The following day, I glued the buttons to the front suspender clasps using a glue gun. Be careful doing this part & don't glue the mechanism of the suspender.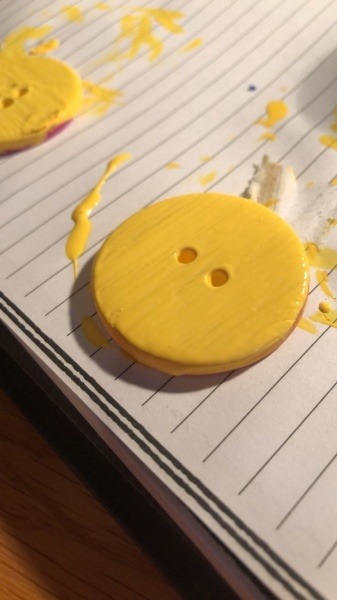 Step Three:
I already had a big blue bow from when I was human Ariel, so I just used this for my bow-tie for my costume. If you don't have one kicking around, you should be able to find one at your local craft or costume store. Optionally, you could simply use some blue fabric, folding & ironing accordion style. Tie some blue ribbon around the middle & voila!
Step Three:
At this point, I realized my Pinocchio costume was actually starting to look like Tweedle Dum without her Tweedle Dee-and I wasn't happy. I wasn't sure if I wanted to make the vest (because again, it will be hot!) but I decided it needed it to look more like Pinocchio! I am not good with a sewing machine. So, I decided to use a black shirt to make my vest. I simply cut it into a vest shape. First, I cut the shirt in the middle of the tummy, and cut off the arms. I also cut off the elastic neck. I continued to trim in until it looked like a "vest". I then made sure all the edges were relatively neat. If you're handy with a sewing machine, you could tweak this!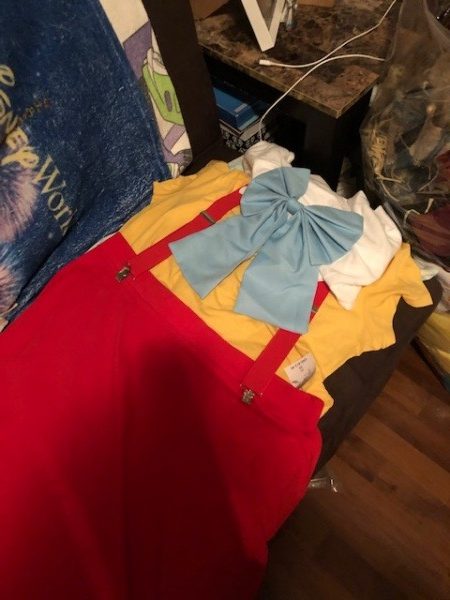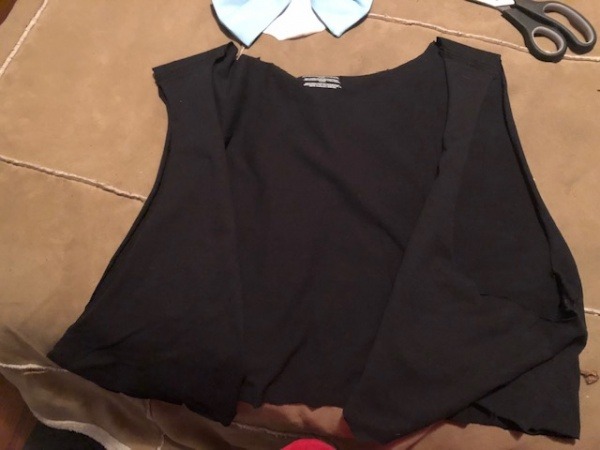 Step Four:
Similar to the vest, for the white neck piece, I used a white shirt. I actually didn't use the collar portion of the shirt. I essentially just used the shirt as fabric-but it was cheaper than buying fabric! I cut off a little over a foot of fabric, folded in half & cut a hole for my head. When I put it on, I realized I did not like how long it was in the back, so I simply trimmed the back shorter than the front. Again, I made sure all the edges were relatively clean. Using a safety pin, I attached the blue bow to the center of the front part.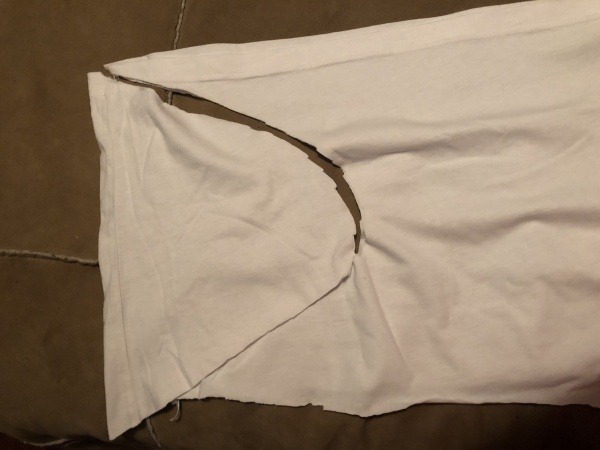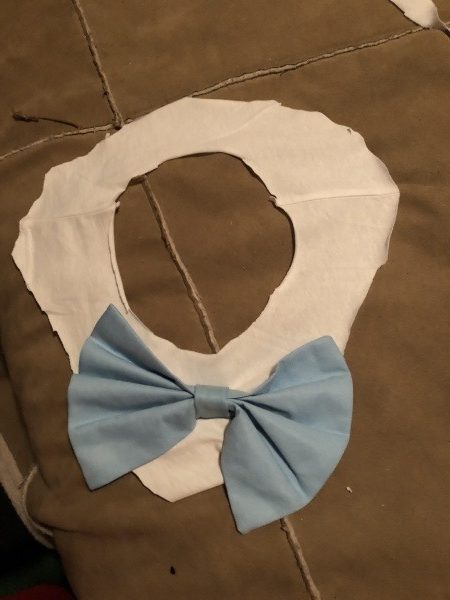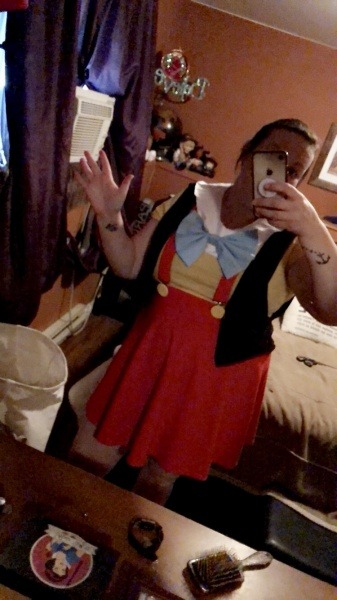 Step Five:
Last, it's time to work on the hat. I bought a straw fedora style hat. Using a glue gun, I first stuck the feather to the left side of the hat. Make sure it is well secured. Since the ribbon on my hat had brown ribbon, I simply covered it in blue ribbon using a glue gun.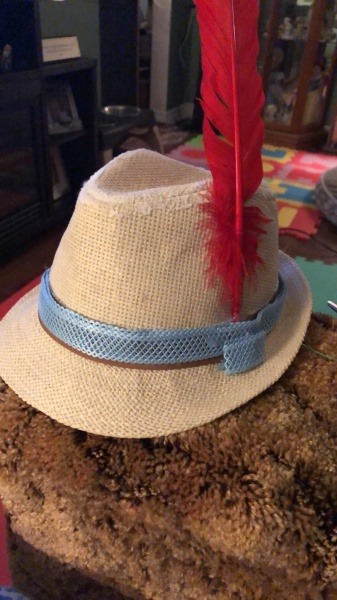 Step Six:
Throw on your white gloves & voila! Another thing that I think would pull the Pinocchio costume together is knee high white socks. I decided against this because I will be in the Florida heat. The last thing I will be doing to complete this costume, is two rosy red cheeks with face paint!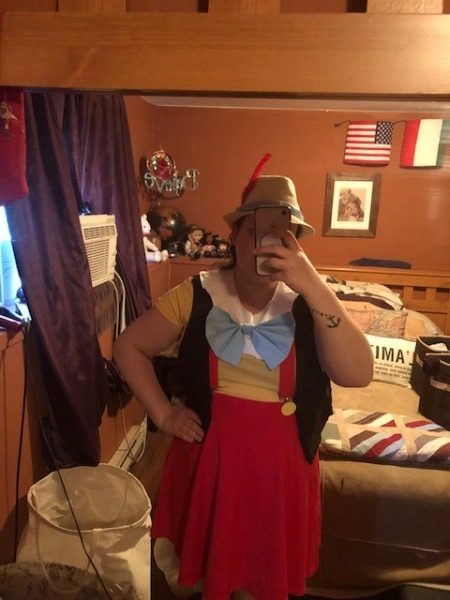 Optional Step:
Since Pinocchio has a stripe along the side of his shorts, you could do this using a glue gun or sewing machine. I opted to not do this because I want to use this skirt in the future for my normal wardrobe!
Last tip I have, is that I will likely attach both the vest & neck piece to my yellow shirt, just to make sure it's secure.
And there you have it! A cute, affordable DIY Pinocchio costume for Halloween! This costume would also be fun with your partner or friend or a group. Jimmy Cricket, Gepetto, Blue Fairy & Figaro. The options are endless! I hope this inspires your Halloween wardrobe. Be on the lookout for me at Mickey's Not So Scary Halloween Party – and be sure to check back here in September for my party review to see how folks reacted to my DIY Pinocchio Costume!
Did you like this article? Make sure to share it with your friends! Check below for easy ways to share!
Want to visit the Walt Disney World Resort? Contact The Magic for Less Travel for more information and a free, no-obligation quote.

Incoming search terms:
https://www themouseforless com/blog_world/diy-adult-pinocchio-costume/
DIY Pinocchio costume
paper pinocchio nose diy