This post may contains affiliate links for your convenience. If you make a purchase after clicking a link we may earn a small commission but it won't cost you a penny more! Read our full disclosure policy here.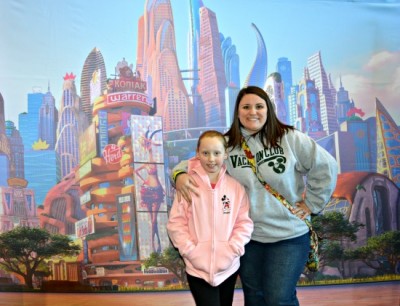 Hey look – we're in Zootopia!
On our most recent trip to Walt Disney World, we were lucky enough to be randomly selected by Disney Vacation Club (DVC) to attend a special Members-only pre-showing of Disney's Zootopia. Scott received an email from DVC inviting us to view the film at the AMC Theater in Disney Springs on Saturday, February 27 – six days before the film opens in theaters! This was the first time that we've ever received a sneak peek offer and we had already been looking forward to seeing Zootopia, so naturally, we jumped at the chance and registered our family.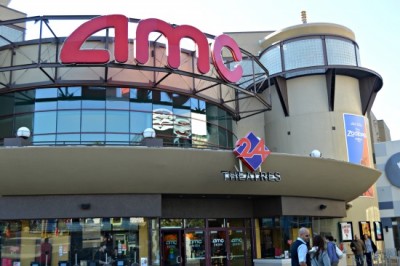 The AMC Theater at Disney Springs
The show time was 10:00 am, and our registration confirmation advised that doors would open at 9:00, so we made sure to leave Animal Kingdom Lodge bright and early to head to Disney Springs. We arrived at the AMC Theater around 9:10 and were directed to join a long line of fellow movie-goers across the walkway, by Bongos. Each member and their family (up to 4 per party) was checked in by a DVC Cast Member, and received a color-coded wrist band after presenting a valid DVC membership card. We received yellow wrist bands, and were told to head in to theater 12. We later learned that the film was screened for members in a total of 3 theaters.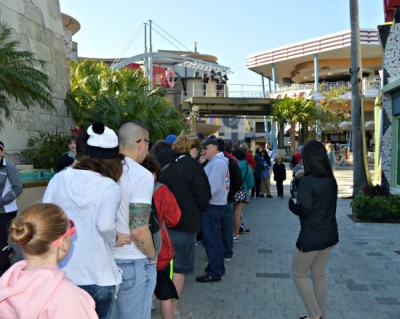 Waiting in line to check-in for our screening
Upon entering the theater, we each received a voucher for a complimentary small popcorn and small fountain drink. This experience definitely made us feel special – not only did we get to enjoy the film in 3D before it was released to the public, but the entire event, including snacks, was free – that's not something that happens everyday at Disney!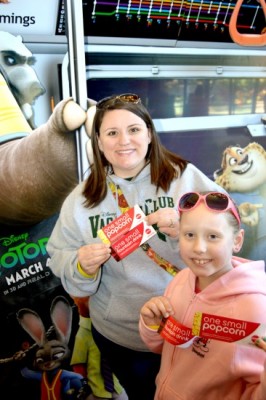 Snack Vouchers
After we grabbed our concessions (it's never too early for popcorn, right?), we settled in to our seats full of anticipation. Before the film, we were shown 2 "bonus" features – a special greeting from the directors of the film just for DVC members, and a short behind the scenes clip of the film-makers' research trip to Disney's Animal Kingdom. Next up, they screened previews for Disney's live-action The Jungle Book and Pixar's highly anticipated Finding Dory.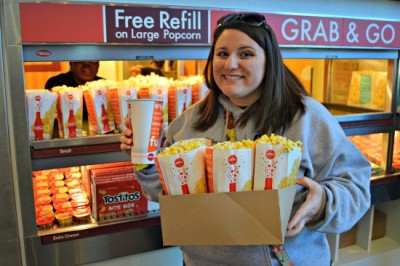 Yum! Who wants popcorn?
After that, it was finally time for the main feature – Zootopia! In Zootopia, viewers are immersed in a vibrant, colorful world where humans never existed. The film tells the story of Judy Hopps, a spunky, ambitious, "try-er" (who just happens to be a bunny) as she pursues her dream of becoming the first bunny police officer on the Zootopia police force – a job previously reserved for larger, more intimidating mammals. Judy is a character you just can't help but root for! Even though she is repeatedly discouraged, even by her own play-it-safe, carrot farmer parents, Judy refuses to give up on her dream. When she finally reaches Zootopia and joins the force, she finds that she's once again underestimated and faced with bunny stereotypes, even though she graduated from the police academy at the top of her class. Still, Judy refuses to be pigeonholed and views these setbacks not as obstacles, but as challenges to overcome with hard work and determination.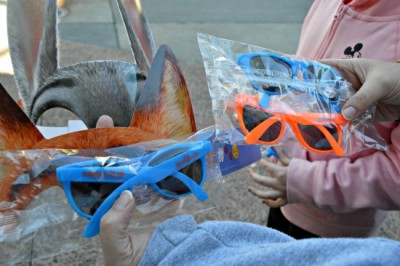 Zootopia Swag
Honestly, we can not say enough good things about this film! Zootopia is beautifully animated, has a catchy and motivating theme song ("Try Everything" by Shakira), is absolutely hilarious, full of relatable, well-cast characters, and has powerful messages about the danger of stereotypes and the power of determination. There are playful nods to pop-culture littered throughout. From Godfather references, to advice to just "let it go," to the sloths manning the DMV – this film had the audience in stitches, adults and children alike (all while remaining completely family friendly, with its PG-rating). We will definitely be watching Zootopia again when it comes out in our local theaters!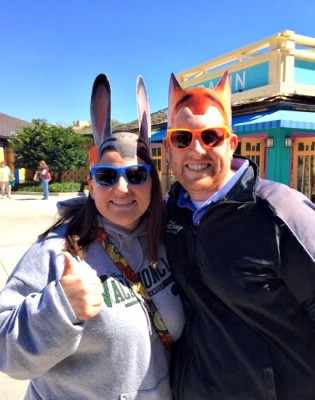 Rocking our Zootopia gear (and embarrassing our daughter)
After the screening, audience members received complimentary Zootopia swag to commemorate the experience – including colorful plastic sunglasses and a choice of cardboard bunny or fox ear headbands. The best part was that we were invited to return later in the afternoon to meet characters from the film at the Cirque du Soleil Theater. We were concerned that there might be a long wait to meet Judy and Nick (the fox), but when we arrived, we walked right up without a moments delay. The characters were adorable and energetic, and we'll always have the Photopass photos to remember this incredible experience.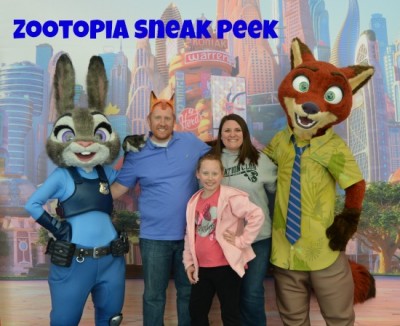 Meeting Judy and Nick
Have you ever experienced a sneak peek of a movie? Are you planning to see Zootopia? We'd love to hear from you in the comments!