This post may contains affiliate links for your convenience. If you make a purchase after clicking a link we may earn a small commission but it won't cost you a penny more! Read our full disclosure policy here.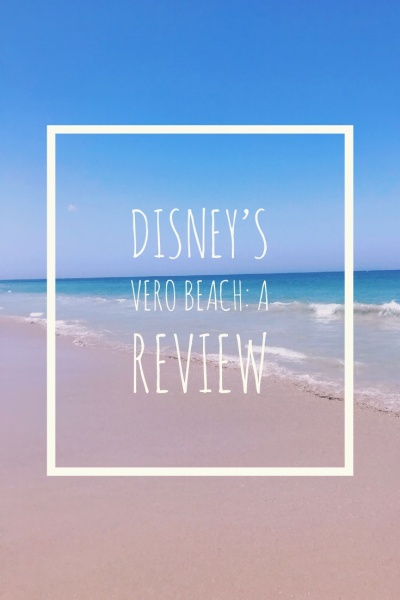 I'm an absolute Disney freak; I've been going to Walt Disney World since 1994, have made the cross-country flight twice to experience the magic of Disneyland, have set sail for a double-dip at Disney's private island, Castaway Cay, and had my bridal shower at Bay Lake Tower. Let's just say I love all things Disney. My mom and I take an annual mother-daughter vacation, and this year, we decided to experience Disney's Vero Beach Resort, all the magic of Disney without any crazy park days! Here, I'm bringing you my review of this beautiful resort!
Travel Time to Vero Beach from the Orlando Area
Disney's Vero Beach Resort is only about a 2 hour drive from the Orlando area, making it an accessible addition to a Walt Disney World trip! As crazy and busy as a WDW vacation is, a trip to Vero Beach is relaxing. This Disney Vacation Club (DVC) property is right on the beach, making it a perfect destination for those looking to unwind after a WDW vacation, or looking to experience the Disney magic without the attractions! The drive was easy, we hit no traffic, and arrived at the resort at about 10:30 a.m., a little under 2 hours total travel time.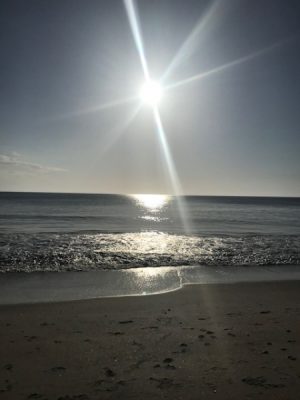 The Resort
When I think of "Disney magic," where everything is pristine, the Cast Members are always smiling, and little extra touches make everything even more magical, Disney's Vero Beach Resort is exactly what I think of. This resort sits right on the ocean, and has key card access to the beach. The resort has a large private pool with a water slide, pirate ship splash pad for the younger guests, mini golf, a fitness center, and more. Daily activities are sure to entertain little ones (and adults, too!) in your party.
We attended nightly campfire sing-alongs and made s'mores! The resort, itself, has a nautical theme with lots of sea turtle décor. The lobby is very open, with warm colors that welcome you upon arrival. A sit-down restaurant, a marketplace, a bar, and a gift shop are open to guests, as well, though many guests opt to cook their own meals on the charcoal grills outside.
We brought our own travel grill (being that my parents are local) and grilled burgers outside one day, which was a real treat! Free morning coffee, afternoon cookies, and fruit-infused water are available for resort guests, as well.
Everything about this resort makes you relax, but if you need even more relaxation, a spa in located in the main building!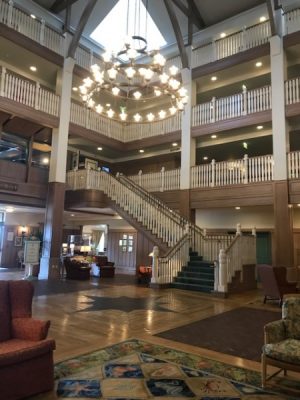 The Accommodations
We arrived long before the 4:00 p.m. check-in time, so we visited the front desk to check in, received our room keys (which granted us access to the beach, pool, and other amenities), and headed to the pool to relax. Around 3:30 p.m. we received a text message saying our room was ready, and we did not need to return to the front desk, as we were already checked in. We were assigned a corner handicap-accessible unit in the main building of the resort, and it was huge! A large entryway housed a mini-fridge, microwave, coffee pot, small sink, and a dining table for 2. Disposable flatware and plates were available, as well.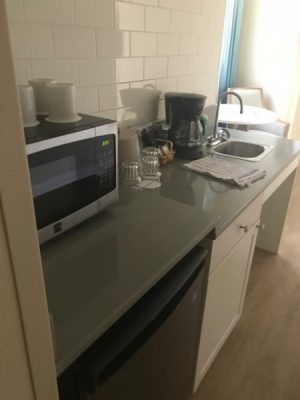 We had a large bathroom, complete with everybody's favorite H2O+ products, plenty of towels, and a large shower. Four beach towels were also available for our use, and could be swapped out by housekeeping or at the pool. Our sleeping area was beautifully decorated in a nautical/sea turtle motif. The front part of the room (kitchen and hallway area) were hard laminate floors, while the sleeping area was carpeted. We also had a small balcony with two chairs, a table, and a gorgeous view of the ocean!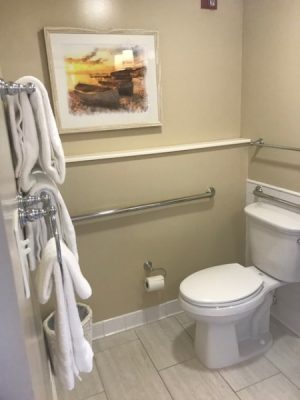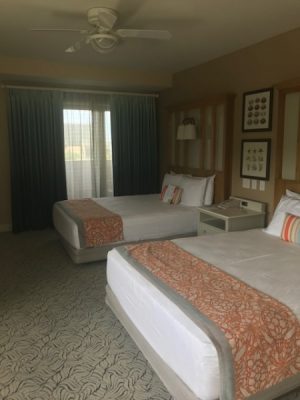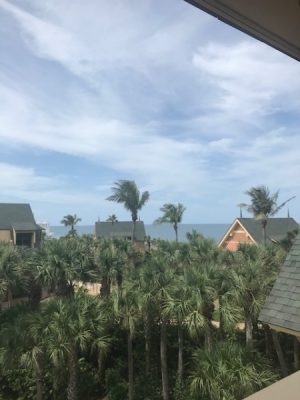 Another nice part of our accommodations was the DVD player; we brought some of our favorite movies and some microwave popcorn to enjoy at night. DVD rentals are available in the gift shop downstairs for DVC members, as well. Our only complaint for this unit was the limited storage space. We had 6 small drawers, more than enough space for the two of us, but would have been a bit tight if there were 4 of us. But hey, I'd live out of a suitcase if it meant I could stay here!
The Beach and Pool
We visited Vero Beach with one goal: to relax! This was incredibly easy to do, with such beautiful accommodations! We spent a good chunk of our time lounging by the pool and going swimming. During our visit, the pool deck never filled up; we were able to claim the same 2 lounge chairs (beneath some palm trees, providing us with some shade!) each day of our trip, and plenty of empty chairs were available all weekend. The pool has a large water slide, and the water was the perfect temperature for cooling off when the Florida sun got hot.
A pirate ship themed splash pad was also available for younger guests, and a small hot tub was available, as well (though it was so beautiful out, we opted for the pool instead!).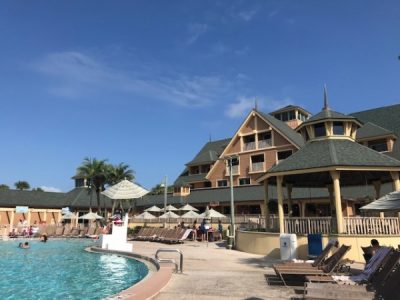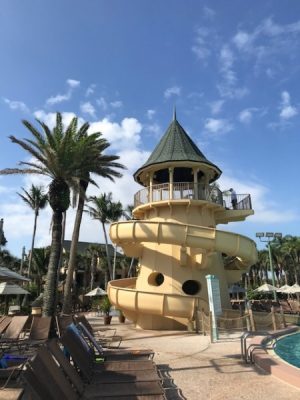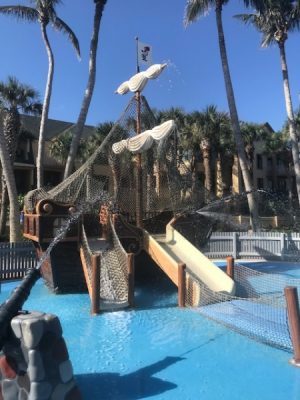 The beach is absolutely beautiful. The water was bright blue, and piles of seashells lined the shore. The sand was soft, and the ocean was nice and warm! Lounge chairs, umbrellas, and more are available for rental.
We visited the first weekend of June, which falls during the middle of sea turtle nesting season. Along the beach, we noticed many taped off areas that sea turtle eggs had been laid, which was an amazing experience! The beach was very quiet during our trip; we never felt crowded or overrun with guests.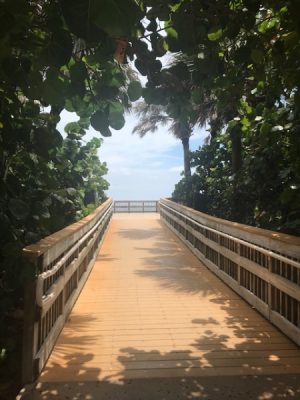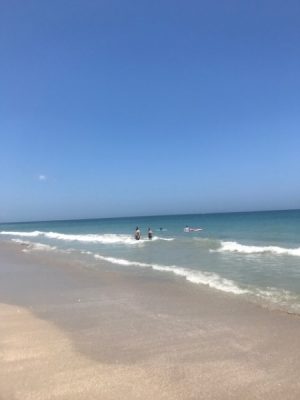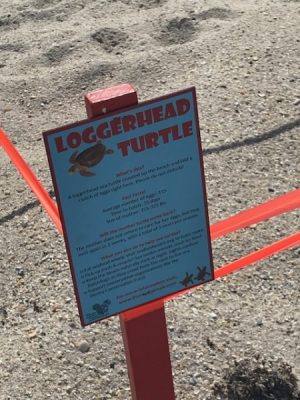 Activities and Extras
It's a Walt Disney property, so I'm sure you'd guess that there are plenty of extra experiences available, and you'd be right! Upon checking in, we received an itinerary of all available guest activities during our length of stay. Some activities had a nominal fee associated with them (with DVC guests receiving a small discount), and others were complimentary.
We lounged by the pool and on the beach all day, and never enjoyed any of the daytime activities (though we did observe the water slide races!), but we did go and enjoy the nighttime campfire. We roasted our own s'mores by the fire, which was a great treat (pro tip: bring bug spray!).
One of our favorite discoveries during this trip was the photo booth! Located in the main lobby by the video games, we found a complimentary photo booth where we could take silly photos as souvenirs. In addition to printed photos, we received scan codes to upload our photos to PhotoPass so we could download them for social media use.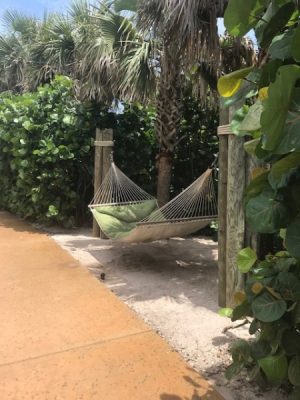 We also enjoyed free morning coffee, indulged on complimentary afternoon cookies, and stayed hydrated with the ice cold fruit-infused waters. Upon checking out, we were given a "farewell gift:" a few bottles of water and granola bars to take on the road!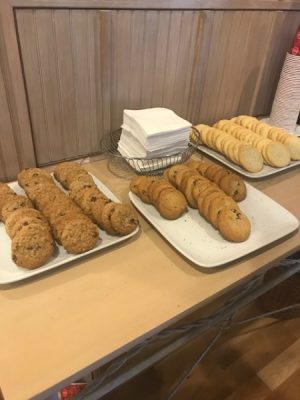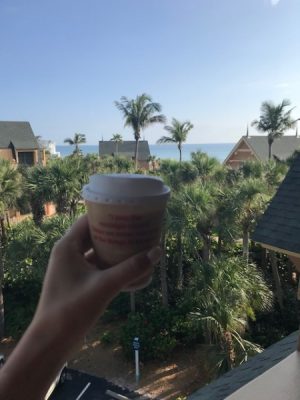 Dining
Though we opted to prepare most of our own meals or head off property to grab dinner in town, we did enjoy the dining options at the resort. Wind & Waves Grill, the table service option, offers locally sourced produce, seafood, and other enticing options. A character breakfast is offered at Seagrape on Saturday mornings, and Pirate Night dinner is offered select nights, as well. The Wind & Waves Market was our go-to option. Complete with fresh produce for cooking and snacking, this grab and go option had sandwiches, hot breakfast/dinner options, and plenty of good snacks and beverages! We enjoyed a refreshing orange-pineapple-mango slushy by the pool!
Final Thoughts

I'm already trying to figure out my next trip to Disney's Vero Beach Resort. Everything about this trip was picture-perfect, and we are ready to go back! From the updated accommodations to the quiet beach to the nighttime campfires, we loved every moment of our trip! If you're looking for classic Disney magic, this is your spot! And only about 2 hours from the Orlando area, this resort is an absolute must if you're looking to unwind!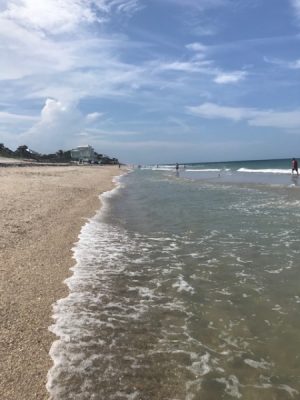 Have you stayed at Disney's Vero Beach before? What were your thoughts? Share your thoughts in the comments, or on Facebook or Twitter.
Did you like this article? Make sure to share it with your friends! Check below for easy ways to share!
Incoming search terms:
https://www themouseforless com/blog_world/disneys-vero-beach-resort-review/
my disney experience and vero beach
sisney vero beach reaort
what coffee pot in vero beach disney house