This post may contains affiliate links for your convenience. If you make a purchase after clicking a link we may earn a small commission but it won't cost you a penny more! Read our full disclosure policy here.
By Jane Jones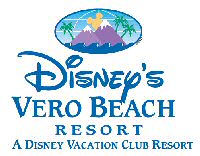 Ahhhhh…"Vero Beach"…
Those are the two most relaxing words in my vocabulary.
This summer my family went on the most amazing adventure: we went on the Disney Mediterranean cruise! What, you might ask, does that have to do with Vero Beach?
Everything. The Mediterranean cruise was a dream come true, but we didn't get to enjoy the ship or slow down enough to unwind. OK, so it didn't hurt that we go to Vero every summer for a week, as well as the fact that it was my husband's birthday and he picked this as the place to celebrate the big 4-0 (in a beach cottage). But, after a go-go-go, tour-filled trip to Europe, we were ready to RELAX. Vero is the perfect place to do just that!
Vero Beach is Disney's amazing resort on the Atlantic coast of Florida. Situated just 1 ½ hours from Orlando, it is a favorite spot for Floridians as well as Disney fans all over the world looking for a beach vacation, Disney style.
What makes this resort click with Disney and non-Disney fans alike is that you can have as much or as little "Disney" as you want, but in all things you'll find 100% Disney high standards and excellence in quality.

Maybe a few facts will impress you enough that you make this gem of a resort part of your next vacation:
There is no official Disney shuttle to get you from the Walt Disney Resort to Disney's Vero Beach Resort. Those flying in can come into Orlando or Melbourne's airports…even West Palm Beach or Ft. Lauderdale!  From here you can use a local shuttle service or rent a car to get you to the Vero Beach.
You can certainly opt for the more "hotel"-type rooms. The Inn is the main building and is more like a hotel than the "home away from home" accommodations of the outer buildings.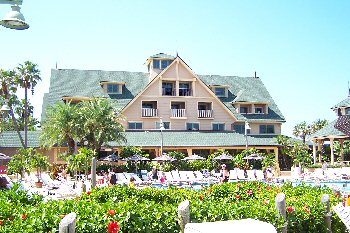 The Inn has hotel-type rooms, but still keeps the beach atmosphere.
While Disney Vero Beach Resort is part of the Disney Vacation Club (DVC), anyone can pay to stay. Booking a DVC room is a great way to get a kitchen, washer/dryer, extra bedrooms or even a beach cottage on your vacation. Your options are:

Studio with microwave and small refrigerator (sleeps 4)
1 bedroom with full kitchen, washer/dryer (sleeps 4)
2 bedroom with full kitchen, washer/dryer (sleeps 8)
Beach cottage with full kitchen, washer/dryer (sleeps 12)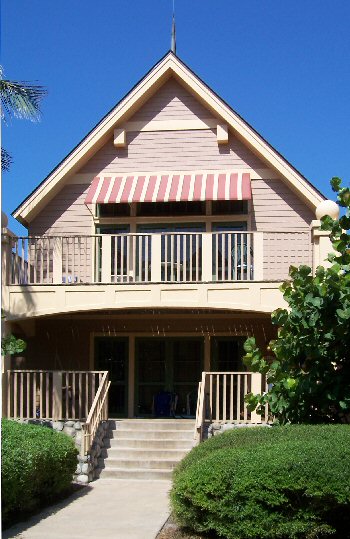 We've stayed in most accommodations and particularly love the beach cottage! No matter the size, you're sure to be happy with the beach-themed rooms and cleanliness of the resort.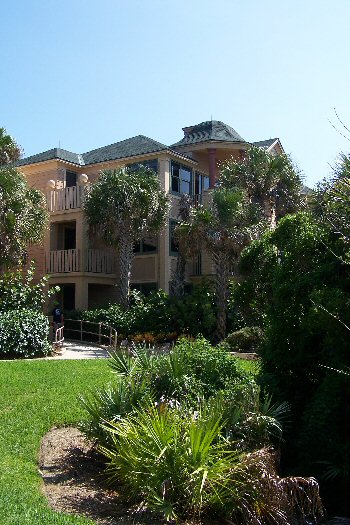 Vacation homes have a wonderful tropical feel.
Ice machines, luggage carts, elevators, plentiful parking, and friendly, efficient service are a few "extras" you'll find at the resort.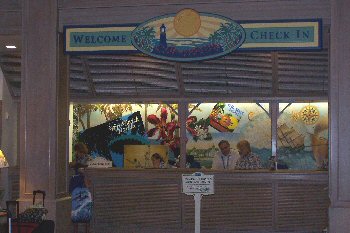 The relaxed and welcoming lobby.
There are two full-service restaurants inside the Inn. Shutters is the more "family"-type restaurant and has a character breakfast once a week with Max and Goofy.  Sonya's is more upscale and open for dinner while also offering a brunch on Sundays. Upstairs on the second floor of the Inn is the Green Cabin Room lounge overlooking the ocean. This is a great place to hear live music and watch the sun set. Throughout the day there is Bleachers Bar & Grill, a counter-service restaurant just off the pool area. Here you'll find fast food selections that can be eaten poolside. Also, you can purchase simple food items at the gift shop. No need to leave the resort! (Pizza-to-go and in-room dining are also available.)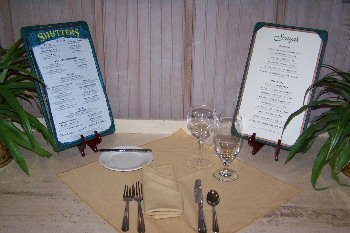 The menus at Shutters and Sonya's offer many tempting treats.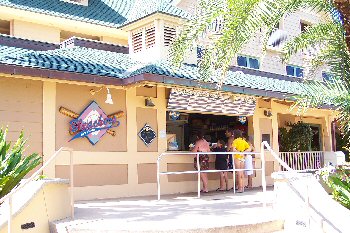 Bleachers offers snack and counter service fare.
Want to leave the resort to get supplies or investigate the area? Sebastian and its famous inlet are just minutes to the north while grocery shopping, restaurants and even Walmart are nearby as well. BUT, the way Disney has the resort set up, you'd never know that these bits of "civilization" are as close as they actually are!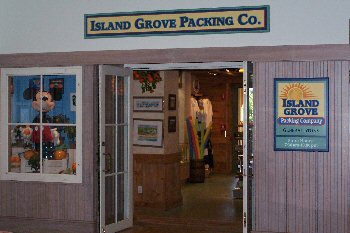 The Island Grove Packing Co. offers souvenirs, pool items and sundries.
The resort is right on the Atlantic Ocean so there is no need to drive to the beach! Here you can rent beach chairs, cabanas or umbrellas (all brought out for you), boogie boards, jet skis, sea kayaks and wind surfers.
The rates to rent beach items.
The beach is beautiful and well kept. The waters are patrolled and the beach is clean. The surf is just enough for some great boogie boarding, swimming and shelling.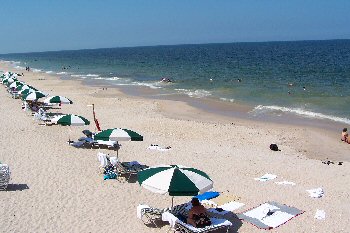 Vero Beach is clean and relaxing.
The inviting boardwalk leading to the beach with the cottages in the background.
This section of the Florida coast is a prime nesting area for sea turtles! Depending on the season, you're bound to run across nests of eggs (don't worry — the marine biologists will have marked the nests well before you are up and at the beach in the morning). There are opportunities for early morning "turtle walks" and informational lectures on sea turtles. These are a must!
Turtle nests are marked in the sand.
The extra-large pool is heated and is just off the beach. Here you'll find a fantastic lighthouse-shaped slide that is fun for "kids" of all ages! A DJ and organized pool games are a big part of the afternoon on Saturdays. Towels are plentiful and provided poolside for all guests. There is plenty of seating available.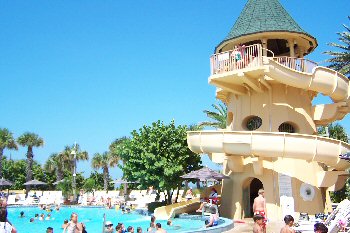 If the pool's slide doesn't make you check your vacation schedule, the beautiful blue sky just might!
The pool area also houses locker rooms, showers, sauna, a fitness room and "Community Hall" where most children's activities take place.
The heart of the recreational activities at Disney's Vero Beach Resort is at Eb & Flo's. Located on the west side of the pool area, this is where you can sign up for activities (more about that later), rent/borrow putters, shuffle board equipment, ping-pong paddles, board games, bikes (kids and adults) and any number of other items.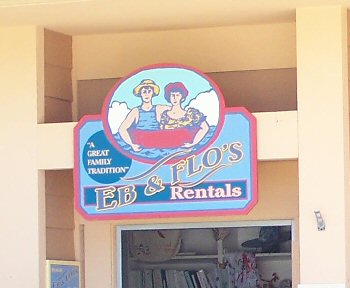 Nestled around the south side of the pool area is a cute nine-hole mini golf course! Themed after the Peter Pan story, this is a great diversion after being in the water all day.
For the younger set, you'll find a sand-bottom playground complete with slides and climbing equipment. This is a great way for the little ones to run off some steam.
The BEST part of the resort is the Tiger Lily! This ship, still in the pool area, is a special place for the toddler/preschool-aged child. This "interactive" ship allows little sailors to climb aboard all while water is squirting all over the place. Aim the water-blasting cannons, steer the ship or side down for your big escape. This is a treat for kids. NOTE: The lifeguards are pretty strict about the height limit for the area, but if older kids want to explore, this is not enforced after the lifeguards are off duty.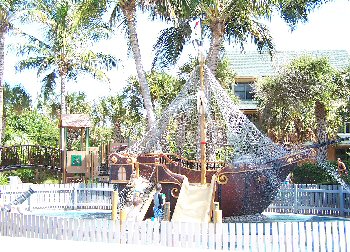 The Tiger Lilly attracts the younger set to play in the water.
Tired of swimming? No problem! Disney's Vero Beach Resort offers activities all day and throughout the evening. The recreation staff is 

the BEST

there is anywhere, and most have been around for years. Yes, you can leave the kids with the staff unless specifically noted. Activities are posted in the 

Playful Pastimes

flyer created each week. Most activities have a nominal fee, with DVC members receiving a slight discount. This gives you an opportunity to look ahead and decide what you want to sign up for…and DO sign up ahead of time (also many are just "show up" activities). Spaces are limited and fill up fast. Here are some examples of activities:

Kayak Adventure (8+)
Teen Dodge Ball (12-19)
Tot Treasure Hunt (3-5)
Family Bingo
Sea Turtle Information Session
Dive-In Movie
Water Slide races
Faux Gyotaku (6+)
Disney Pin Trading
Seaside Chefs (6-12)
Intro to Harmonica (7+)
Scavenger Hunt
Fishing FUNdamentals (7+)
Teen Surf School (13-19)
Mug Craft (6+)
NOTE: The Unbirthday Party can only be signed up for the day of the event and is limited to one time per visit.

Some other amenities available are hair wraps/braids, basketball court, tennis court (and lessons), nearby golf and fishing, arcade, and "ball" sports. Again, equipment is available if you don't have your own.
For adults, the resort has a variety of massages available for very reasonable prices. Arrangements can be made at… you guessed it…Eb & Flo's!
Most rooms have DVD players so DVDs are available to rent at the Island Grove gift shop. DVC members may rent for free, while non-DVC guests pay a nominal fee.
Want an evening without the kids? The Disney Discovery Club is available from 5-8 p.m. most nights for kids ages 5-12.
One of the best parts about visiting this resort is the Sing Along Campfire! Here you can join the staff along with other resort guests to sing your old favorite camp songs while roasting s'mores over the campfire on the north lawn area near the beach!!


Playful Pastimes lists the daily activities at the resort.

I could go on, and on, and on! This is truly my favorite of all Disney resorts when it comes to true relaxing. You don't even have to be a "beach person" to love the accommodations and amenities. This is the perfect adult-only romantic setting or full family vacation spot. Consider adding this as part of your next Disney vacation or as a vacation destination on its own. You'll be happily surprised and I promise it won't be your only visit!

I'll see you next summer for sure, if not sooner, at Disney's Vero Beach Resort!


The moon over Vero ends another wonderful day at the resort.
Incoming search terms:
https://www themouseforless com/blog_world/disneys-vero-beach-resort-2/