This post may contains affiliate links for your convenience. If you make a purchase after clicking a link we may earn a small commission but it won't cost you a penny more! Read our full disclosure policy here.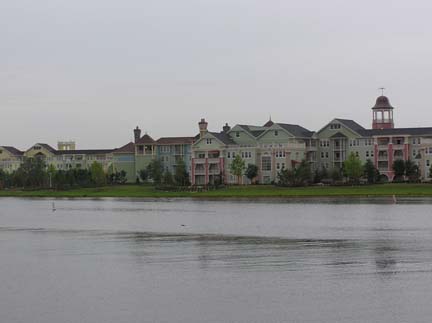 By Lindsey Tullier
"Welcome home!" greeted the cast member at Disney's Saratoga Springs Resort in Walt Disney World. I had dreamed of hearing those words for years, and now it was finally happening. It was indeed a magical moment. My family, consisting of myself, my husband, our two-year-old son, and my husband's parents, had finally arrived.
This was our first trip to Disney as members of the Disney Vacation Club (DVC). DVC is Disney's version of a timeshare. As we have come to expect with Disney, there are extra touches given to owners. One of those is hearing "Welcome Home!" when arriving at the resort or checking-in. As DVC members, we were happy to finally have those two little words apply to us! Our DVC trip to Saratoga Springs was off to a great start.
Disney has a reputation for immersing its guests in realistic theming. I found this to be true at Saratoga Springs as well. The architecture and landscaping is reminiscent of a late 1800s village in upstate New York, and various "horse" themes are present throughout the resort, linking guests with the horse breeding and horse racing history of that area.
Upon entering the Carriage House, my family was greeted by a large carousel horse in the center of the lobby. I have always enjoyed carousel horses, and this image set the mood for entering a world that brings out the kid in all of us. We joined the end of a rather long line to check-in to our two-bedroom villa before getting lunch and heading to Epcot. Fortunately, the line moved quickly.  There were also Cast Members keeping guests busy by handing out vacation packets (park maps, resort activities information, etc.) as well as stickers for all the children. My son was especially delighted to have his Mickey Mouse stickers, a favorite of his thanks to the Mickey Mouse Clubhouse on Playhouse Disney, but I digress. We quickly made it to the check-in counter where a courteous and efficient cast member walked us through check-in. Our villa, of course, was not yet ready, as I had anticipated. She gave us our Keys to the World cards, pointed out the location of our villa on the resort map, and directed us to the Concierge desk to transfer our 6-day park hoppers to our Keys to the World. The line for the Concierge desk was considerably shorter, and we were quickly on our way to lunch.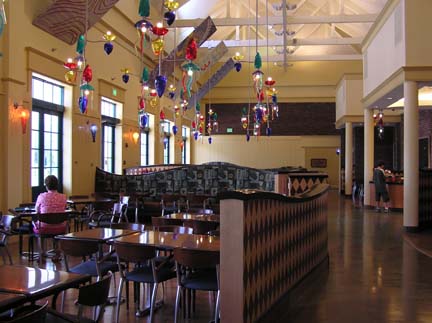 The seating area at Artist's Palette.
Since this was our first visit to Saratoga Springs, we decided to have lunch at the Artist's Palette. This is a quick service restaurant located in the Carriage House. We found the restaurant itself to be quite colorful, much to our son's delight. It was very busy, so we decided to locate a table first. After hunting for a few minutes, we located a family getting ready to leave and quickly grabbed their table. My mother-in-law and I made our way to the counters to order food. Once again, despite the long lines, we moved quickly to the counters to place our orders. I was pleased with the variety available. I ordered a roasted vegetable flatbread for myself and chicken tenders with grapes for my son. My mother-in-law ordered the chicken Caesar salad, and the guys ordered the turkey sandwich. We were all pleased with our meals, as well as the efficiency of service. Our only complaint is that the dining room is not quite large enough to accommodate the crowd levels during peak time. However, seating is also available outside the restaurant.
While touring Epcot, we received a call around 4 p.m. that our villa was ready. This is the check-in time listed, so I was satisfied with the availability of our villa. We were given a number to call, as well, but we left a cell phone number at the desk. On previous visits to Disney World, we called ourselves, so we did call a couple of times on our own first.
We arrived back at Saratoga Springs that evening and unpacked our vehicles. Our villa was located in the Paddock near the Paddock bus stop and the playground. One of the quiet pools is also located nearby. While I do not remember our exact room number, I do know that it was on an upper level in the building numbered 5101-5436. We were able to park near the elevator. From there, it was a short walk to our villa. With seniors and a small child in our party, the short walks were very convenient.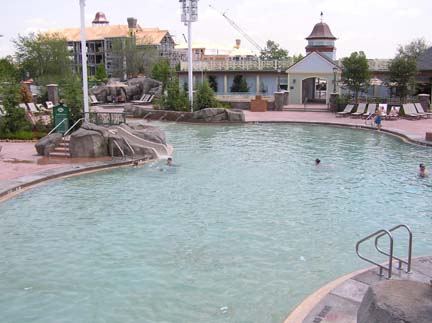 The main pool, with its zero-depth entry, is very inviting.
Our two-bedroom was a lock-off, specifically requested so that my husband and I could stay in the studio portion with our son and have plenty of room to set up his portable crib. We obviously did not need two queen size beds, so the studio allowed more room to move around. The villa was very clean and beautifully decorated. The horse theme carried through to the rooms, from the horse pictures on the wall to the horse shadows on the lampshades.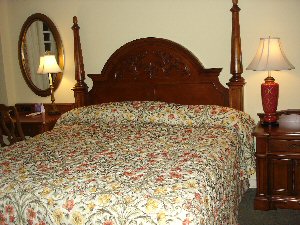 The master bedroom was beautiful and relaxing.
The master bedroom was bright and beautifully decorated. It had plenty of room for my in-laws, but I think my husband and I would have found it cramped if we had tried to set up the crib in there. The master bathroom, however, was very large. The whirlpool bathtub seemed very inviting, but I think my son was the only one to use it. It was his own personal pool.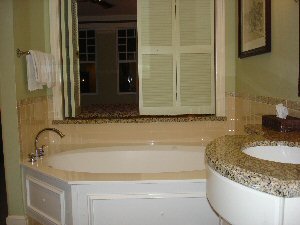 The whirlpool tub — a.k.a. our son's personal pool.
The second bedroom was the studio side of our villa. I found it to be somewhat larger than a standard hotel room. However, with only one queen bed and a pull-out sofa bed, there was plenty of room for the three of us. It also stayed relatively quiet in there when he was napping while the rest of us talked and watched television in the living room. I was pleasantly surprised by this since many hotels have thin walls.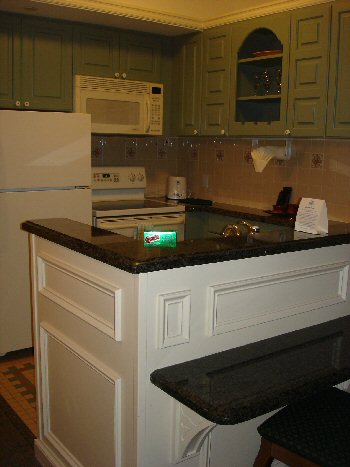 The kitchen area of the villa was equipped with dishes, glassware and utensils.
The living, dining, and kitchen areas of the villa, while small by housing standards, were large enough to suit our needs. We never cooked in the villa, but we did bring breakfast and snack items. I can see where storage would be an issue if you brought a lot of food with you. We had the countertops pretty cluttered with just the few items we brought.
One-, two-, and three-bedroom villas also come equipped with a washer and dryer. They are a smaller capacity than I am used to, but we found them to be satisfactory. Disney provides only enough laundry detergent for one or two loads and no fabric softener. I would recommend bringing these items from home because you will pay a premium for them at the gift shop.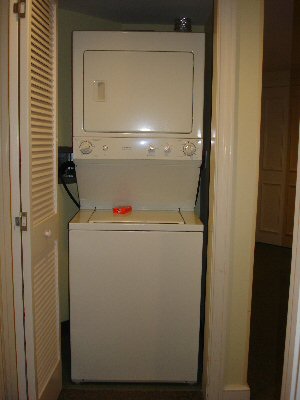 The stackable washer and dryer in the villas.
One area of concern for me was that the windows in our villa overlooked the playground area and the bus stop. I had learned from my research that these tend to be noisy rooms. On the contrary, we found the noise levels to be quite low. We did find it very convenient to be so close to the bus stop since we utilized the bus service on our Magic Kingdom days. We were very pleased with the bus service from the Paddock area. Buses arrived quickly at both the resort and the parks. The Paddock is also in the middle for pick-up and drop-off, so we never felt like we spent too much time stopping at other bus stops. Also, the bus was never too crowded when we boarded.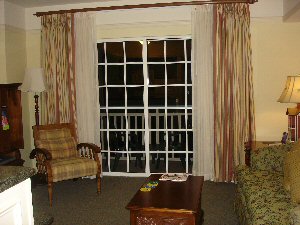 The living room in our two-bedroom.
For more information on this resort, including the resort map, photos, and other reviews, visit https://www.themouseforless.com/tripplanning/resorts/wdw/SSR.shtml.
All in all, I would have to say that we thoroughly enjoyed our stay at Disney's Saratoga Springs Resort. I cannot wait until the next time I hear, "Welcome home!"
Incoming search terms:
https://www themouseforless com/blog_world/disneys-saratoga-springs-resort-our-first-journey-home/
journey house disney world
journey house saratoga springs