This post may contains affiliate links for your convenience. If you make a purchase after clicking a link we may earn a small commission but it won't cost you a penny more! Read our full disclosure policy here.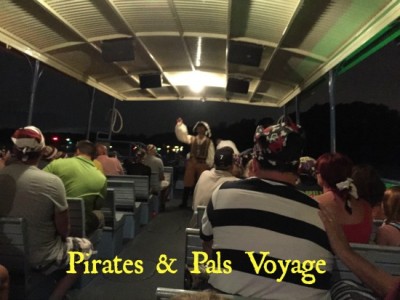 The Pirates and Pals Fireworks Voyage is one of Disney World's many options for fireworks cruises.  It takes place on select nights of the week at Disney's Contemporary Resort, Bay Lake, and Seven Seas Lagoon.  It includes a scavenger hunt, character meetings, snacks, a cruise to watch Wishes Fireworks Spectacular, songs, trivia, and prizes for the kids.
What to expect
You begin your evening at the Contemporary one hour before the scheduled time of Wishes; follow the signs to the cruise or ask at the concierge desk.  Upon entry, you will check in and receive your cruise ticket after giving your name (advanced reservations recommended).  Your ticket has your boat name (if there is more than one running) and seating assignment.  Everyone will also be given a bandanna to wear that you get to keep as a souvenir.  The kids in your party will be invited to take part in a scavenger hunt, searching for various artifacts in the Contemporary lobby and shopping area, returning to the check-in podium for a prize upon completion.  Everyone will be invited to a room where there will be snacks, including cake, cotton candy, fruit, Mickey bars, chocolate coins, beverages (coffee, hot chocolate, lemonade, etc.) and much more.  (Side note: Come hungry!  We made the mistake of going here right after dinner at Whispering Canyon.  Also, you can take snacks on the cruise with you.  You can't often say that for Walt Disney World attractions!)
The skippers (appropriately named "Patch") arrive and interact with the crowd, soon announcing the arrival of Captain Hook and Mr. Smee.  Hook and Smee are available for everyone to meet and have photos taken (they will be available in PhotoPass).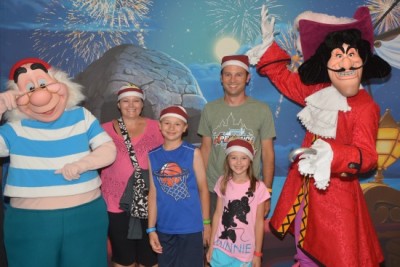 Hook and Mr. Smee take their time with every guest.
Once everyone has had a chance to meet them, Patch invites everyone to get lined up for the cruise.  On our evening, there were two boats departing, so we were lined up accordingly.  We walked outside to our boats and were off in short order.
On the cruise, Patch will get everyone singing and playing along.  On our cruise, he visited each row to ask what they were celebrating.  So many were celebrating anniversaries that he sang a version of "Kiss the Girl" for us.  Once you reach your viewing location in Seven Seas Lagoon, you may (depending on the timing of both the pageant and the fireworks) get to watch the Electrical Water Pageant, giving you a unique and up-close view of the barges with their lights and music.  Wishes begins and you have a very unique view of the Magic Kingdom and Cinderella Castle; the music is transmitted to speakers on your boat.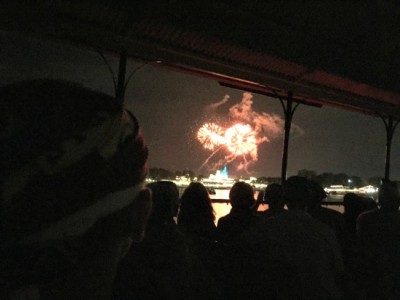 Getting good photos is tough but the view is superb.
After the fireworks, the boat makes its return trip to the Contemporary, and the skipper engages with everyone in Disney trivia.  Kids who answer correctly get to pick prizes; but don't worry – any kid who doesn't get to answer a question correctly gets to pick a prize upon departure.  Once you return to the dock at the Contemporary, a special surprise guest is waiting to greet you.  Once you are off the boat, you can have your photo take with the surprise guest, and then your evening is complete.
Is it worth it?
Pirates and Pals costs $69.00 per adult ($41.00 ages 3-9).  Advanced reservations are highly recommended and can be made up to 180 days in advance.  The cruise does not run every day during some parts of the year, so check to make sure you have a free evening on a night the cruise is running.  I surprised my family with this cruise midway through our 10-night stay in August 2015.  It was worth the price tag.  Everyone was entertained (and well fed!) from start to finish.  The view of the fireworks themselves are almost worth the price of admission on their own.  (Compare this to the newer Ferrytale Wishes cruise that takes place on the ferryboats transporting guests between the Ticket & Transportation Center and the Magic Kingdom; that cruise costs $99 per adult ($69 for kids) for the cruise, snacks, and alcoholic beverages.)  Sure, there is no alcohol on Pirates & Pals and the vibe is definitely more kid-centric, but the entire experience has more value when you consider the entertainment, character greetings, and view of the fireworks.
What to do with those bandannas when you get home

My wife got creative and sewed two of them together around an old couch pillow to create a nice memento of our vacation.
Have you ever done the Pirates and Pals Voyage? What were your thoughts of your experience? Share in the comments section!