This post may contains affiliate links for your convenience. If you make a purchase after clicking a link we may earn a small commission but it won't cost you a penny more! Read our full disclosure policy here.
This past Memorial Day Weekend, I was lucky enough to head to the West Coast and enjoy a mother-daughter trip at the Disneyland Resort! Being a Walt Disney World regular, I've stayed at many of the Florida hotels, both on and off property. But as a first-timer to Disneyland, I wasn't sure what to expect, and was pleasantly surprised by my resort, Disney's Paradise Pier Hotel. Our trip was a 5-day, 4-night adventure where we rarely stopped running around (there was just so much to see!), so a comfortable, walking distance hotel was necessary for charging our batteries at night.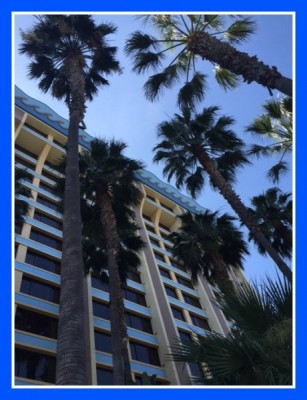 The Disneyland Resort area has many off property hotels to choose from, but we decided that we wanted the full Disneyland experience, and decided to stay onsite. We knew we'd be spending very little time in the hotel room, so the price of Paradise Pier Hotel appealed to us immediately, being the least expensive of the 3 on property resorts. Staying on property afforded us many perks, such as early morning access to Disneyland and Disney California Adventure. The proximity to the parks was also a huge plus; door to door, we walked less than 10 minutes to enter the parks! And since we were first-timers, having Disney Cast Members available to answer our questions and provide dining recommendations was definitely a plus!
THE RESORT
The hotel's immersive theming transports you right to a beach side California boardwalk. This renovated hotel used to belong to another hotel chain; Disney gave it a beachy overlay, complete with a faint smell of sunscreen in the air! Though the renovations give this hotel a Disney feel, the décor was nothing extravagant or overly mouse-themed; we agreed that the hotel lobby was the least themed of the 3 Disneyland resorts. The exterior of the building boasts bright yellow walls and ocean waves along the top; there's no mistaking Paradise Pier Hotel!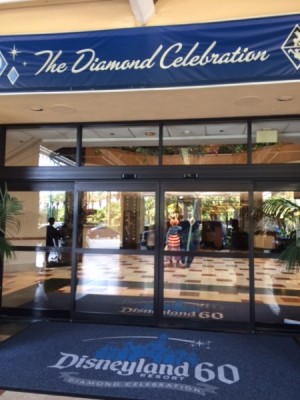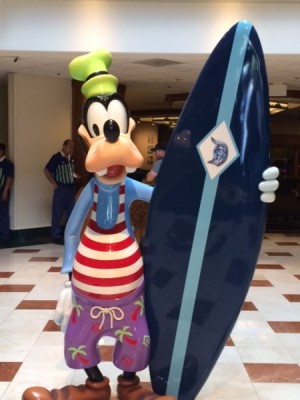 Upon entry to the lobby, a life size Surfer Goofy statue greets you, getting you in the California spirit right away. A large portrait of a 1920's beach boardwalk hands on the wall, showing you the inspiration for the resort. The check-in desk and guest relations are located to the immediate left and right of the entrance, respectively. A souvenir shop is located on the first level; it sells Disney keepsakes and trip necessities, such as food and toiletries that you may have forgotten to pack.
OUR ROOM
We arrived at our hotel Thursday afternoon, and checked in to our standard view room right away. The room was perfect for our needs; two queen beds, a pullout sofa, a nice, clean bathroom, a mini fridge, and a great view of the pool! We knew that we would be on the run throughout our trip, so a park view wasn't a priority for us.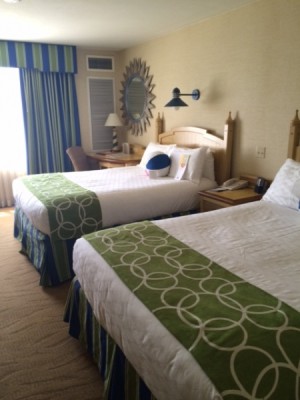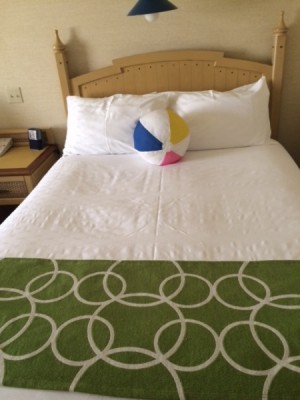 The room décor was great! A "beach ball" pillow is found on each bed, and understated Mickey touches are located around the room. We especially loved the surf board floor lamp and the lifeguard Mickey table lamps! The white comforter consists of tons of tiny Mickey heads, only noticeable if you look closely. A piece of beachy Disney art hangs on the wall, and surf board shower curtains adorn the tub. Being an east-coaster, I loved seeing all of these quintessentially California touches!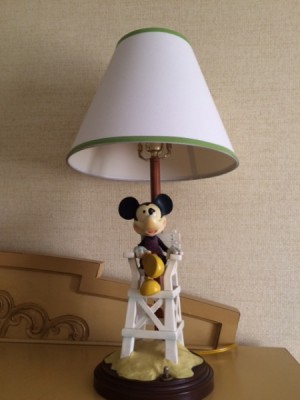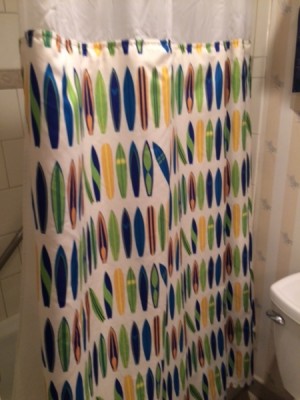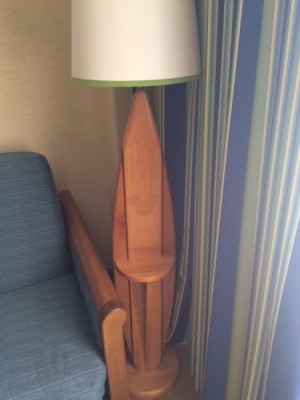 The pool takes a fun twist on the traditional Disney pools. It's located on the 3rd floor on the roof! Complete with a long, covered water slide and hot tub, the pool deck is definitely worth checking out, though the pool itself is smaller than your average Disney pool. The best thing about the pool has to be the exceptional view of the nightly Disneyland fireworks! The music is piped over the speakers, allowing you to enjoy the show from afar!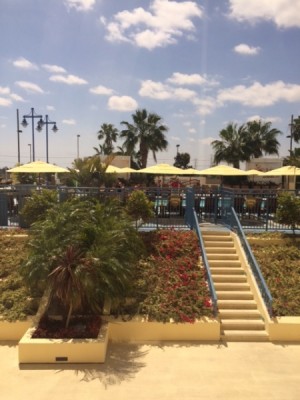 The resort also offers a few dining options: Disney's PCH Grill, Surfside Lounge, and The Sand Bar. The PCH Grill is the only resort restaurant to offer a character breakfast with Mickey Mouse (upon checking in, we were told that Paradise Pier is Mickey's favorite hotel!). A bonfire-themed dinner buffet is offered nightly. We grabbed a quick breakfast at the Surfside Lounge; though a very limited menu, you'll find Mickey waffles, a breakfast burrito, pastries, oatmeal, and other offerings here.
PROXIMITY
We agreed that the most fantastic part of staying at Disney's Paradise Pier Hotel was the proximity to all things Disneyland. Directly across the street from our hotel was Disney's Grand Californian Hotel and Spa, which provides all Disney hotel guests with a "secret" entrance into Disney's California Adventure. Just a few minutes walk through the Grand Californian Hotel lobby and we were at Downtown Disney, too!
Coming from Walt Disney World, where most activities are only accessible by car, bus, Monorail, or boat, we thoroughly enjoyed a quick walk to the parks and Downtown Disney. As the weather seemed to fluctuate between cloudy and 65 degrees in the morning and sunny and 75 degrees in the afternoon, we loved being able to hop back to the hotel and change into weather-appropriate clothing!
SUMMARY
We really enjoyed our stay at Disney's Paradise Pier Hotel! The simple 1920's beachside theming, rooftop pool deck, and proximity to Disneyland and Disney's California Adventure made for a perfect stay! I've only been home for a few days, but am already starting to plan another Disneyland vacation!
What are your thoughts on Disney's Paradise Pier? Share in the comments!
Incoming search terms:
https://www themouseforless com/blog_world/disneys-paradise-pier-hotel-review/