This post may contains affiliate links for your convenience. If you make a purchase after clicking a link we may earn a small commission but it won't cost you a penny more! Read our full disclosure policy here.
From Our Magically Speaking Newsletter Archive – subscribe today!
By Ann Dunnington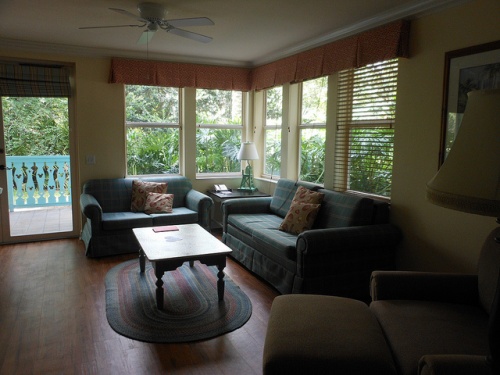 In November, my husband, his parents, and I went on a short vacation to the Walt Disney World Resort. My mother-in-law had a conference at one of the near "Good Neighbor" hotels near Disney Springs, so who were we to resist going along, too?? Twist my arm…
When looking for lodging for the 4 of us, there were a few hotels we were considering. We went back and forth between getting two hotel rooms on Disney property, two hotel rooms at the conference center (technically off Disney property, but Disney Springs was across the street), renting two Disney Vacation Club (DVC) Studio Villas, or renting a 2-Bedroom DVC Villa. Weighing the options back and forth and comparing pricing, it made the most sense for us to rent a 2-Bedroom DVC villa. Since we were booking kind of "late" by point rental standards, we had three location options that were available on our dates- Animal Kingdom Villas, Saratoga Springs, or Old Key West.
Once the person we were renting DVC points from gave us the three location possibilities mentioned above, it was a no-brainer for me to go with Old Key West. Here's why:
The conference my mother-in-law was attending was near Disney Springs. This ruled out the Animal Kingdom Villas from strictly a location standpoint. We love ourselves some safari view-age, but it just wasn't as important this trip.
Old Key West was the first DVC property at Walt Disney World. Since this was the first DVC property (built in 1991), the rooms were constructed with more space than the other DVC properties. With 4 of us being in one condo (and 2 of us being rather tall people), we knew that the extra space would be welcome.
Old Key West was less money for more space, and they just did an update on the rooms not too long ago, and they look beautiful!
Once we arrived at Old Key West, we were surprised at how close it was to the front of Epcot! A hop, skip and a jump, and you're there. Not to mention being connected via a waterway to Downtown Disney… it's a fabulous location. The check-in/pool/restaurants/gift shop are all near the front of the resort, and the bus transportation can take you up there if you don't want to walk. THAT is super convenient, especially if your room is in the back of the resort. The whole feel of the resort is very relaxed and home-like. When you're there, you're ON vacation.
You have three lodging options at Old Key West – Studio Villa, 1 Bedroom Villa, and 2 Bedroom Villa. Some of the buildings are two stories, others are three, and most buildings have both stairs and elevators (but not all- so if you have a mobility issue with stairs like our party had, request a ground floor room). Each group of buildings has its own parking lot, so if you rent a car, you'll be able to park right outside your room. This alone was a FABULOUS perk that the other DVC resorts do not offer.
Our 2 Bedroom Villa was enormous. It offered two bedrooms, two bathrooms, a full size washer and dryer (bigger than I have at home!), a full kitchen, sitting area, eating area, and porch. We never once felt in each other's space, and had all the amenities and comforts of home! If we ran out of tissues or toilet paper, the front desk sent someone over right away to help us re-stock. We had trash and towel service on day 4, and that was truly all of the housekeeping we needed.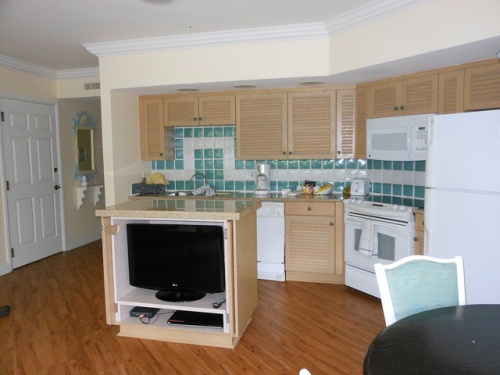 The kitchen was large enough for us to comfortably cook 3 meals a day, with a full size refrigerator, stove, microwave, double sink, dishwasher, and all the pots, pans, and utensils we could need. It also had dish soap, a sponge, towel, and dishwasher detergent as well.
The resort itself, as all Disney resorts are, was very well maintained, manicured, and themed. The villas were in the décor style of the Florida Keys with lots of pastel colors and charm (minus the plethora of cats…ha!). The guests at the resort bus stops were all very friendly and chatty, like old friends. If you're staying at a DVC property, you're most likely a Disney fanatic that knows the ins and outs of everything at Walt Disney World, so it's very easy to make conversation and comradery. We shared what we had been doing all week, favorite rides and experiences, and chatted about Disney Vacation Club. DVC owners love to talk Disney!!
So overall, if I were to give Old Key West a rating of 1-10, 1 being the worst resort I have ever stayed at and 10 being the best, I would give it a 9.   Because I like Epcot and the Boardwalk area so much, that keeps this resort from getting a full 10. But, if I were coming down to Walt Disney World with a group again and the Boardwalk wasn't available, I would have no hesitation whatsoever staying at Old Key West, and would totally recommend giving it a try! We had a fantastic stay and would love to go back whenever we get the chance!
Magically Speaking Featured Article
Library of Congress ISSN:1556-3863