This post may contains affiliate links for your convenience. If you make a purchase after clicking a link we may earn a small commission but it won't cost you a penny more! Read our full disclosure policy here.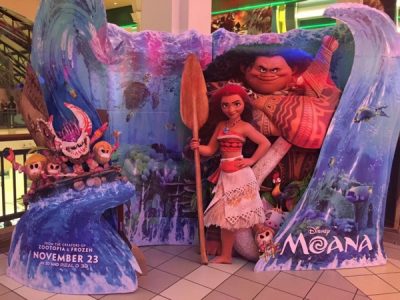 The day before Thanksgiving was the opening day for the new Disney film, Moana.  I told our kids that we would go see the movie on the opening night. But little did they know I planned on taking them to NYC as part of our pre-Thanksgiving family tradition trip. For the past two years we took the train into the city to see the Macy's Thanksgiving Day Parade floats being inflated right outside the Museum of Natural History.  This year to end the day, I wanted to take them to see the movie in the city.
Having seen commercials for the movie and all the preview interviews on the Disney cCannel, I knew this was going to be a good movie. Plus how could it NOT be with Dwayne Johnson as one of the main characters?!  We weren't disappointed.  Once again Disney created a movie that tugs at our heart strings, but leaves you feeling proud of Moana, for beating the impossible odds, setting sail on a daring mission and proving herself against her father's wishes.
What we loved from the first moment the movie started was the music. It was fantastic!!!  It was so lively and fun and energetic.  The very next day I had to purchase the soundtrack and used it during my Thanksgiving morning  run. I felt like I was floating along the road while the music was playing.  I wanted to swing my arms out in the air to the songs, but I was afraid people would think I was nuts.  But the score and the music composed by Lin-Manuel Miranda was incredible!  And the voice of Auli'i Cravalho was extraordinary.
If you haven't gone to see this movie yet, then you must put this on your must see list as soon as possible!  You also need to purchase the soundtrack on iTunes!