This post may contains affiliate links for your convenience. If you make a purchase after clicking a link we may earn a small commission but it won't cost you a penny more! Read our full disclosure policy here.
By Linda Norton
Selecting a Disney resort is sort of like picking a candy bar—there are no bad ones and everyone has a favorite. The Value resorts at Disney are a great place to stay while on property, but if you want a bit more space and amenities, then it may be time to consider a Moderate. With the Moderates, you also get more elaborate theming, whether it be Disney's version of a Caribbean island at the Caribbean Beach Resort, a step back in time to the gentile south of the 1800s at Port Orleans French Quarter and Port Orleans Riverside, or a tour through the desert Southwest at Coronado Springs Resort.
Typical to all Moderate resorts is a room of 314 square feet, two double beds, complimentary coffeemaker with coffee, and a double sink vanity with a privacy curtain to separate the vanity area from the bedroom. (Coronado Springs has a single sink.) The toilet/tub area is a bit larger in the Moderates than in Disney's Value resorts. Guest rooms include a data port for high speed internet (available for $9.95 for a 24-hour period) and you can also use dial-up internet for 75 cents per call. The dial-up option is good if you're just checking email. At the Moderates, expect more lush and prettier landscaping with lots of trees, lawn and flowering shrubs; a themed pool with slide; a sit-down restaurant (shared at the Port Orleans resorts); and the option to reserve a king bed (maximum occupancy two guests plus one child up to age 2 in a portacrib). All Moderate resorts are served by bus transportation to the theme parks, but you can take a (slow) boat ride to Downtown Disney from the Port Orleans resorts along the Sassagoula River. There is no one Moderate resort at Disney convenient to everything: expect at least 10 minutes on a bus to a theme park once the bus makes it out of the resort pick-up loop.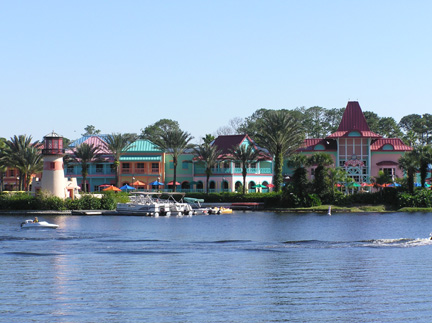 A view of the lake and Old Port Royale at the Caribbean Beach Resort.
Disney's Caribbean Beach Resort lies southeast of Epcot (and right next to the Pop Century Resort) and is the largest of all the Moderates with 2,112 guest rooms. It opened in 1988 and was renovated section by section in late 90's. This resort is tropically themed–think palm trees, pastel colors, hibiscus and lots of oversized foliage–and surrounds a 42-acre lake with a white sand beach. There are 33 buildings grouped into six 'villages' of two story buildings (no elevators). The villages are broken down into islands: Martinique, Barbados, Trinidad North and Trinidad South, Aruba, and Jamaica. (Remember you're in the Caribbean here.) Each village has its own swimming pool, but it's just a pool… no slides, no theming, no towels, and no lifeguard. The main pool is themed for a Spanish fort, and is located in Old Port Royale, which is near the center of the property. Old Port Royale houses the ever-present Disney merchandise store, food court, sit-down restaurant (Shutters), game room, and lounge. Old Port Royale opens into a large lakeside recreation area where you can find watercraft and bike rentals. Additionally there is a little island nearby with a playground and picnic area.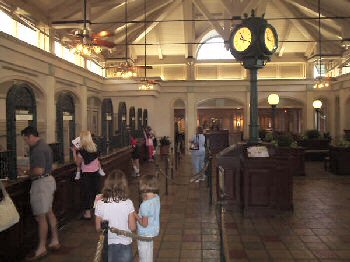 The Custom House check-in area at CBR.
Caribbean Beach Resort is very pretty, but it's just plain huge! The check-in location is at the Custom House, which is just inside the main gate. From Custom House you can walk to Barbados or Martinique, but it's a pretty long hike to the rest of the resort. A Preferred location room is an option at CBR for an extra charge per night, and it may be worth the money if you use the resort food court and plan on spending time at the resort. Purchasing a Preferred location goes against my personal "Mouse for less" principles, but I highly recommend it at this resort because of the sheer size of the place. There are seven (yep, 7!) bus stops at CBR, and a Disney bus that just runs loops of the resort to transport guests to and from the various locations within the resort. While we are a family that likes to walk and enjoys quiet areas of resorts, I did not like walking around this resort, especially at night. The food court was a long way from our very quiet Trinidad South room, and it was very difficult to do anything efficiently in this resort. We never even made it to the main pool to swim as it was just too far away. No one wanted to get on the bus in their swimsuits or take the hike to the main pool, or haul swimsuits in a tote bag to the pool area. I had a pre-Christmas visit at CBR and had to pick up tickets for the Candlelight Processional at the Custom House in front of the resort. This meant taking a special bus and then waiting in line, and then taking another bus to my room. I saved myself a bunch of time though by hopping on park busses. Just ask the driver if he/she is headed anywhere close to where you need to go and ride that bus rather than the resort shuttle.
CBR transportation to Epcot and MGM is pretty good—both parks are just down the road and around the corner. But expect about 14 minutes travel time to the Magic Kingdom and Animal Kingdom.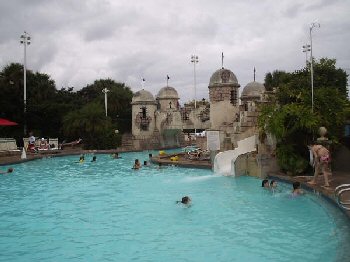 The main pool area at the Caribbean Beach Resort.
This resort is appealing to many people and is very popular among honeymooners. The theming is tranquil and relaxing, with all of the lush foliage and pastel colors. For me once was enough though—it just doesn't play pretend enough to warrant a return visit. I didn't find anything unique or imaginative about this resort—it looked like a Florida condo where everyone had gone to work. We found the main pool to be a bit undersized for the number of rooms at this resort, and I shudder at the thought of being here on a hot July day; the pool would probably be packed. I think I would love this place if I lived way up north and it was the dead of winter. The greenery and landscaping would be refreshing. So this one is crossed off my list, and I won't be going back.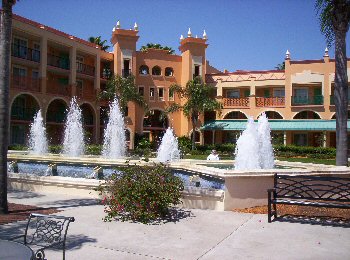 The courtyard at Coronado Springs Resort
Coronado Springs Resort (CSR) opened in August 1997 and is named for European explorer Francisco de Coronado; the pool area is an archeological "Dig Site". I consider CSR to be a "Deluxe Moderate" because this is a resort with more amenities than the other Moderates. Along with the 1,921 guest rooms and suites, CSR offers 95,000 square feet of meeting space with business services and catering. It is built around a 15 acre lake called Lago Dorado. The guest room buildings are broken into three sections: The Casitas, the Ranchos, and the Cabañas. The Registration and food areas are located in "El Centro". Here you will find the Pepper Market–a non-typical Disney food court–and the Maya Grill, an upscale Mexican themed restaurant that offers sit-down table service.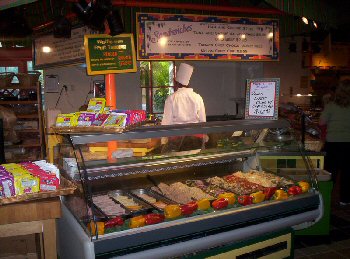 Pepper Market at CSR.
So what's different about the Pepper Market? The Pepper Market has a host(ess) who will seat you. Then you're given silverware in a cloth napkin and a card with boxes on it. The idea is to take the card to your food station, get your food and have the card stamped, and then return to your table. There is a server who will bring you drinks and refill your glasses. When you're done eating they'll clean up after you. This is not a complimentary service—there is a 10% upcharge when you pay at the register. I like to compare the Pepper Market to a buffet restaurant in that you have a "pseudo-server" to pick up after you. There is more variety to the menu at the Pepper Market than your typical Disney food court but it is also a bit more costly too. The Maya Grill offers a buffet breakfast and dinner. We found the breakfast to be plentiful and quite tasty, and the service was pretty good. The Maya Grill offers a show kitchen, and depending upon where you are seated you can see the chefs work. Both the Pepper Market and the Maya Grill are on the dining plan. Pepper Market is considered a counter service location although there is service by a real person.
As for the resort rooms, the Casitas are very close to the Convention Center, and are often used for conventioneers. The great things about conventioneers is they're usually in meetings all day long and don't use the busses or the pool! The Casitas are buildings 1-5, and there is a quiet pool between buildings 3 & 4. These buildings are three and four stories tall and are themed to southwest urban areas with colorful plazas with fountains, and shaded courtyards. There are even topiaries (Disney themed, of course) in the courtyard. CSRs fitness center and beauty salon is located in the Casita area, by building 4 (another "Deluxe" touch for a Moderate). Bus stop #2 serves the Casitas.

The Rancho buildings at CSR.
The Ranchos are in the back of the resort. These buildings are pueblo-themed in a country setting. Landscaping in the ranchos is a bit more arid, with rocky stream beds that fill up with water during those famous Orlando rain storms. Expect to see cacti and yucca plants in the landscape here, although some of the cacti appear to be of the "Disney" phylum. There are four buildings that make up this section: 6A and B, and 7A and 7B. My stays at CSR have all been in the Ranchos—I enjoy peace and quiet of this resort after being in the parks all day. The main pool, the Dig Site, is closest to building 7B in the ranchos, but it's not a far walk. There is also a good size quiet pool and laundry in the courtyard area of building 7B, which is where I was my last trip. As you walk around the Ranchos look at the animal footprints in the concrete leading to the "watering holes". Bus stops #3 and #4 serve the Ranchos.
Our last area is the Cabañas. These have metal roofs and are typical of seaside villages found on Mexico's coastal regions. The Cabañas are reasonably close to the main building, El Centro. There is a pool located in the Cabaña area by building 9A. Bus stops for the Cabañas are either #4 or #1, which is located in El Centro.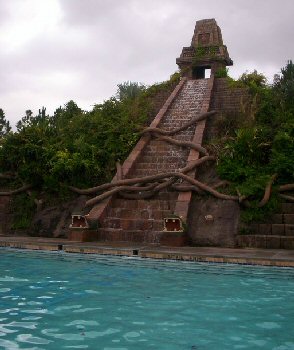 The waterfall flows into the main pool area at CSR.
The best part of Coronado Springs Resort is the "Dig Site, which is where you'll find the pool and playground area. Towering over the pool is a five-story Mayan pyramid which cascades water down the steps. The water slide in this pool has a spitting jaguar. This slide is 123 feet long and you can really get some speed as you go down. According to my children, this is the "best" pool and slide area for the Moderates and Deluxes, with the exception of the Yacht and Beach Club's Stormalong Bay pool. Along with awesome theming, this pool is pretty large. However getting to this pool can be quite a hike, depending upon where your room is located in the resort. Ranchos and Cabaña rooms won't have much of a walk, but if you're in the Casitas then start hiking. Next to the pool is Siesta's Pool Bar and the Iguana Arcade. You may refill your resort mugs at the snack bar next to the pool; hours may be limited.
CSR offers a fitness center and beauty salon, bicycle and watercraft rentals, and a sand volleyball court at the pool area—more "Deluxe" touches. They also offer a limited room service menu that is beyond pizza. Expect to pay Disney prices for your meal, plus a delivery charge AND an automatic gratuity. Since I'm part of the "for less" group I have yet to use room service at this resort, and I do not plan to do so.
You cannot be close to "everything" at Coronado Springs—the lake is in the middle of the resort and you must walk around it to get anywhere important like the food and restaurant area or the pool. On my last trip my room key didn't work and I needed to get to the front desk—so I hopped in my mom's car and drove rather than walked. (It was night and the parks were closed and the first bus stop was at El Centro so I couldn't use my CBR trick and hop on a park bus). I absolutely love this resort as it fits my criteria for a Disney resort: imaginative theming and attention to the little details that make the Disney difference. You can see water and a nice view from just about anywhere, and it's just plain beautiful. The sunlight tends to make the lake shimmer, and there always seem to be flowers in bloom. Resort rooms include coffeemakers and real coffee cups (not disposable), along with glass drinking glasses. The standard guest room is two double beds; there is one sink in the vanity area.
An odd design "flaw" here is that to get to the bus stops in the back of the resort one needs to walk across the parking lot. Although parking lot traffic is light, be mindful of folks (including the kiddies) running for busses through parked cars. Expect a 12 minute ride to the Magic Kingdom after the last bus pickup, and about 10 minutes to MGM and Epcot. Animal Kingdom theme park is fairly close, and Blizzard Beach is pretty much across the street from the resort.
Next edition we will head towards the Sassagoula River and up into the bayou and discuss the two resorts that comprise Port Orleans: the French Quarter and Riverside. See ya'll then.
Read the in this series.