This post may contains affiliate links for your convenience. If you make a purchase after clicking a link we may earn a small commission but it won't cost you a penny more! Read our full disclosure policy here.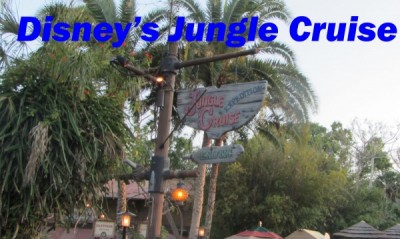 Jungle Cruise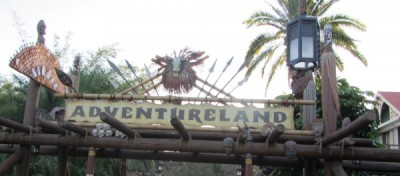 Adventureland Entrance 
When most people head to Magic Kingdom they focus on the mountains.  Big Thunder Mountain Railroad, Splash Mountain and Space Mountain are top of the list for people to get to after visiting the ever popular Seven Dwarfs Mine Train.  All of these are great rides, but I would encourage you to take time to head over to Adventureland and check out the jungle at the Jungle Cruise.  Even though it may seem a little out-dated and run down compared to some of the newer attractions throughout Magic Kingdom, the Jungle Cruise is a classic that all should hit up once a trip.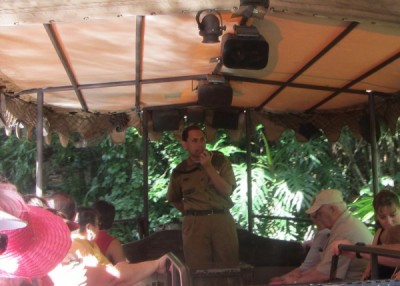 Skipper
The Basics:  The Jungle Cruise is a ten minute boat ride through the Nile Valley, Amazon rainforest, and a Southeast Asian jungle where guests are taken on a one of a kind adventure.  Prior to boarding your boat you will travel through the headquarters and boathouse of the Jungle Navigation Co.  Throughout this queue the theme is seen as props such as old radios, pinned insects are seen as you make your way to the loading dock.  Once you have boarded and met you skipper, your adventure can begin.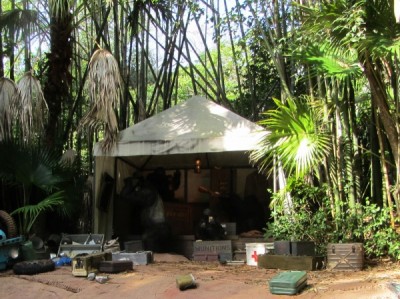 Empty Camp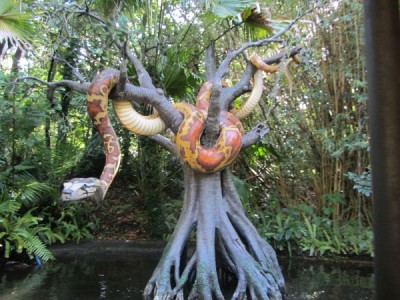 Python
Riders start by being taken along the Amazon River taking in beautiful butterflies and then moves to the Congo River of Africa.  Here riders are told that the Pygmy are waiting to welcome them; however, it is quickly seen that there is no one there as the camp has been deserted and a large python has taken over the camp.  Chaos continues as a group of gorillas has raided a nearby camp.  Riders are then transferred onto the Nile River.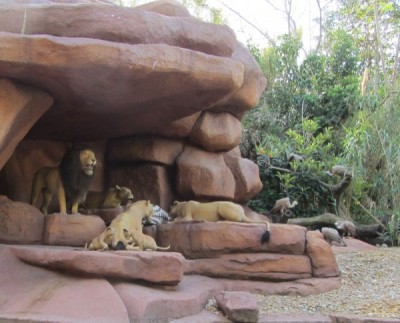 Lions with a sleeping zebra

During this part of the ride, you are able to see African animals including an upset rhinoceros that has trapped a safari group up a pole.  The trip down the Nile River wraps up with a trip by a hippo pool, which doesn't make the hippos too happy.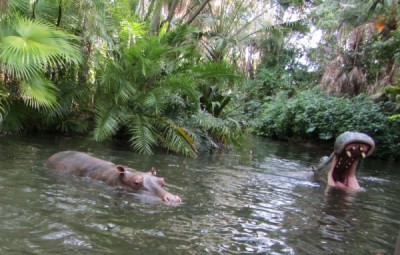 Hippos
 A quick escape takes riders to the Mekong River.  Here they encounter ancient ruins where cobras, baboons and tigers can be seen inside the temple.  Once emerging from the temple, riders are able to experience an elephant bathing pool.  Numerous elephants relax in the pool and threatened to spray riders as they play.  Finally, riders pass by the head salesman of the jungle who is looking for heads to sell.  Riders are taken safely back to the dock where they are unloaded back onto land.
So what makes this ride so great you ask?  It all starts with your skipper.  As I said before, your adventure starts when a skipper greats you with a cleverly named  boat and invites you to join him/her for a trip through the great jungle rivers.  Throughout the rest of your jungle adventure, this skipper will be your tour guide through the different areas providing you with information that you didn't even know you wanted to know.   
That isn't what makes it great though.  It is the corny, but always fun, jokes and puns that are told by the skipper as you ride along.  These jokes will make the adults both laugh and roll their eyes while kids sometimes are left trying to figure out why mom and dad are laughing.   It doesn't matter how many times I hear the jokes, I find them funny and a good way to relax from what can be the crazy world of Magic Kingdom.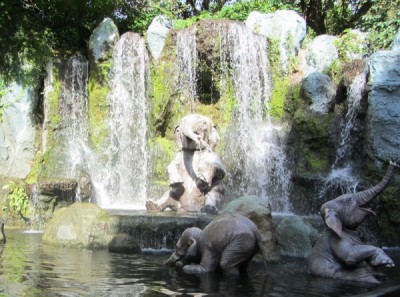 Elephants at Play
Another great part of the Jungle Cruise is the fun animatronics used throughout the ride.  From zebras and hyenas to my favorite the baby elephants, Disney has done a great job bringing the animals to life for guests.  Parents be warned though, the humor of this ride is also seen in the animals as a rhino chases a man up a tree and crocs are looking to move in on a village.  It isn't the safari ride you will experience at Animal Kingdom, but it is still fun to see how Disney has brought to life these different areas of the world within Magic Kingdom.
Jungle Cruise Tips and Tricks:
If you head to Jungle Cruise early in the morning you won't need a FastPass as many are visiting the mountains or Fantasyland early on in the morning

FastPasses might be needed however if you are heading to the Jungle between the 11-3 time period.  As it is a slower loading ride, sometimes even shorter lines seem to take longer.

It is often a ride you can pick up as a fourth or more FastPass later on at the park

Many will suggest seeing the ride during the day; however, we thought it was great at night

If you are able to ride a few times, try to sit in different spots in the boat as you can see different parts of the ride

Engage with your skipper!  It is just that much more fun.
And don't forget to look for that backside of the waterfall.  It isn't something that you want to miss.  Enjoy your adventure on the Jungle Cruise.
What are your thoughts of the Jungle Cruise and which is your favorite scene or joke?