This post may contains affiliate links for your convenience. If you make a purchase after clicking a link we may earn a small commission but it won't cost you a penny more! Read our full disclosure policy here.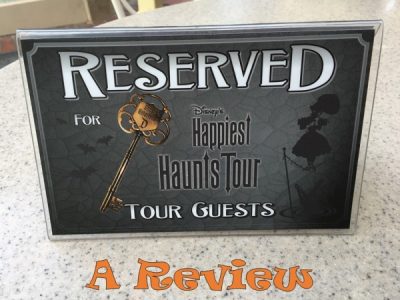 During Halloween Time, Disneyland offers the themed Disney's Happiest Haunts Tour. For years this tour has proven extremely popular but in 2016 the tour's entire scope was changed. No longer is the tour the immersive, storytelling, villain stopping play. Now this tour has grown into a full, history driven expedition into one of the most iconic of the Disney Parks' attractions – the Haunted Mansion.
When hinges creak in doorless chambers, and strange and frightening sounds echo through the halls; Whenever candlelights flicker where the air is deathly still – that is the time when ghosts are present, practicing their terror with ghoulish delight!
This attraction truly seems to speak to so many fans who spend hours visiting and committing to memory its eerie scripts.  For decades, these fans have been clamoring for the opportunity to explore its halls in greater detail. I am one of them.  So when I heard that Disneyland was featuring the Haunted Mansion in their revamped Disney's Happiest Haunts Tour, I stayed up late on a work night to gain my tickets to the afterlife.
My 17-year-old daughter and I excitedly headed to the Tour Gardens on October 5, 2016. After checking in, we were given our name badges and asked to have a seat while we waited for our tour group to assemble. Soon, Lindsay came over and introduced herself.  She would be our guide through nearly 70 years of the Haunted Mansion.
All of the Disneyland tour are now delivered by audio-enhancement device. These come with a rather odd ear piece. It is far more comfortable to bring your own ear buds or headphones. Any standard plug will work with the Disneyland device. We forgot our earbuds that morning and had to use the Disney issued items.  They worked but were not comfortable.  The following day we remembered our earbuds and were much happier with the outcome.
Once we had our instructions on the use of the device, our tour group gathered and we began our walk through Disneyland.
Our tour began by walking through Main Street USA.  We learned about the early history of the attraction that would eventually become the Haunted Mansion and by extension a little bit about the beginnings of Disneyland. There are several stops on Main Street USA and the audio system helped substantially at making Lindsay heard.  We also got to listen to several audio-clips from Walt and his imagineers on the development of the Haunted Mansion. Several windows on Main Street were pointed out as we learned about those men and women who were influential in the Haunted Mansion.
Next we headed to Tomorrowland to learn a bit about the convenience that would eventually become the doombuggies used in the Haunted Mansion.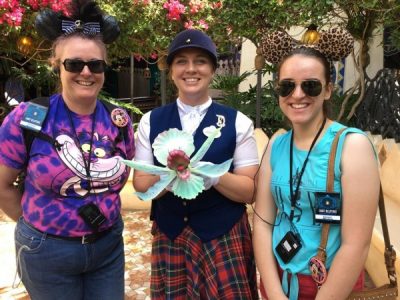 The tour continued into Adventureland. Here we explored the ground-breaking use of audio-animatronics and were treated to a few treats.  Our first was to meet one of the divas of Disneyland. Ophelia came out, took photos with us, and her assistant helped us to understand just how significant the birds and flowers in the Tiki Room actually are. Each guest then received a Mickey shaped, orange sugar coated cookie before we headed into the Tiki Room to experience the show in a new light.
After a quick comfort break, we headed into New Orleans Square to hear how the imagineers have included the Haunted Mansion storytelling outside of the mansion as well as inside.  We ended up with a good view of the Haunted Mansion as Lindsay finished up our tour.
At the end of our tour, we were each given a FastPass to explore the Haunted Mansion Holiday attraction as some point that day.  We also received a highly limited collectors' pin from the tour (limited edition of 2500).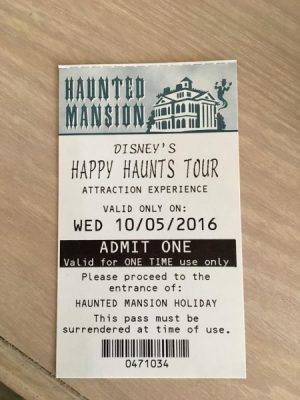 I enjoyed the tour as did my daughter, though I can honestly say that I did not find much new information shared on the tour. Anyone interested in the Haunted Mansion would easily be able to find the same information on the internet and in books on the subject, but it was a wonderful experience all the same. Sadly, the tour does not go into any behind the scenes areas. I am still baffled as to why the pet cemetery is not included in the tour.
Would I take the tour again? Probably not.  Well, unless they changed it to include behind the scenes sections of the Haunted Mansion.  That said, it was well worth going one time and we really did enjoy ourselves.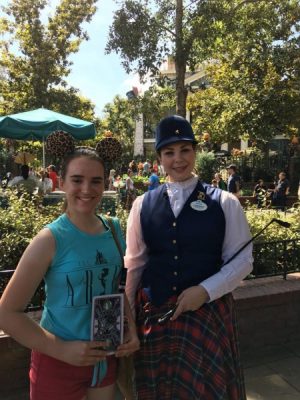 Pricing Details: $85 per person aged 3 years and older (discounts are available for Annual Passholders and Disney Vacation Club Members). Admission to Disneyland is required and not included in the price of the tour. Be aware, this tour is not suitable to young children.  It is a lot of walking and talking and looking at 'boring' things. I would hesitate to take children or pre-teens unless the individual child is obsessed with the Haunted Mansion and Disney History.
What you get: You receive a baked treat, collectible pin, name badge, and a FastPass ticket to Haunted Mansion Holiday.
Have you experienced this tour? Share your thoughts in the comments.