This post may contains affiliate links for your convenience. If you make a purchase after clicking a link we may earn a small commission but it won't cost you a penny more! Read our full disclosure policy here.
Disney's Halloween on the High Seas cruise on Disney Cruise Line sounds super fun – and I can tell you that it is, even if you are kid-free.
In 2017, my husband and I took our first Disney cruise. This was our first adults-only trip since our Disneymoon, and we were so excited. After we'd already booked our mid-September cruise, we learned it would be a Halloween on the High Seas cruise on the Disney Dream. What fun!
As this was our first cruise ever – not just first Disney cruise – we really had no idea what to expect from anything. Therefore, we didn't make a lot of plans. In fact, we ended up canceling the Nassau excursion we booked and the character meets we scheduled on board so we could just go with the flow.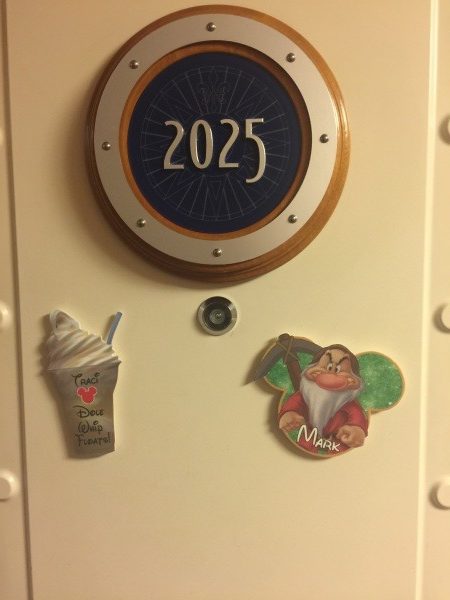 We booked an inside cabin – aka a "cheap" one – because we were following our Friday-Monday cruise with a week in Walt Disney World. The cabin was nice – but small. We were in cabin 2025 on the 2nd deck. Some online reviews noted the cabin was loud, but we really had no issues. Our only complaint, if you even want to call it that, was that the air conditioner really didn't get the cabin as cold as we like it. Otherwise, the cabin was great. Our stateroom hostess, Ruth, was amazing. She was so sweet and friendly. We loved the creative towel animals she made, often hijacking my husband's sunglasses to put on her creation.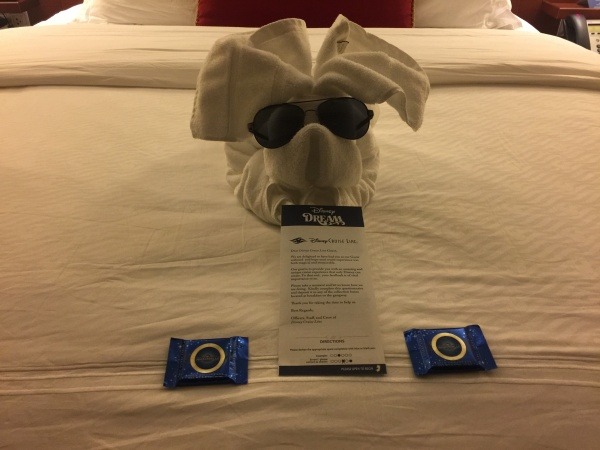 The way Disney laid out the cabins is truly ingenious. There is literally no wasted space. Even in our smaller cabin, there was room to store all our stuff and to relax. It was plenty big enough for two adults. Two thumbs up Disney!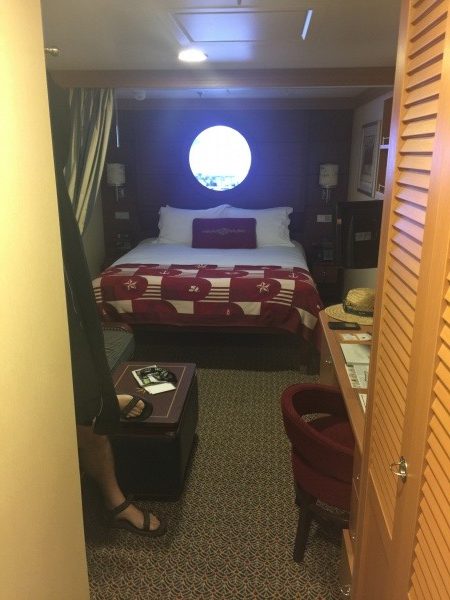 Halloween fun abounded during our cruise. There was something going on almost all the time. Cruisers can pick and choose what they wish to enjoy. We aren't big costume people and did not plan to wear them. However, during the Halloween party on the deck, we kind of wished we had. So many people, children and adults, were in costume and having a blast. In hindsight, we wished we planned some costumes to join in the fun.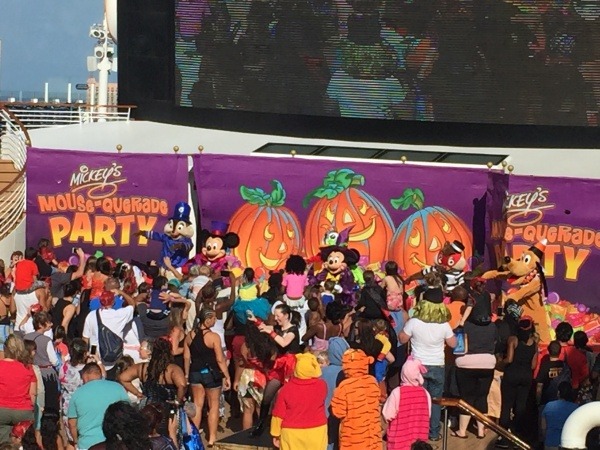 Disney didn't leave us out of the fun by any means though. We thoroughly enjoyed watching Mickey and the gang party it up during Mickey's Mouse-querade Party. While we didn't actively trick-or-treat around the deck, we did hit up a few of the candy stations for some treats. No one looked twice at us asking for or enjoying some treats. So feel free, costume or not, to enjoy some sugary goodness during your Halloween on the High Seas cruise. There is also an adult costume party which we skipped for the obvious lack of costumes.
One of our favorite parts of the Halloween on the High Seas cruise was the haunted tree in the ship's atrium. Every morning, we'd wake up to even more glowing jack-o-lanterns adorning the tree. One morning, we even had a special encounter while admiring the tree. We heard someone behind us ask, "Excuse me, have you seen my lizard?" It was Rapunzel! She and my husband had a spirited conversation for several minutes about how hard it is to keep track of lizards. Never did I think we'd meet up with a character just walking around the ship!
There were plenty of other Halloween activities on board, and a lot of them centered around kids, of course. So what did we do while so many were making masks or carving pumpkins? We enjoyed some of the adult areas on the ship.
Satellite Falls was a favorite spot where we could sit and relax. It's located on an adults-only deck, where Disney does not allow anyone under the age of 18. It was the perfect place to cool off and relax with an adult beverage.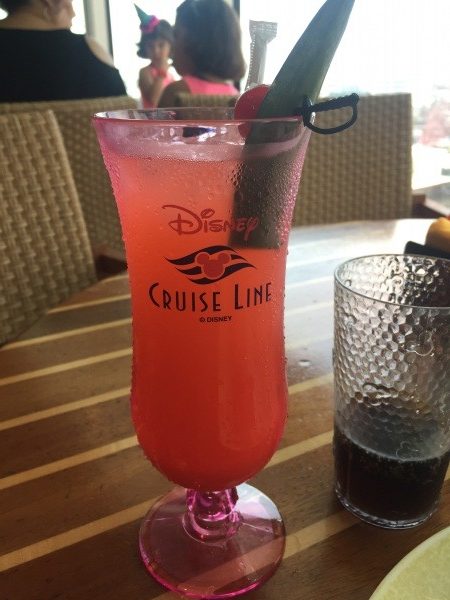 I also visited Senses Spa & Salon, where I received an out-of-this-world spa treatment that included a seaweed wrap and reflexology. It was worth every penny as I was beyond relaxed when it was over.
My favorite shipboard event of the cruise was the Tim Burton's The Nightmare Before Christmas Sing and Scream. I love this movie and it was so fun to watch it in the ship's theater and sing along. I also enjoyed some yummy popcorn in a souvenir Mickey pumpkin bucket.
Along with the Halloween activities, all the other cruise activities continue as well. There were fireworks at sea. On Pirate Night everyone gets their own keepsake pirate bandana and chocolate coins left on their bed. The Dream offered so many different types of entertainment and shows. We rode the Aqua Duck and enjoyed self-serve ice cream. We spent a day in Nassau and a day at Castaway Cay where we saw lots of fish and stingrays while snorkeling. Make sure you send a postcard home from the island!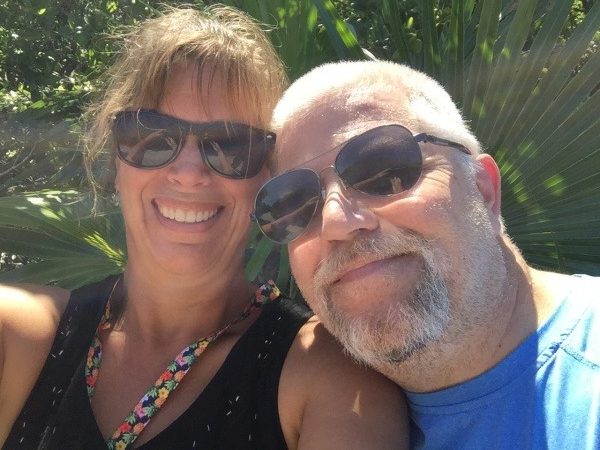 We opted for the first dinner seating and never felt surrounded by kids. We really enjoyed the rotational dining and our dining staff – Selo, Raman, and Francia – were phenomenal. After a conversation with Raman about our love of Indian food, he surprised us for the rest of the cruise with Indian dishes made just for us! We ate like kings and relaxed like it was our full-time job.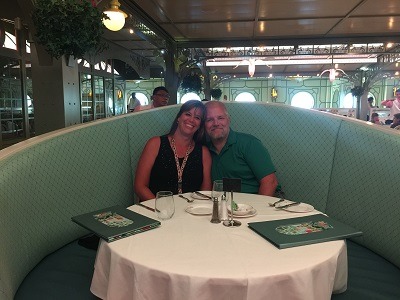 There was not a single time during the Disney's Halloween on the High Seas cruise where we felt awkward or left out by not having kids with us. In fact, the whole cruise was a ton of fun. As Disney cruise newbies, we were a bit unprepared for all the fun, but didn't feel like we missed out at all. We enjoyed what we wanted to, skipped what we didn't want to do, and enjoyed every minute of the Halloween on the High Seas cruise.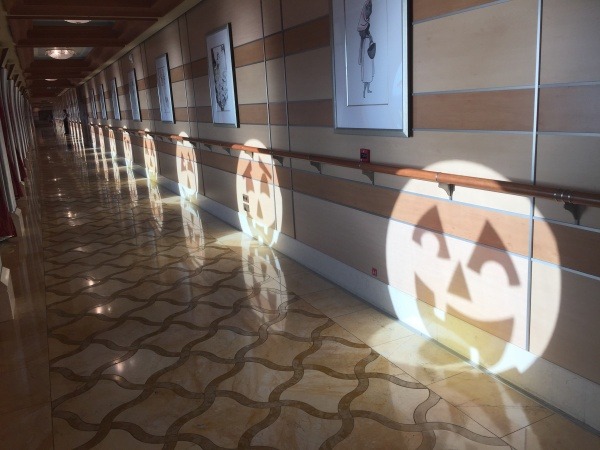 Have you experienced Disney's Halloween on the High Seas cruise before? Share your tips in the comments, or on Facebook or Twitter!
Did you like this article? Make sure to share it with your friends! Check below for easy ways to share!
Want to sail on Disney Cruise Line? Contact The Magic for Less Travel for more information and a free, no-obligation quote.

Incoming search terms:
disney cruise blog halloween on the high seas
disney fantasy 7 night halloween cruise themed nights review
disney halloween cruise line reviews
https://www themouseforless com/blog_world/disneys-halloween-on-the-high-seas-cruise-a-kid-free-review/
what is a Disney hallow cruise like