This post may contains affiliate links for your convenience. If you make a purchase after clicking a link we may earn a small commission but it won't cost you a penny more! Read our full disclosure policy here.
Loosely based on "The Snow Queen," a fairytale by Hans Christian Anderson, the movie became an instant hit over this past Thanksgiving weekend grossing over $93 millions, easily surpassing, Tangled, which grossed $68.1 million during its Thanksgiving debut.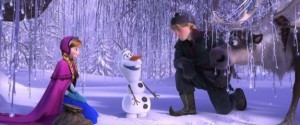 Disney's 53rd animated feature comes with not one princess but two. Meet Anna (Kristen Bell) and Elsa (Idina Menzel), and discover the Kingdom of Arendelle. To save the land from eternal winter Anna with the help of the ice seller Kristoff (Jonathan Groff) and Olaf (Josh Gad), the funniest snowman ever, sets out on an adventurous journey to find her sister Elsa who is responsible for the sudden climate change.
The conventional tale of two sisters close at childhood and driven apart when coming of age comes complete with mystical trolls and a hilarious snowman, villains, heroes and eventually a happy ending. Olaf, brought to life by Elsa's magic steals the show. He is witty, funny and huggable. And while his obsession with all things summer get him into lots of troubles he at all times keeps an optimistic view on life.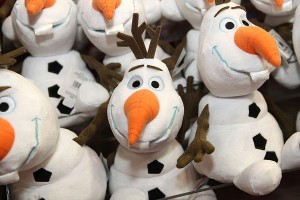 The story is funny, heartwarming and captivating but Frozen's true beauty lies in the details in which the landscapes of Arendelle are captured. The spectacular visual effects of the ever-changing ice world and the inside of Elsa's ice castle are Disney animation at its best. Frozen is the first Disney fairy tale shot in widescreen format since Sleeping Beauty and is enhanced by 3-D.
I wouldn't be surprised to see Frozen in the future as a musical on Broadway or in a smaller version on a stage at Disney Hollywood Studios. The story, similar to The Beauty and the Beast, has the material for grand sets due to its magical scenery; it is energetic and humorous and has eight original songs by husband-and-wife songwriters Kristen Anderson-Lopez and Tony Award winner Robert Lopez. I was moved by "Do You Want to Build a Snowman" and I loved Olaf's cheerful "In Summer" but it is Elsa's song "Let It Go" who has good chances to snatch an Oscar nomination for best original song.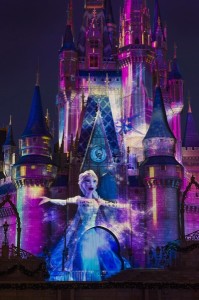 The merchandising and marketing of the movie is also Disney at its best! There is no shortage of Frozen inspired clothing, Elsa and Anna dolls, pins and even vinylmation figurines.  The Olaf plush is sure to be a big hit, press his foot and he will speak and sing his song "In Summer" and at the Bibbidi Bobbidi boutiques little girls can get special Anna and Elsa makeovers.
Images of Frozen are incorporated in the Celebrate the Magic castle show at the Magic Kingdom. The new segment opens with Cinderella's castle being transformed into the castle of Arendelle, with a winter storm blowing past and covering it in ice. At Disney's California Adventure Olaf is the host of the Water Colors 'Winter Dreams' show. In Disneyland Paris the heroines Elsa and Anna feature in the park's "Disney Magic on Parade!" holiday procession. Olaf the snowman serves as the master of ceremonies for the park's new nighttime "Disney Dreams! of Christmas" show, a new spectacular created for the holiday season. Olaf conducts the show's orchestra, as well as its projections, fountains, special effects and fireworks. (Through January 6, 2014)
And this year's theme for the annual Ice Sculpture Festival in Bruges, Belgium is – you guessed it – Frozen! The festival is open daily through January 5, 2014.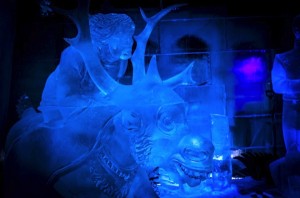 Want to visit Elsa and Anna's homeland? The new itinerary of Adventures by Disney offers an eight-day, seven-night trip to Norway. The program "Norway: Fjords, Bergen & Oslo" includes the storybook village of Bergen, which was the inspiration for the kingdom of Arendelle in the movie.  Visits to Norway's majestic fjords, Flam, Geiranger and Oslo are on the program and guests can participate in activities such as water rafting, hiking, rainbow trout fishing and classes in Norwegian folk dancing.
If a trip to Norway is not in the cards make sure to visit the Norway Pavilion at Epcot. A new gallery, Norsk Kultur, opened its doors showcasing a collection of artifacts and objects that inspired the artists working on Frozen and you can discover the beauty of Norway in the movie shown after you exit the Maelstrom ride.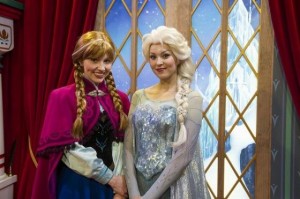 Elsa and Anna face characters are greeting guests all day long for pictures and autographs and when the sisters travel west they can be found in Fantasyland at Disneyland. Disney announced that the character meet and greet locations are not permanent and would end January 4th but I would not be surprised if this changes as the popularity of Anna, Elsa and Olaf soars.
Pictures courtesy: Walt Disney Company & VisitBruges