This post may contains affiliate links for your convenience. If you make a purchase after clicking a link we may earn a small commission but it won't cost you a penny more! Read our full disclosure policy here.
From Our Magically Speaking Newsletter Archive – subscribe today!
By Teresa Pittman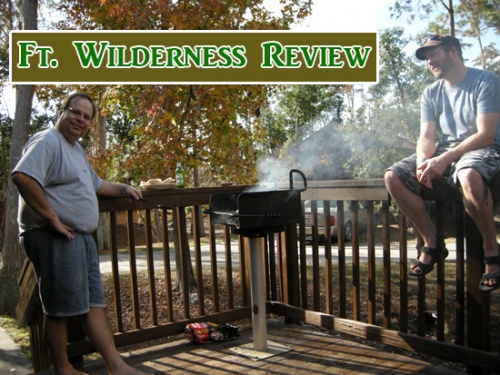 We're having breakfast on the deck at the side of our cabin, enjoying a cool breeze on what's promising to be another warm day. Five-year-old Callista notices a couple of bunnies hopping through the long grass and we remember how exciting it was last night when we saw a herd of deer on the edge of the woods. Sebastian and Xavier grab a soccer ball and start an impromptu game in the yard as we clear away the dishes. Tonight, perhaps, we'll use the barbecue on the deck to cook dinner.
Yup, just another relaxing day at Walt Disney World.
Wait – Disney World? I know, it doesn't sound much like the traditional morning routine at a Disney resort – but this is a real morning at Disney's Fort Wilderness Resort, the WDW campground that's just a short boat ride away from Magic Kingdom. My family's stayed there several times, and there's lots to love about this unique place.
The Fort (as guests often refer to it) opened on November 19th, 1971, making it one of earliest resorts available for guests, and it covers some 750 acres. There are 788 campsites – some for tents, some for small RVs, and some for those extra-large RVs. All come with water, electricity and charcoal grills and some have hook-ups for sanitary waste disposal. The comfort stations (with toilets and showers) set up around the campgrounds have air conditioning and are well-maintained. You can have up to 10 people on a campsite.
For those of us who don't have an RV but want more comfort than a tent, there are 409 cabins. Each sleeps six – the single bedroom has a double bed and a set of bunkbeds, plus a Murphy bed in the living room that pulls down from the wall. You get one bathroom, a full kitchen, a living/dining room and a deck with a charcoal grill and picnic table.
Here's what we love about it:
After the hustle and bustle of the parks, the Fort is remarkably peaceful. No bouncy music, just the sound of the wind in the trees and birds calling. Ah, relaxation. You can walk on the trails in the woods and keep an eye out for rabbits, armadillos and even deer. You can walk or play on the beach (although swimming is not recommended, it's set up for tetherball, beach volleyball, etc.), or rent a boat or a bicycle and explore a bit further.
There are unique activities at the Fort not offered anywhere else. You can visit the animals at the Tri-Circle D Ranch and give younger a children a pony ride, or sign up for a slow-moving trail ride on one of the larger horses (at the main entrance). Or you can do a Segway tour through the woods that takes you over towards Wilderness Lodge and back. Or you can take a wagon ride through the woods and down to the beach to watch the fireworks. Every evening, you can roast marshmallows over the bonfire while taking part in a sing-along and visiting with Chip and Dale; afterwards you can watch a Disney movie outdoors.

The Fort guests are unique. You know how every resort has its own personality? So does Fort Wilderness, and it's a relaxed, fun, sometimes a bit goofy personality! Come by during any major holiday and you'll see sites that are elaborately decorated to fit the occasion – some truly over-the-top. Many guests come back every year and stay for weeks or months; they're always happy to make new friends and introduce you to the fun parts of Fort Wilderness.
The meals and entertainment. You probably know this is the home of the Hoop-de-Doo Review, but did you know about Mickey's Backyard Barbecue? This is one of our favorites – it's a casual buffet (beer and wine included!) in a covered outdoor setting with country music, cowboy rope tricks, and a chance to dance with Mickey and his friends. Seems to fit the Fort's laid-back vibe perfectly. Trail's End Buffet, the restaurant near the boat docks, is also one of the best deals on site for an all-you-can-eat buffet.

Golf carts! I don't know why, but I love driving around in a golf cart. Renting one is not cheap (many RV owners bring their own) but it definitely makes it more fun to get to the pools, the stores, etc. If it's not in your budget, don't worry – the internal bus transportation system will get you everywhere you need to go.
Boat ride to and from the Magic Kingdom. You have to admit, boats are just more fun than buses. (There are buses to the other parks, of course.)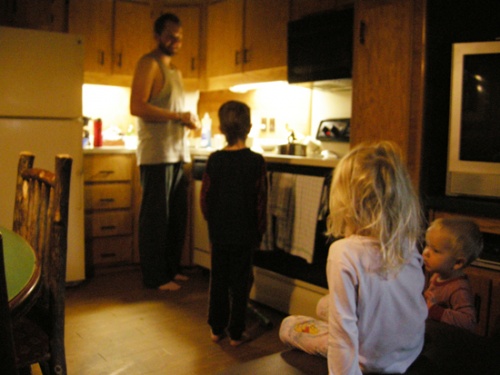 If you feel like your vacation needs a little nature to balance out the park activities, if you want a bit more space for your family to spread out or you'd like to cook more of your meals, or if you have an RV or tent you're dying to use, Fort Wilderness might be a perfect choice for you.
Even if you're staying elsewhere, the activities at the Fort are available to all. Come on by, we'll throw another veggie burger on the grill for you.
Magically Speaking Featured Article
Library of Congress ISSN:1556-3863