This post may contains affiliate links for your convenience. If you make a purchase after clicking a link we may earn a small commission but it won't cost you a penny more! Read our full disclosure policy here.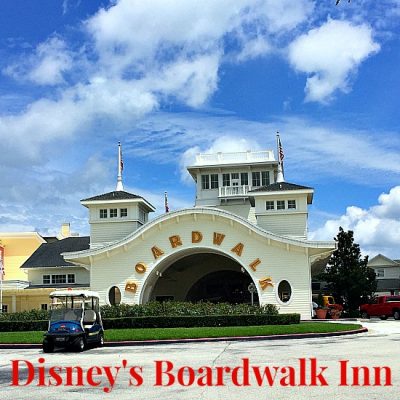 You have a lot of choices when planning your Disney vacation.  One of the first decisions you'll make it where to stay.  There are so many great options on Disney property that the choice seems overwhelming! I'll try to make it easier for you and give you some reasons you should consider Disney's Boardwalk Inn & Villas.
Rooms
One of the first things you think about when you consider your resort choice is the actual room you'll be staying in.  Disney's Boardwalk Inn & Villas resort is a deluxe resort and a Disney Vacation Club property.  As a result, there are several different room options.  These include DVC villas (studio all the way up to grand villas) and the standard rooms in the Boardwalk Inn portion of the resort.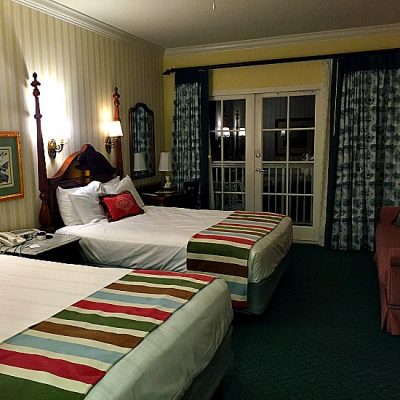 Disney's Boardwalk Inn resort room
The rooms at Disney's Boardwalk Inn (the non-DVC section of the resort) sleep up to 5 guests.  The rooms are furnished with two queen beds and a sofa-sleeper.  During our trip, no one slept on the sofa-sleeper but we did test it out and it was surprisingly comfortable!  Definitely not what you would expect from a "bonus bed" and it was actually large enough for an adult to sleep on comfortably.
I think guests will be very happy with the room size at Disney's Boardwalk Inn.  Our party included a one-year old who slept in a pack-n-play (provided by the resort) and there was ample space in the resort room to set up the pack-n-play and store all of our luggage comfortably (all of our luggage and the pack-n-play are set up and stored in the photo above!).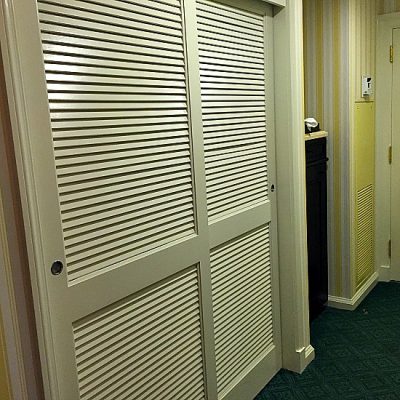 The very large, double-door closets in each room offer plenty of room for luggage storage!
The setup of the bathroom is consistent with most other deluxe resorts on property.  The sink is located in a "shared space" open to the rest of the room, while the shower and toilet are private behind a door.  We love this setup, as we often travel with family members so one person can be getting ready while another is using the bathroom and/or shower.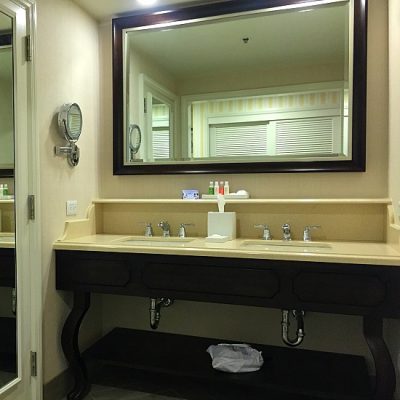 Double sink area open to the rest of the room – the toilet and shower are behind the door to the left.
Recreation
Disney's Boardwalk Inn offers several different recreation options to fit your specific interests!  You can keep up your exercise routine at the Muscles & Bustles Health Club or you can utilize the running/walking path around Crescent Lake.
For the little ones in your party, there's a playground centrally located in the resort.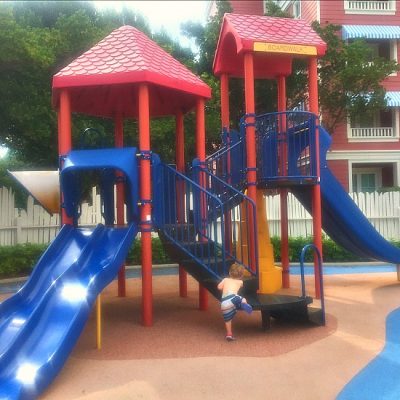 The playground is connected to the main pool area
Pools
And, everyone's favorite, Disney's Boardwalk Inn has three pools for guests to choose from.  Two of these pools are "quiet pools" and are located toward each end of the resort.  The feature pool, the Luna Park Pool, is located near the center of the resort.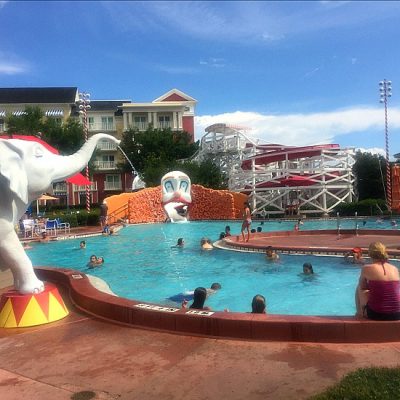 Luna Park Pool
The Luna Park Pool has a large water slide that is free for guests to use.  It also boasts some fun carnival animals around the edges that squirt water into the pool!  The pool features a ledge all the way around the outside, which is convenient for those who don't want to get completely wet or kids who like to sit in shallow water and splash.
In classic Disney fashion, Disney's Boardwalk Inn pools offer plenty of accommodations for those who have toddlers in their party.  Infants and toddlers (in swim diapers) are always welcome in any of the large pools or the kid's pool at the resort.  There are stands full of life jackets around the pools for guest use free of charge.  Note that these are not suitable for very small children – they usually start at 20 lbs or so.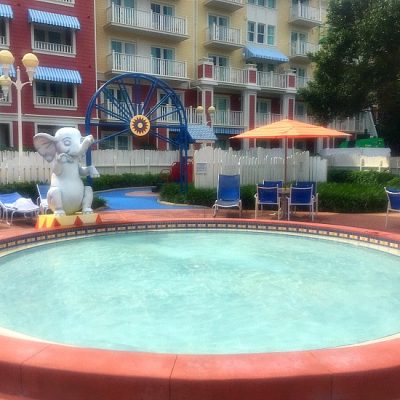 Kid's pool near the Luna Park Pool
If your little one would rather play on their own instead of being held, you can make your way over to the kid's pool!  This pool is shallow enough for children to play in on their own and features an adorable carnival elephant that shoots water into the pool.  Our trip was over Fourth of July and this pool was uncomfortably warm.  But we had plenty of fun in the large pool!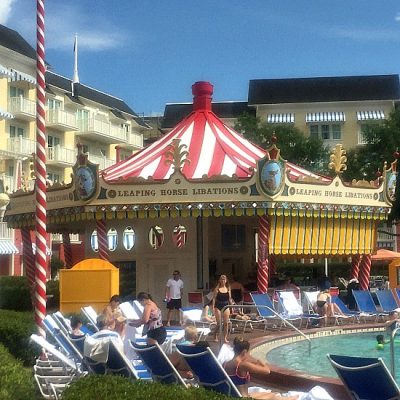 Leaping Horse Libations
Also near the large Luna Park pool is a pool bar that offers snacks and drinks.  Access to the pool bar makes it easy to want to stay at the pool all day long!
Location, location, location!
Finally, one of the biggest reasons you'll want to consider Disney's Boardwalk Inn is location!  It is located in the Epcot area and is within walking distance of both Epcot and Disney's Hollywood Studios.  It's also an easy walk to Disney's Beach Club resort, Yacht Club resort, Swan and Dolphin resorts and the Fantasia Gardens miniature golf course (read our review here!).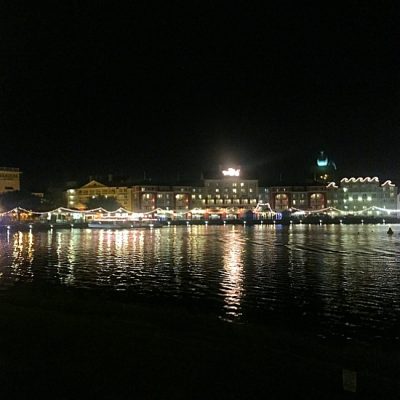 Disney's Boardwalk resort at night
Restaurants
In addition to park proximity, Disney's Boardwalk area offers a variety of restaurants.  You can enjoy a table-service meal at the ESPN Club, Big River Grille & Brewing Works, Flying Fish Cafe or Trattoria Al Forno.  Your party could also grab a quick bite at the Boardwalk Pizza window, one of the snack carts along the Boardwalk or even get some ice cream at the new Ample Hills Creamery!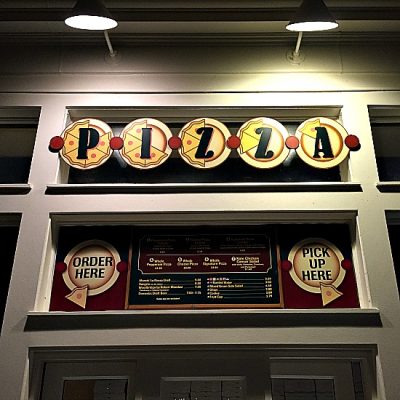 Boardwalk Pizza Window
Nightlife
If you're looking for something to do after the parks are closed – Disney's Boardwalk is the place to be!  Members of your party who are over 21 have a variety of options for bars and night clubs in the area.  Jellyrolls is a dueling-piano bar that is located on the Boardwalk.  The Atlantic Dance Hall is just across the walkway and is a nightclub that plays music from the 80's-today.  Your party can dance the night away at either location!
For a quieter place to relax, visit the new AbracadaBar located on the Boardwalk.  You'll enjoy the fun theming and unique drinks at this location.
Transportation
Disney's Boardwalk Inn is nearly unique in that it offers boat transportation to two of the Walt Disney World parks.  As mentioned, you can walk to either Disney's Hollywood Studios or Epcot.  But if you're looking for a more leisurely way to travel, there are boats that will take you right to the entrance of either park.
Transportation to the Magic Kingdom and Disney's Animal Kingdom is available by bus at the front of the resort.  You can also catch a bus to Disney Springs at the same location!  If you need transportation to an offsite location, taxis are available as well.
Overall, Disney's Boardwalk Inn & Villas is a great resort choice all around.  We will definitely be back!
Have you stayed at Disney's Boardwalk Inn? What were your thoughts? Share in the comments section!